BTS' Jimin Thinks He and RM Are 'Not Celebrities' — 'We're Just Kim Namjoon and Park Jimin'
Jimin and RM are chart-topping artists, performing alongside other BTS members at the American Music Awards. On the drive over to the award ceremony, Jimin shared that he doesn't think of himself as a celebrity, with RM quickly agreeing with the sentiment.
BTS earned the American Music Award for 'Artist of the Year'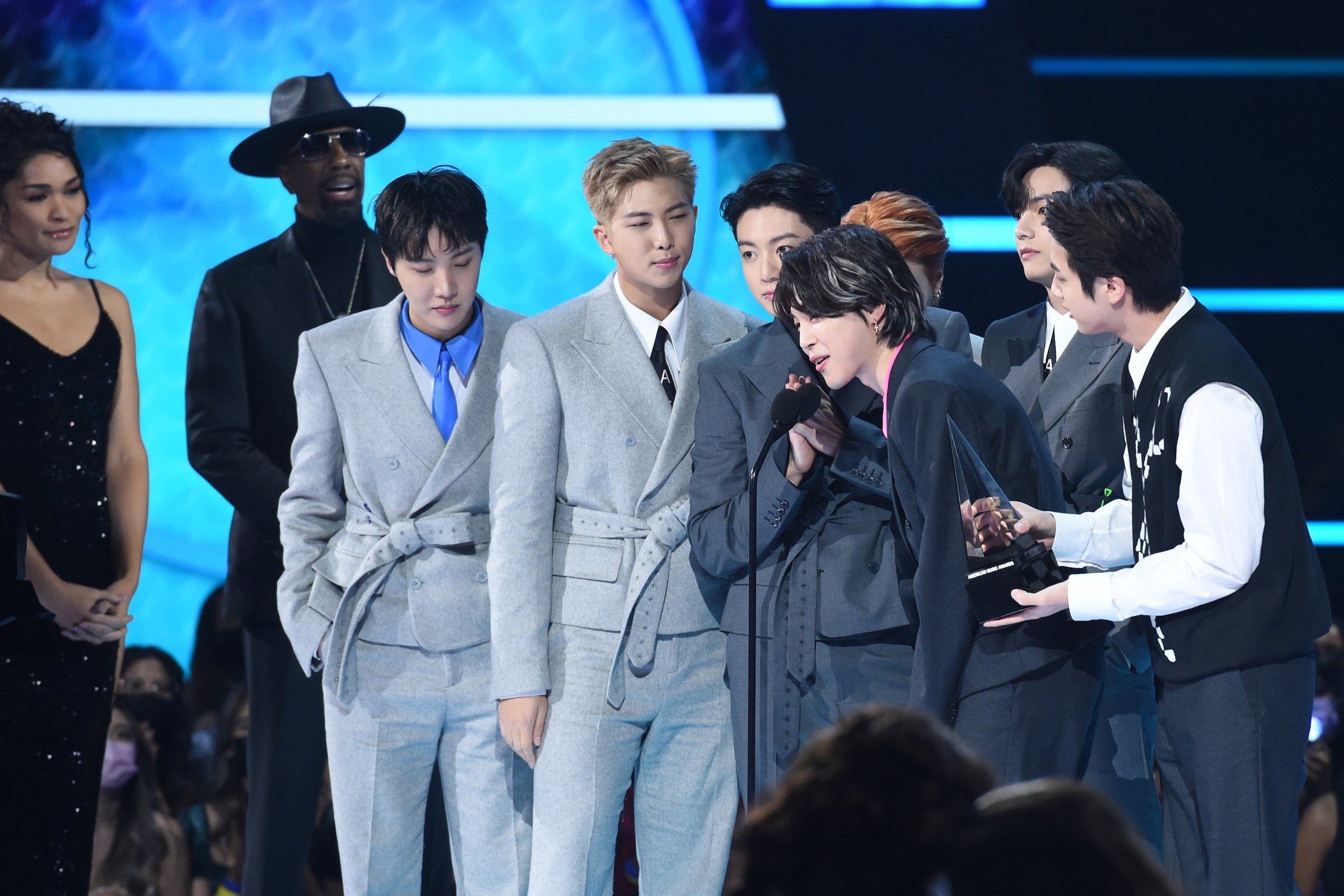 Debuting in 2013, BTS is a K-pop group with humble beginnings. Thanks to live streams, original songs, and glowing personalities, BTS worked its way up to becoming one of the biggest boy bands in the world. They earned praise from celebrities like John Cena and Joe Jonas and, eventually, performed at the American Music Awards. 
"Four years ago, we had given this first-time-ever TV live performance at this AMAs stage for 'DNA.' We were so excited and nervous at the time," RM said, according to USA Today. "It's been a long and amazing ride since then, but nobody could have ever bet on the odds of us standing here receiving this award. Except for the ARMY." 
"Seven boys from Korea, united by a love for music, met the love and support from all the ARMY all over the world," he continued. 
In 2021, BTS won all three American Music Awards they were nominated for — Favorite Pop Duo or Group, Favorite Pop Song ("Butter"), and Artist of the Year. Still, members like Jimin and RM don't consider themselves celebrities.
Jimin said that the BTS members are 'not celebrities'
During one Bangtan Bomb, fans saw BTS before the group won their American Music Award for Artist of the Year. They rehearsed alongside Chris Martin of Coldplay and discussed pre-show jitters while getting their hair and makeup done. Then, the BTS members rode to the AMAs in separate cars, with Jimin and RM sitting together and talking about the experience.
"We're not celebrities, RM," Jimin said, according to a translation on the YouTube video. "We're just Kim Namjoon and Park Jimin."
"I know all too well," RM replied. "Completely too well."
"We're far from celebrities," Jimin added. "About 420 km far."
The two eventually reached the red carpet for the award ceremony, reuniting with Jin, Suga, J-Hope, V, and Jungkook. They stopped to talk to Chloe Bailey and entertainment outlets like Spotify and ET Online. 
BTS is one of the biggest boy bands in the world
Despite what Jimin and RM believe, these artists are two members of the world's biggest boy band. BTS became the first K-pop group to perform at the Grammy Awards, earning their first nomination for the 2020 release "Dynamite." 
BTS collaborated with Coldplay, Halsey, Sia, Charli XCX, and other award-winning artists. With the help of ARMYs, the band breaks YouTube records, most recently with "Butter." The K-pop group even spoke at the United Nations, partnering with UNICEF for their "Love Myself" anti-violence campaign.