BTS: Jimin Trends on Twitter After Subtly Hinting He Has a New Hair Color
It's officially happening. The members of BTS have new hair colors, meaning content for their new album will arrive soon. During a promotional event for Map of the Soul: 7 ~ The Journey ~, the group's new Japanese studio album, multiple BTS members debuted new hair colors or subtly tried to hide their hair with hats. After fans noticed Jimin's hair was lighter under his hat, BTS fans trended his name on Twitter.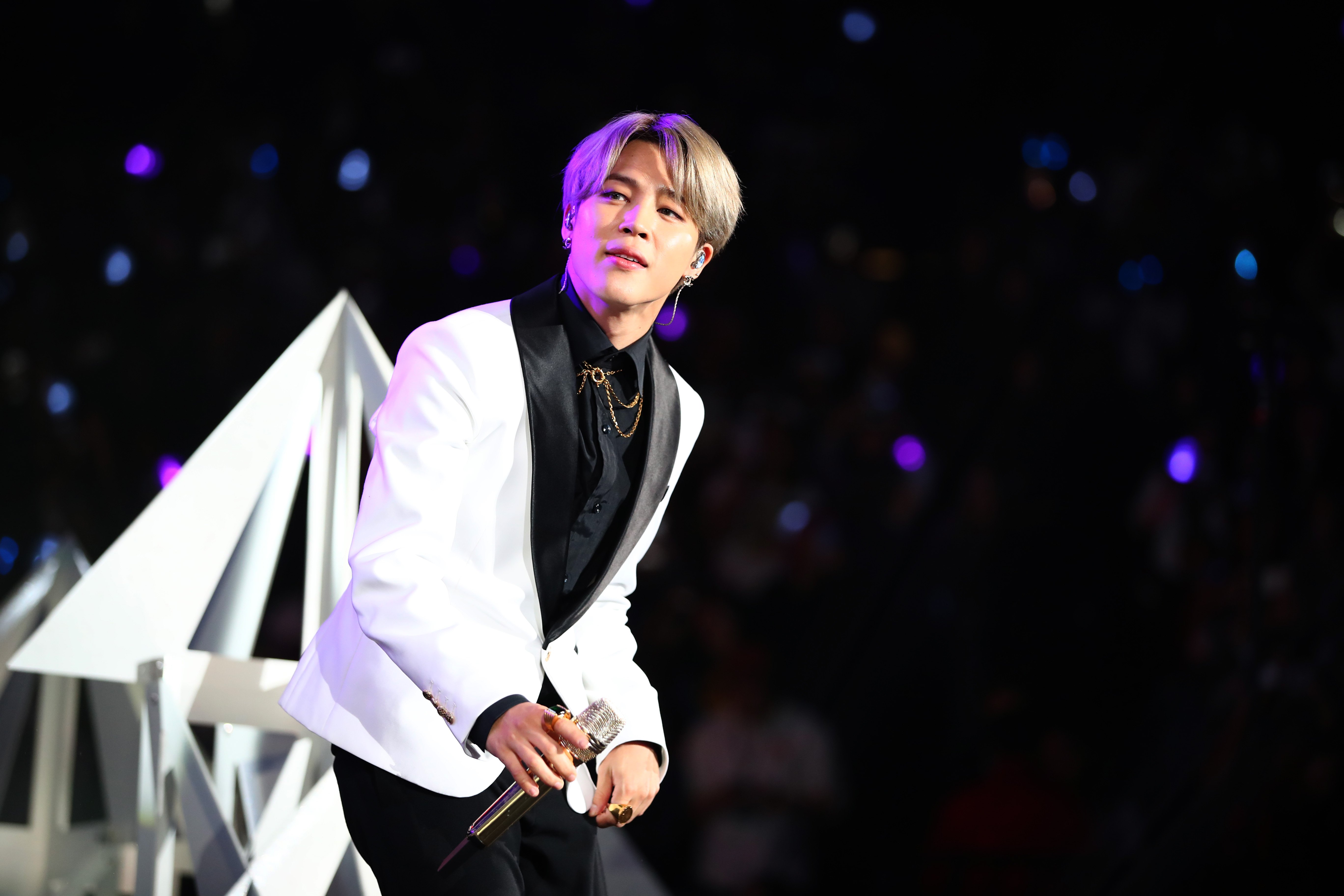 Fans have been suspecting the BTS members dyed their hair
On July 27, 2020, Jin, Jungkook, and Jimin began an audio VLIVE. J-Hope, RM, Suga, and V later joined the broadcast, and the Korean band revealed they have a new single arriving in August and an album coming later in 2020.
"We have prepared a new single for ARMY, set for August 21. We are preparing an album for the second half of this year, but decided to first release a single because we wanted to reach our fans as soon as possible. Due to COVID-19, people around the world have been going through tough times and we wanted to share some positive energy with our fans," the group said during the VLIVE according to a press release from Big Hit Entertainment.
Because the members held an audio VLIVE versus a video livestream, fans assumed that the BTS members were hiding that their hair has changed for the comeback.
BTS fans thought Jimin would have orange hair for the comeback
After the VLIVE, the BTS members posted photos on their shared Twitter account. In the photos, Jimin wore a hat, but the ends of his hair were black. A few minutes later, Jimin posted selfies of his own on BTS's Twitter account showing he had black hair.
However, fans noticed that in the group photo, Jimin had on a different shirt, contacts, and did not wear earrings. Because of this, fans began to suspect that Jimin posted old photos to try and make fans think he would have black hair for the comeback.
"different shirt, different days. therefore both of these were not taken today and jimin has orange hair," a fan tweeted.
RELATED: BTS: The Co-Director of 'Zootopia' Loves Jimin's Voice Work
Why did fans think Jimin would have orange hair for BTS's new comeback? For a few weeks, fans have speculated that BTS will return to the HYYH era for their new album and the album's music videos will incorporate the BTS Universe.
HYYH stands for "Hwa Yong Yeon Hwa" and is BTS's The Most Beautiful Moment in Life era. The BTS Universe, a series of music videos and short films where BTS plays fictional characters, began during the HYYH era. For part of the era, Jimin sported orange hair.
Jimin trended on Twitter with his new hair color
During the Map of the Soul: 7 ~ The Journey ~ event, Jimin, V, and RM wore hats to hide their hair and Jin revealed his new orange hair. Under Jimin's hat, it was clear to see his hair was lighter, and fans began speculating whether it is silver or blonde. So many people began discussing Jimin's possible hair color, the BTS singer trended on Twitter on Aug. 1, 2020.
One fan tweeted, "OH MY GOD IS JIMIN HIDING BLONDE HAIR SO HE CAN DYE IT ORANGE OR AM I TRIPPING ???????????"
"LOOK AT JIMIN'S HAIR IM GONNA PASS OUT," wrote a Twitter user.
"and when jimin bleaches his hair blond only to dye it orange then what," tweeted a fan.