BTS: Jimin Updates Fans on the Progress of the Group's Upcoming Album
BTS is currently in the process of making a new album. The members are self-producing the album and are giving fans insight to the behind-the-scenes decisions and their creative process through videos on the BANGTANTV YouTube channel. In a recent video, Jimin updated BTS fans on the progress of the album.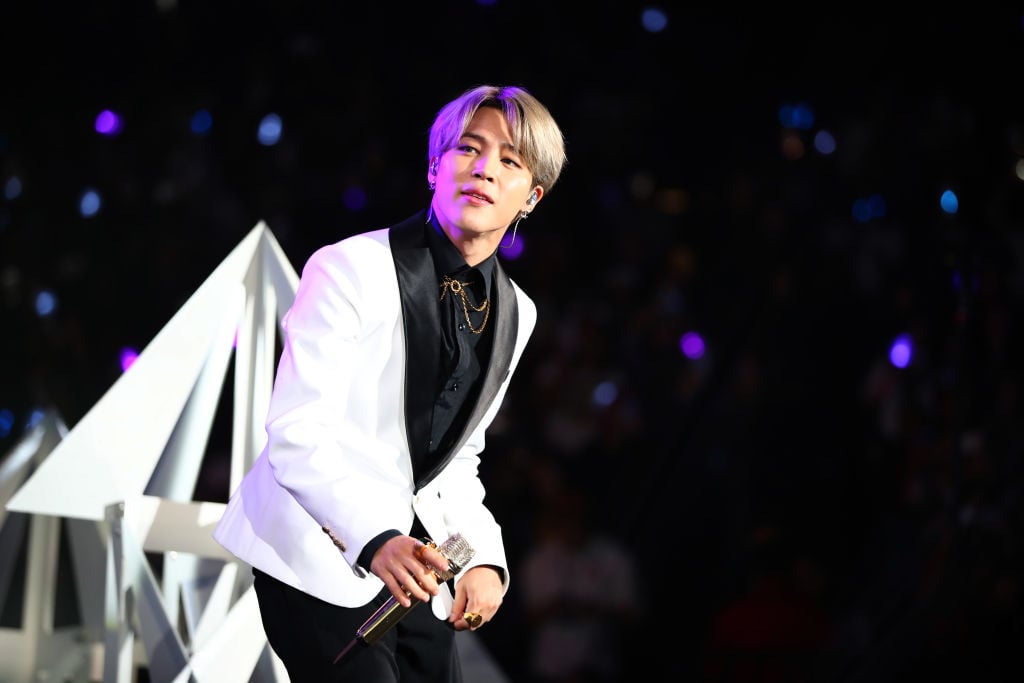 BTS is self-producing the album
On April 17, RM held a livestream on the BANGTANTV YouTube channel and revealed the band planned to release a new album. He also let fans know that the members would be showing the decision-making process behind the album.
"To be honest, I'm not sure if I'm supposed to be talking so casually like this but— As many of you probably expected, our album is going to come out. We've decided to prepare for a new album, so we've started preparations… We've kicked it off," RM said.
He continued, "We'll be sharing the process of preparing and stuff, which is a first. I'm a bit torn about how much we should show— But we'll be trying to show you some of the processes that we go through together, from now on… The album will come out, but since we only just kicked off, we don't know what songs we will sing, what the title song will be, what kind of music we'll talk about. None of that has been decided in detail yet since we only just started talking about it."
In a livestream on April 24, Suga revealed that each member had a different role and the group was self-producing the album. Jimin held a YouTube Live on May 1 and told BTS fans that he is a production manager.
"So we picked Project Managers and I've been picked as the music PM this time," Jimin told fans. "Suga had a strong opinion about it… Suga's opinion then was that, by doing this kind of work, he hoped that I could, kind of, get a little closer to the music."
The group recently discussed songs for the new album
On May 11, BTS held a livestream on the BANGTANTV YouTube channel where they discussed what they want their next album to be like.
"I'd like for the album to not be very dark. Rather than explicit comfort, I'd like it if we could offer a more metaphorical message like 'Spring Day' to give hope to everyone," Suga said according to a translation by Soompi.
"I want to include the message that no matter what's going on in the outside world, our lives go on," RM said.
RELATED: BTS's Sincere and Intimate Virtual Concert 'Bang Bang Con The Live' Broke a Viewing Record
Jimin updated fans on BTS's new album
On June 16, a couple days after BTS's virtual concert "Bang Bang Con The Live," Jimin held a livestream on YouTube. In the video, he let fans know what the members were currently doing for the new album.
"We've been… We're working on our album, so we get together and do meetings. So I want to update you on how far we've discussed and how we're doing," Jimin said. "Last time I said we've discussed on the themes we want to try. How about this theme? How about this idea? So we discussed a lot."
He continued, "And… Only about… Until two or three days ago… We… The members and the music producers of the company wrote their… anything from melody to songs or a melody in a song. Some wrote the melody in someone else's song or some worked on an entire song including the lyrics. So after we worked on our pieces, now we've put those pieces together. The members have sent in their work too."
Jimin also explained how his role as a project manager works during this stage of the album-making process and told fans that he made a few songs of his own.
"As now I'm a project manager, I've collected the songs the members worked on and sent those to the company saying 'this is what we got so far,'" Jimin said. "Me and the members worked a lot. And I also made two or three songs."