BTS' Jin Got Emotional During the Permission To Dance on Stage Birthday Surprise — 'Wow'
Jin is BTS' oldest member, earning nicknames like "Car Door Guy" and "Worldwide Handsome." Some ARMYs planned a moon-themed surprise at a Permission to Dance on Stage concert in honor of his birthday.
Here's what we know about Jin's reaction to his birthday celebration.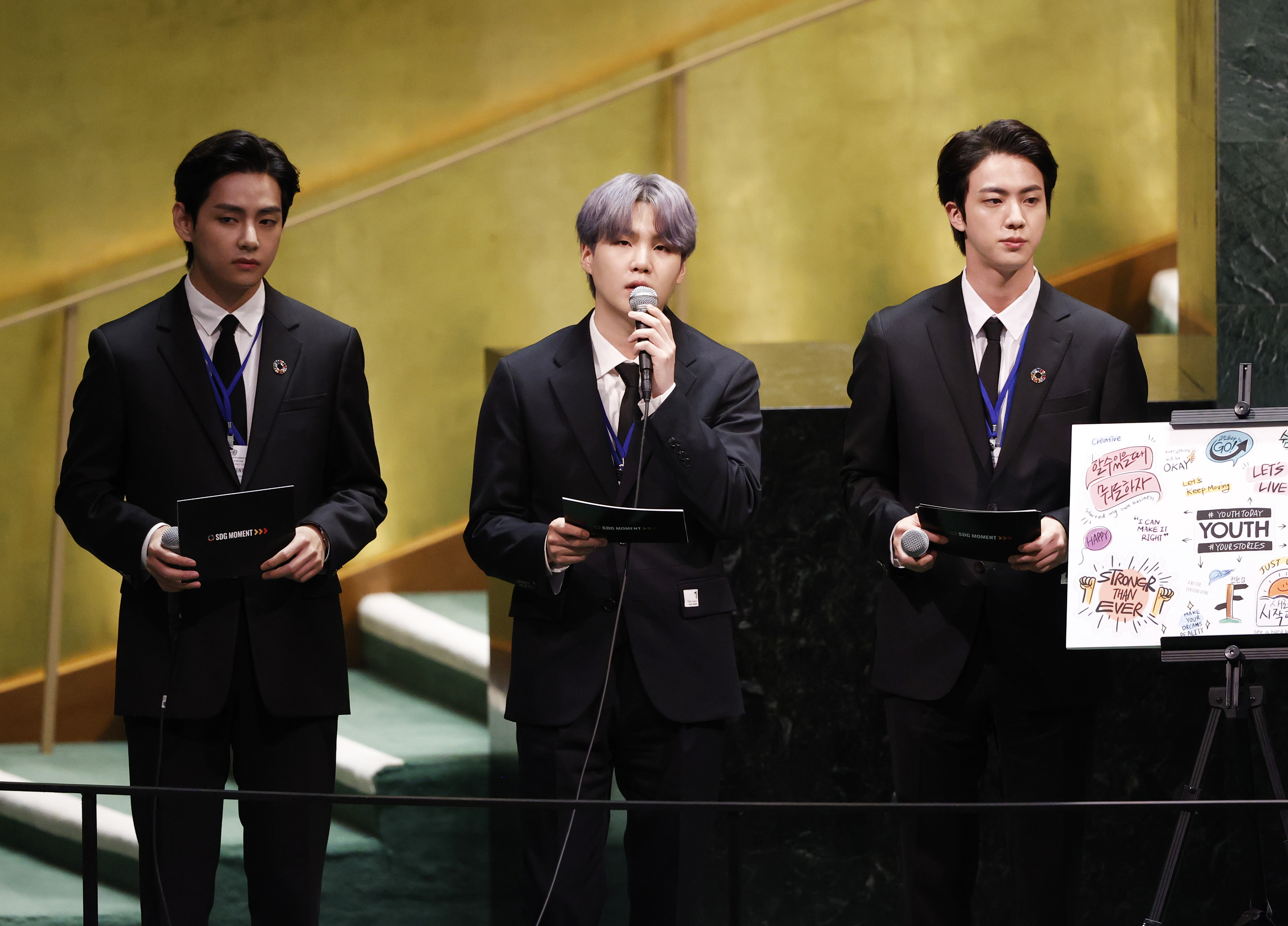 BTS' Jin celebrated his birthday on Dec. 4
Jin, real name Kim Seokjin, is the artist behind songs like "Moon," appearing alongside other BTS members for "Permission to Dance," "Life Goes On," and "The Truth Untold." Jin is also a songwriter, having a role in creating the Be (Deluxe Edition) track, "Stay."
On Dec. 4, Jin also celebrated his birthday. This birthday was a significant milestone for the oldest BTS member, as Jin turned 30 years old in 2021 (based on the Korean age system).
Of course, ARMYs across the globe celebrated Jin with unique projects, some even involving putting a box over their ARMY bombs for a Permission to Dance on Stage concert.
Jin got emotional at his birthday surprise from the BTS ARMY
For the first time in over a year, ARMYs celebrated Jin's birthday face-to-face, some of whom attended the Permission to Dance on Stage concerts. On Dec. 2, ARMYs held up signs in honor of Jin's birthday, to which the idol stopped to thank fans, saying it was "so sweet."
At one point during the Dec. 3 concert, J-Hope pointed to the ARMY Bombs, now shaped like moons in honor of this BTS member and his Map of the Soul: 7 solo track, "Moon." It took Jin a minute to notice, but he responded with a resounding "woah."
"ARMY, I love you," Jin said, wiping his eyes. Following the performance, the artist took to Twitter, posting pictures of the night with his Line Friends character, the alpaca named RJ. 
"Thanks to ARMY, I live with a smile every day," Jin wrote, according to Twitter's translation. I love you, ARMY. (Line, are you watching this? I show this much love to RJ.)"
The "Moon" ARMY bomb surprise wouldn't be the only birthday project for Jin. ARMYs across the globe landed on new streaming goals for songs featuring this BTS member. (They reached their goal of 112 million Spotify plays on the solo song, "Moon.")
BTS performed several concerts in conjunction with their 'Permission to Dance on Stage' residency
This in-person celebration of Jin's Birthday lasted for several days, all in conjunction with BTS' SoFi Stadium residency. The K-pop group performed in-person alongside artists like Megan Thee Stallion and Coldplay. Even Halsey appeared at one concert, hearing songs like "Butter" and "On" live.
According to Jungkook, this is "only the beginning" for BTS. The K-pop group announced they would perform in Seoul, South Korea, in 2022, with some fans speculating more tour dates announced soon.
Until then, music by BTS is available on streaming platforms like Spotify and Apple Music.
RELATED: Jin From BTS Always Has This Utensil in His Bag: 'I Never Use It, So It's Just There'