BTS: Jin Felt Like a 'Protagonist in a Novel' During a 'Permission to Dance On Stage – LA' Concert
BTS' Permission to Dance On Stage – LA concerts took place at SoFi Stadium in Los Angeles on Nov. 27, Nov. 28, Dec. 1, and Dec. 2, 2021. Jin of BTS turned 29 years old on Dec. 4, 2021. Because his birthday took place around the last date for Permission to Dance On Stage – LA, ARMY and BTS celebrated Jin's birthday at the concert. In an interview with Weverse Magazine, Jin shared that this made him feel like a "protagonist in a novel."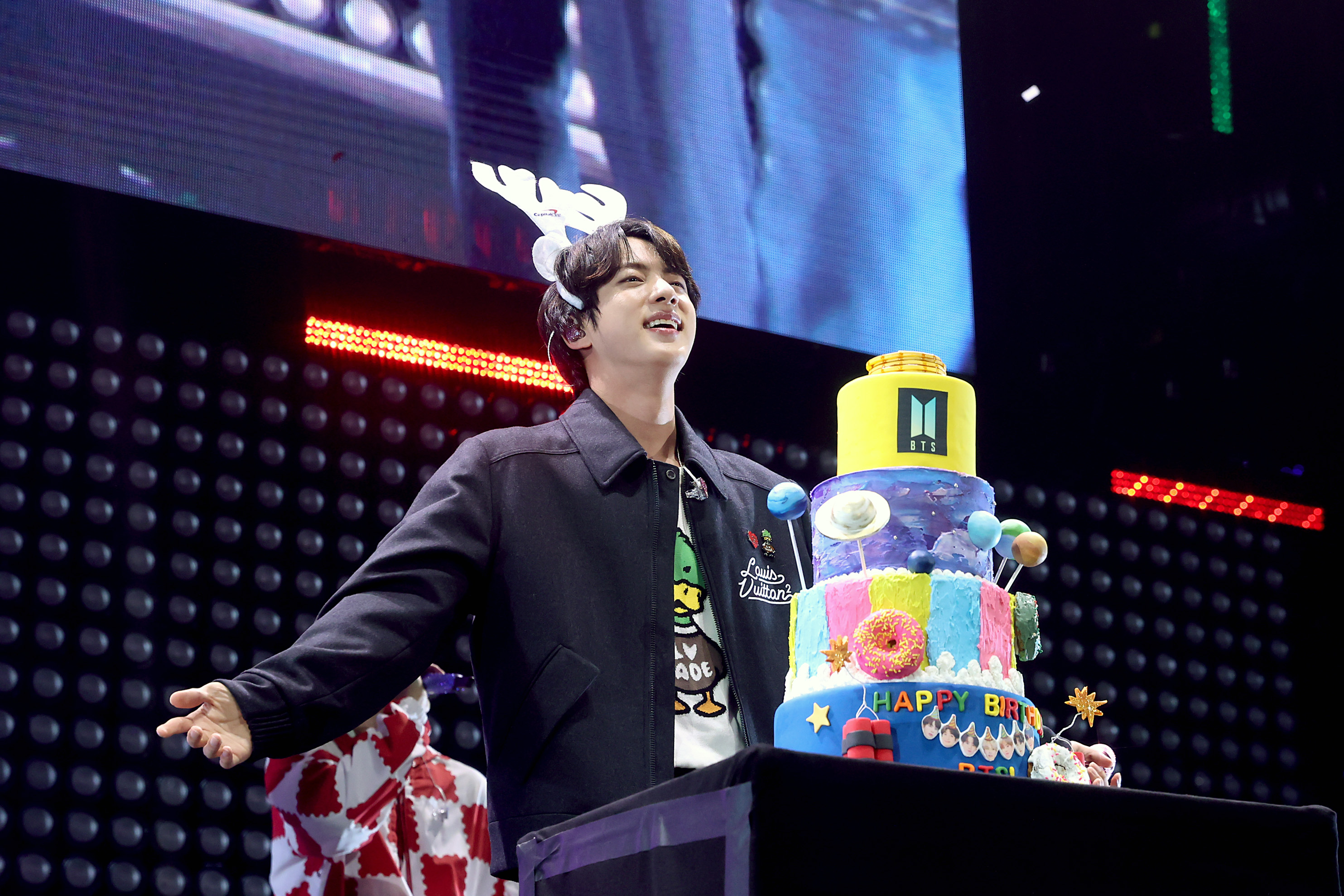 Jin of BTS felt like he was a 'protagonist in a novel'
For Jin's birthday, ARMY planned a special event and surprises during the last concert for Permission to Dance On Stage – LA.
In an interview with Weverse Magazine, Jin shared what it was like to have ARMY and BTS celebrate his birthday at the concert, saying:
"That event was something I could experience entirely thanks to everything we've done as a team to make it where we are today. I was seriously moved in a way I have never been before. Honestly, where else could you experience something so touching? 50,000 people, all singing happy birthday, and the man of the hour is me. It was like being the protagonist in a novel. And to think, when we debuted, I thought it would be so nice just to have a concert in front of 3,000 people."
RELATED: President Joe Biden Said the Members of BTS Have 'Great Talent'
Jin performed limited choreography during BTS' 'Permission to Dance On Stage – Las Vegas' concerts
In April, BTS put on Permission to Dance On Stage – Las Vegas concerts at Allegiant Stadium. The concerts were held on April 8, April 9, April 15, and April 16.
Earlier in March, Jin injured his finger and required surgery. Because of this, Big Hit Music published a Weverse announcement letting fans know that Jin would perform 'limited' choreography during the concerts.
The label's Weverse announcement reads:
"As we informed you on March 19 (KST), Jin had injured his left index finger as the tendons in the finger had been partially damaged and underwent surgery to repair the extensor in the finger. It was the opinion of the medical personnel that Jin should refrain from vigorous movement as any impact on his finger due to the amount of activities increased more than necessary, while he is still recovering from the injury, may cause another surgery. 

While the artist himself strongly wished to participate in the performance in full, our company has decided to follow physician advice and minimize Jin's movements during the 'BTS PERMISSION TO DANCE ON STAGE – LAS VEGAS' concerts on all the above mentioned dates. As a result, Jin's choreography and stage performance will be limited to a certain extent. We ask for your understanding and support from all our fans."
RELATED: TXT: Taehyun Was Inspired by Jimin of BTS When Performing 'Opening Sequence'
How Jin felt about the 'Permission to Dance On Stage – Las Vegas' concerts
At the Permission to Dance On Stage – Las Vegas concerts, J-Hope praised Jin for performing in the concerts after having surgery.
Jin shared what he thought of J-Hope's comments in his interview with Weverse Magazine, saying:
"As he said, I tried my very best to miss as little as possible at the concert, despite my injury. But what I'm really thankful to Hobi for and makes me feel bad is—the fact is, I wasn't really in the performance, so I didn't really deserve that kind of respect, but I'm so grateful that he complimented me and said nice things about me. I always knew j-hope was a really good guy, but this once again reminded me of the fact. The fact that he understood my situation and praised me for working hard anyway made me feel sorry and thankful at the same time."