BTS Fans Just Unlocked The Meaning Behind Jungkook's Elbow Tattoo
After months of hiatus due to the coronavirus (COVID-19) pandemic, BTS is getting back to work and the ARMY is beside themselves. Still, RM, Jin, Suga, J-Hope, Jimin, Jungkook, and V had such an intensely busy 2019, that we think they all deserved a much-needed break.
Despite the pandemic, BTS has continued to connect with their fans. They even garnered their first number one hit on the Billboard 100 charts with their song, "Dynamite."
For his part, Jungkook has used this downtime to get some more sentimental ink. Since the ARMY is so quick, they've already unlocked the meaning of his new elbow tattoo.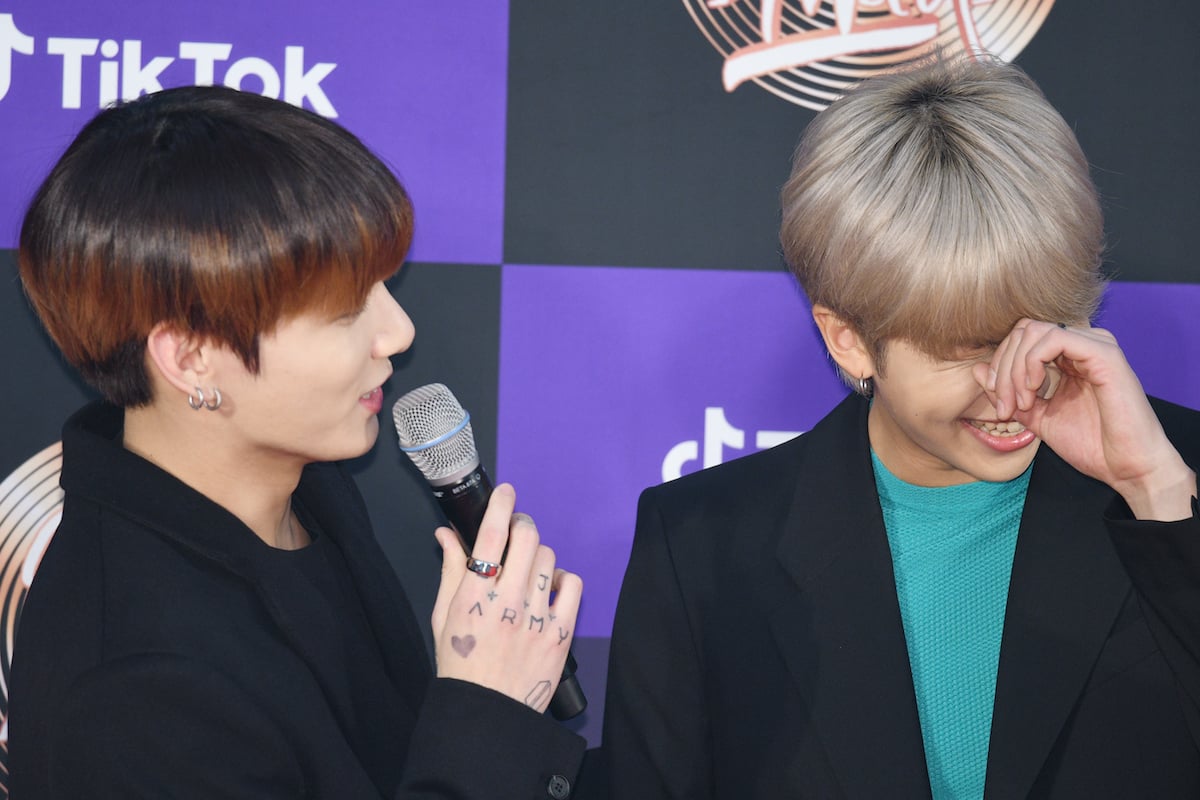 Jungkook has a ton of tattoos
Jungkook is no stranger to tattoos. So far he has 16 different tats scattered across his body. There might be even more, but these are the most visible so far. Jungkook got his first tattoo back in Sept. 2019, and he hasn't stopped since.
So far, he has the word "ARMY" tatted across his knuckles as a tribute to his fans. As a tribute to his bandmates, he also has intricate initials of their names connected with plus signs across his hand.
Jungkook has the numbers "0613" on his right thumb, representing June 13, 2013, the day BTS was founded, as well as an emoji, a skeleton hand, a mystery shoulder tattoo, and a slew of others.
This is why Jungkook keeps the meanings of his tattoos a secret
Jungkook has never come forward to unpack all of the meanings behind his tattoos. However, it's clear that he cherishes BTS and his fans. It seems that he likes to keep some things close to his chest since fame does have its challenges.
"When something I said or did caused an issue or made people feel disappointed," he told Paper Magazine of his biggest challenge. In fact, as the youngest member of BTS, Jungkook tries to think carefully, before sharing certain aspects of himself. He told Paper Magazine,
I realized that I should think twice before I do anything, and not forget where I am, no matter what situation I may be in. The pressure [of being perfect] is always there. But I want to show them that I am improving. If I had a chance to improve every aspect of myself, then I would work hard to make it happen rather than just sitting idly by.
Jungkook's elbow tattoo has the best meaning
Jungkook hasn't said much about his new ink. However, fans have already unlocked the meaning of his new elbow tattoo. The ARMY first spotted the extensive ink in BTS' 5th Muster Magic Shop: Japan Edition DVD.
Junkook has the words "The Most Beautiful Moment in Life" tattoed under his elbow in traditional Chinese characters. The ARMY has guessed that this is a throwback to BTS' 2015 era of the same name.