BTS' Jungkook Reveals His Favorite Song to Perform Live
Here's what we know about Jungkook and his favorite BTS song to perform for fans.
BTS is one of the biggest boy bands in the world, often performing in sold-out stadiums. Jungkook's favorite song, though, is a track BTS has not performed live for fans — not yet anyway.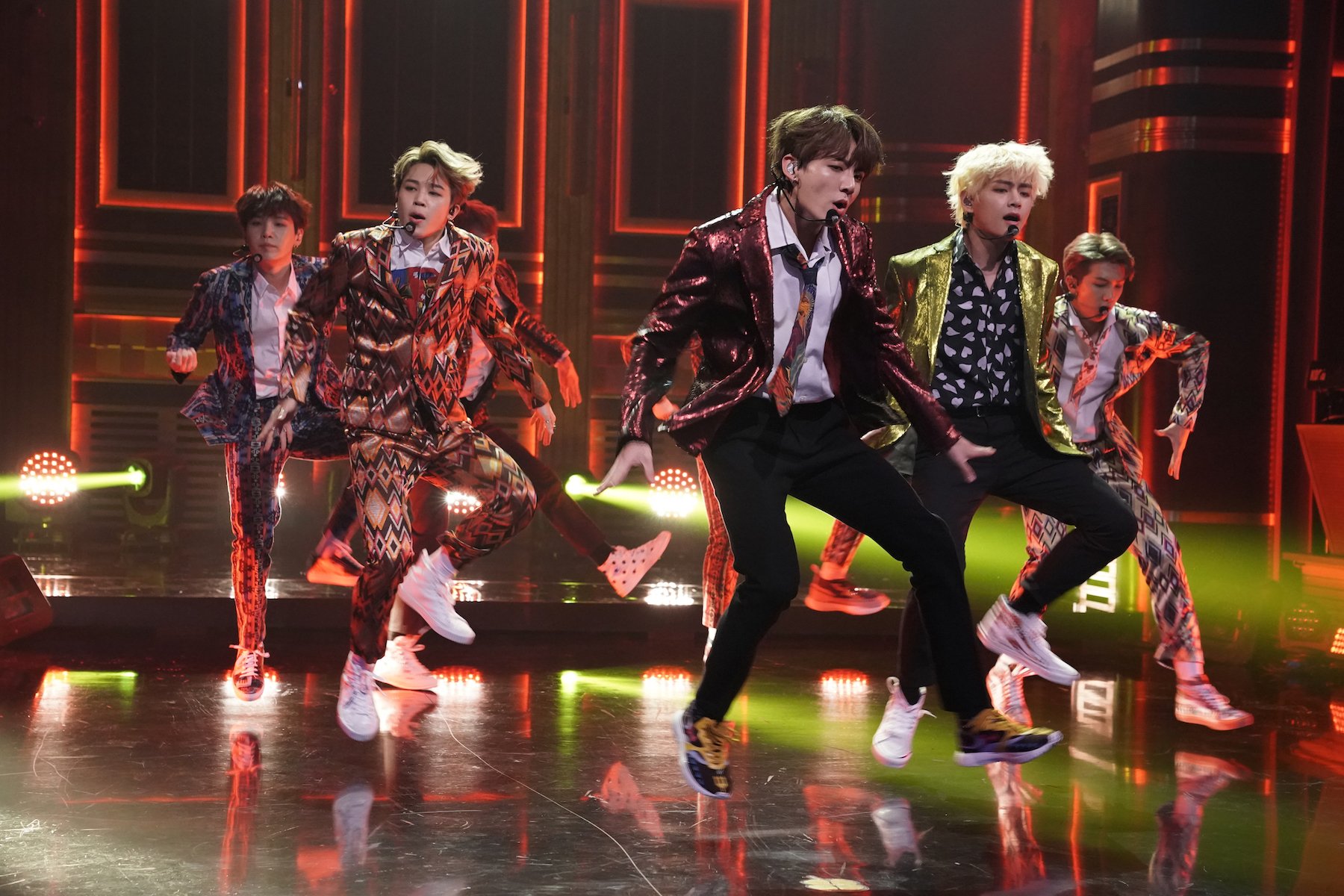 BTS is known for iconic live performances, even taking to the Grammy stage in 2020 and 2021
RM, Jin, Suga, J-Hope, Jimin, V, and Jungkook make up the award-winning K-pop group BTS. Since their debut, the boy band members have earned several awards and international recognition. They have collaborated with artists including Sia, Halsey, and Chris Martin of Coldplay. 
In 2020, BTS earned its first Grammy nomination for the all-English Be (Deluxe Edition) track "Dynamite." The K-pop group also performed in sold-out stadiums filled with the BTS ARMY. As a result, the BTS members have a few favorite songs to perform live.
What is Jungkook's favorite song to perform live?
During a video for Vanity Fair, the BTS members saw how well they knew each other, taking turns answering questions about music, food, and more. The youngest member of the group, Jungkook, was asked what is his favorite song to perform. 
Some members guessed "Euphoria," the vocalist's solo song from Love Yourself: Answer. Jimin guessed "On," one of the band's title tracks from Map of the Soul: 7. Jungkook agreed that "On" was his favorite.
"We've never performed it in front of ARMYs yet. I think if we performed it now, they would love that," Jungkook said, according to a translation on the video. He then demonstrated the choreography, with other members agreeing that the dancing was challenging but fun.
The BTS members are looking forward to performing live for ARMYs
The BTS members initially planned to perform live for fans on their Map of the Soul tour. It has since been canceled due to the coronavirus (COVID-19) pandemic and safety concerns. In an interview with Weverse Magazine, Jin was asked how he'd feel when he got to see fans again.
"At first, I thought I'll probably cry tears of joy. But would I? I don't really think so," Jin said. "At first, I really thought I would, but now I think it might feel like going back home.
"It depends on who you ask, but I don't think most people would cry just because they came back to their hometown after being away. I think that's how I'll feel: like I'm back where I should be."
After months of anticipation, the boy band announced a mini residency in Los Angeles. This would be the group's first time performing for a live audience in the United States in over a year.