BTS' Jungkook Thinks He's 'Calmer' and 'More Laid Back' Than Pre-Pandemic Jungkook
Years after their debut, BTS continued to release original music. Several members commented on their growth as people and artists, including the group's youngest member — Jungkook.
Jungkook is the youngest BTS member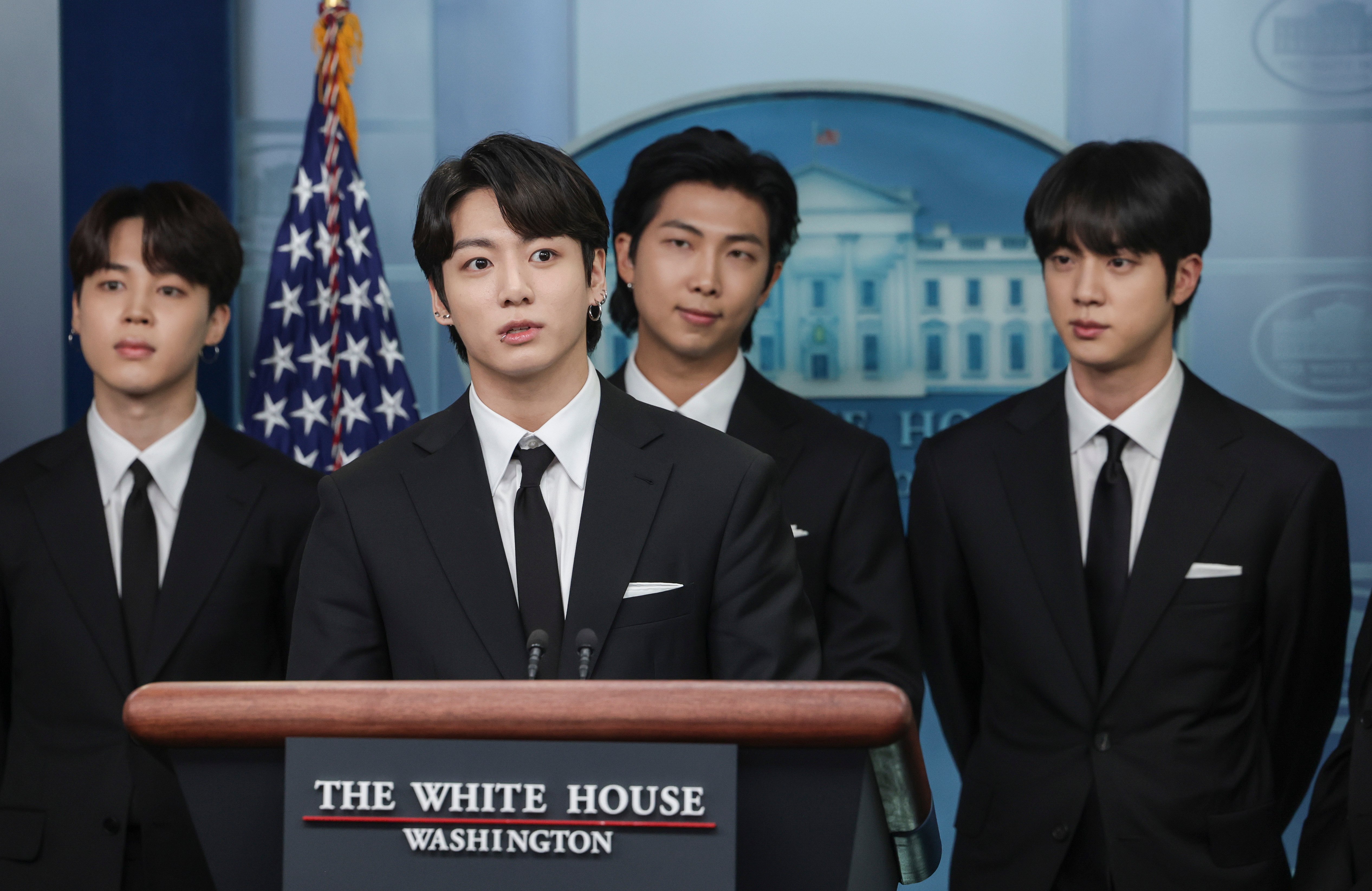 Jungkook is BTS' "Golden Maknae," known for his seemingly limitless talent and his work with BTS members Jin, Suga, J-Hope, RM, Jimin, and V. With over seven years as a band, these artists had several different eras, even creating music during the coronavirus (COVID-19) pandemic.
Due to BTS' postponed-turned-canceled Map of the Soul tour, Jungkook released the solo song "Still With You" on Soundcloud. With a URL reading "thankyouarmy2020," this track was a nod to BTS' fan base and their impact on the K-pop group.
The pandemic impacted the BTS members in other ways, though. Jungkook said that his "whole personality" changed following the pandemic.
Jungkook thinks his 'whole personality' changed since the pandemic
As BTS' youngest member, ARMYs grew up alongside this singer, watching him enter young adulthood from his teenage years. He graduated from high school in the spotlight and earned his bachelor's degree from Global Cyber University. As a result, Jungkook believes he's matured — both as a musician and as a person.
"I'm a little calmer now," Jungkook said during a 2022 Weverse interview. "I think I can see a little more clearly and for certain what I need to do musically now that I settled down. I still wouldn't say I've turned into a grown-up entirely yet, but that feeling has slowly begun to reach me. I didn't realize it until then."
Part of those changes could be due to the people around Jungkook (notably the six other members of the K-pop group) or, as the interviewer noted, the idol's experience traveling around the world.
"I think my whole personality has changed a lot," the BTS member noted in the same interview. "In the past, I would get emotional or lose my temper."
"Sometimes I let my emotions get the best of me," he added, "but ever since the pandemic, I've become more laid-back, and I've been able to look at things rationally and realistically. And I don't get mad as easily. Even my perspective on life used to fluctuate wildly, but now I think I'm more centered."
BTS' Jungkook is working on his 'JJK1' solo mixtape
That personal growth is somewhat reflected in Jungkook's solo music, with "My Time" included on BTS' Map of the Soul: 7. The vocalist also announced his plans for his first solo mixtape, affectionately nicknamed "JJK1" by BTS fans.
Other BTS members have already released solo productions, including J-Hope, who debuted Hope World and his collaboration with Becky G titled "Chicken Noodle Soup." RM worked with Lil Nas X for the "Seoul Town Road" remix. Suga released several originals under the stage name Agust D, even featuring Jungkook and Jin in the "Daechwita" music video.
RELATED: BTS' Jungkook to Be the First K-pop Artist with a Fan-Created Spotify Ad for His Birthday