BTS, Justin Bieber, and More Celebrate HYBE Merging With Ithaca Holdings
South Korean company HYBE recently acquired Scooter Braun's Ithaca Holdings through its subsidiary, HYBE America. To celebrate HYBE purchasing Ithaca Holdings, BTS, Justin Bieber, Demi Lovato, and more artists from the companies shared messages in a YouTube video.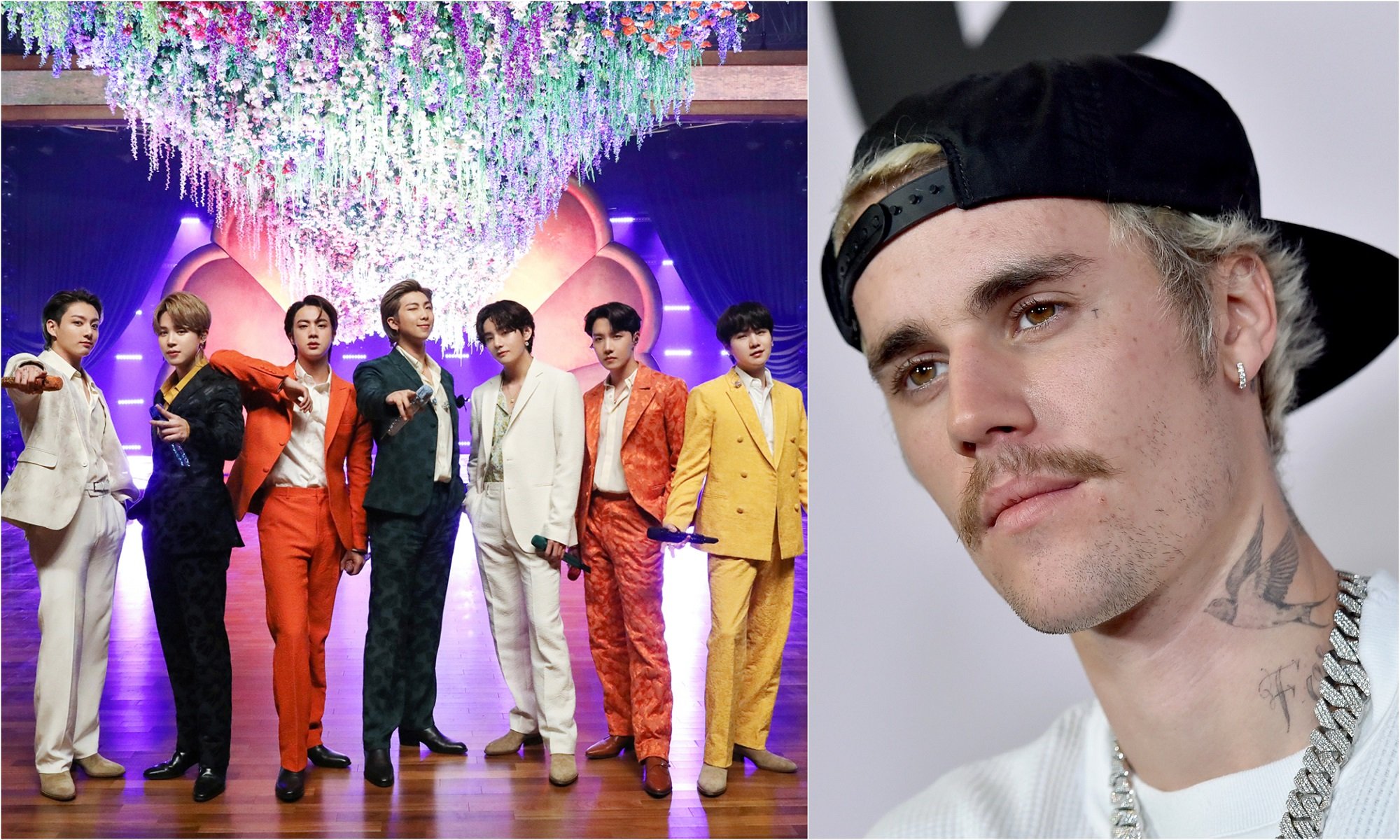 HYBE acquired Ithaca Holdings
On March 18, HYBE, formally Big Hit Entertainment, announced its plans to rebrand as HYBE with the music aspect of the company continuing on as Big Hit Music.
HYBE is split up into three different divisions: Labels, Solutions, and Platforms. Big Hit Music, Source Music, Pledis Entertainment, Belift Lab, Koz Entertainment, and HYBE Labels Japan all reside under HYBE Labels. Big Hit Music is the home of K-pop groups BTS and TOMORROW X TOGETHER.
On April 2, Variety reported that HYBE acquired Braun's company Ithaca Holdings. Going forward, Ithaca Holdings will reside under HYBE's subsidiary HYBE America.
In the exclusive report, Variety wrote:
"… HYBE will acquire through HYBE America, its wholly owned subsidiary, a 100% stake in Ithaca Holdings and its properties, which includes SB Projects and management clients Justin Bieber, Ariana Grande and Demi Lovato, among others, as well as Big Machine Label Group.

The deal is said to be valued at more than $1 billion.

Braun will join the board of HYBE and Scott Borchetta will remain CEO of Big Machine Label Group. Artists of both companies will participate in the capital increase of HYBE to further strengthen the ties between the two companies…"
BTS shared their excitement for the future
After it was announced HYBE acquired Ithaca Holdings, a video titled "HYBE x Ithaca Holdings" was posted on the HYBE Labels YouTube channel. In the video, Bang Si-Hyuk, Braun, and Borchetta shared their thoughts on the new partnership.
The members of BTS also filmed a statement about the news and detailed their hopes for the future.
"Such great news that leaves us all in awe!" RM said. "Justin Bieber, Ariana Grande, J Balvin! The team behind these and so many incredible artists have come together with HYBE. We're so happy to see so many artists that we cherish and love become a part of this family. It feels like the world is getting more connected and even smaller."
Suga added, "We're seeing things we could never imagine turn into reality, like this incredible news. And it makes us think there are no boundaries or limits to the work we are doing. We can't wait to see the endless possibilities that await us."
To conclude BTS' message, J-Hope shared, "I hope we can grow and share positive influence with all the artists that have become a part of our new family. And most of all, we hope this new adventure will give fans a fresh experience and be a source of new joy. We once again welcome the artists of Ithaca Holdings."
Justin Bieber released a statement
After BTS spoke, J Balvin, Demi Lovato, and K-pop group SEVENTEEN shared their own statements on HYBE and Ithaca Holdings merging. At the end of the video, Bieber, one of the most popular stars Braun manages, spoke.
"Congratulations Mr. Bang and Scooter on this historic partnership. The prospects of working together with these amazing teams and stepping further into the global music scene is very exciting," he said.
Bieber continued, "Congrats to everyone again. Thanks guys, I'm thrilled at the potential this alliance holds. Kudos to the teams… Let's make history together."