BTS: Get Ready Because V Announced He Is Officially Making a Mixtape
On May 15, Suga of BTS held an audio livestream on VLIVE called "DJ SHUP-D's Kkul FM 06.13 #0613FM_0515." The rapper's special guest on the show was V, who had a special announcement. During the program, V told BTS fans that he is officially working on a mixtape.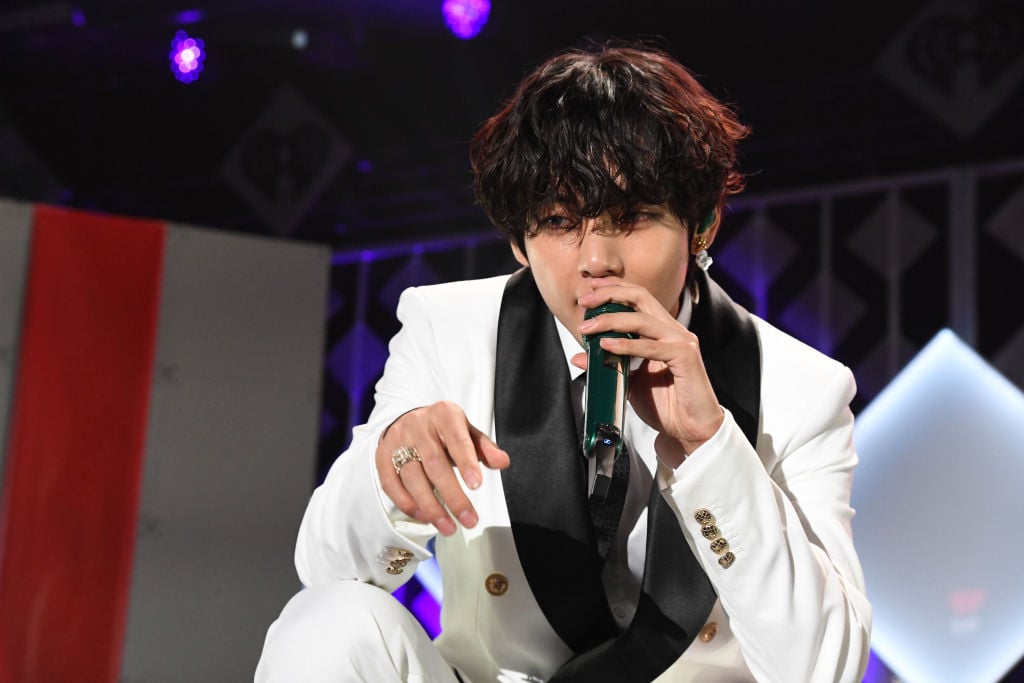 V hinted he was working on a mixtape awhile back
Oftentimes, V plays online games with fans. At the beginning of May, V hinted that he could release a mixtape in the near future while in the chatroom of a game.
"I wrote several songs. Please anticipate it," V wrote in one message according to a fan translation.
His second post read, "I should release a mixtape."
V's hints added a lot of excitement to the BTS fandom. Already, fans are waiting for Jungkook's first mixtape, Suga's second mixtape, BTS's upcoming Japanese studio album, and BTS's self-produced album.
RELATED: V of BTS and Conan Gray Want to Make a Song Together
Fans already knew V has been working hard to compose songs. In a VLIVE with Jungkook, V told fans he wrote a song for Parents' Day. During another VLIVE with RM, V told fans that he recently wrote three songs, and one of them, "Sweet Night," was featured in the Itaewon Class OST.
The singer was Suga's guest on VLIVE
During Suga's radio show, V made an appearance as his guest. V told listeners that he is working hard to do the #StayHomeChallenge. To do so, he's been working out and working on music. He told Suga that some of the songs are for his mixtape, and others are for BTS's upcoming self-produced album.
For the radio show, the two participated in various activities to entertain listeners. V then told BTS fans that he would include the song he wrote for Parents' Day on the mixtape because he wants fans to hear it too.
Suga released his mixtape Agust D in 2016 under the stage name Agust D to keep that persona separate from his BTS stage name. Because of his experience, he asked V if the singer has plans to use another stage name for his mixtape. V responded that before he could decide that, he needed to finish the songs first.
BTS fans are excited for V's mixtape
In 2019, V released the song "Winter Bear," a song he composed with RM, ADORA, and Hiss Noise. V also directed and starred in the song's music video. While fans already suspected V would release a mixtape, it's exciting to have V confirm it himself. Over the past few years, V has dedicated himself to composing songs and developing his signature artistry.
A Twitter user wrote, "Hearing Tae talk abt his very first mixtape hits different esp after ep 3 of break the silence. I'm so happy for him!"
"TAE SAID HE'S WORKING ON A MIXTAPE KTH1 IS REALLY HAPPENING FAM," one fan tweeted.
Another fan tweeted, "Tae's songs are the warmest n most emotional They are like a warm hug Imagine what the whole mixtape would be like!!!"