BTS: 'Life Goes On' Is Not Getting the Same Radio Treatment as 'Dynamite'
BTS released their new album BE on Nov. 20. The album features eight tracks: "Life Goes On," "Fly To My Room," "Blue & Grey," "Skit," "Telepathy," "Dis-ease," "Stay," and "Dynamite." Along with BE, BTS also released a music video for the album's lead single, "Life Goes On."
Before releasing BE, BTS released the song "Dynamite" as a single, and the song marked the septet's first song to be sung entirely in English. It went on to debut at No. 1 on the Billboard Hot 100, and in total the song reached the No. 1 spot on three occasions.
"Dynamite" became a huge hit with not only BTS fans, but also the general public in the U.S. The song also became a radio hit and is consistently played by U.S. radio. Even though "Life Goes On" is BTS' newest single, it is not receiving the same treatment by radio that "Dynamite" is enjoying.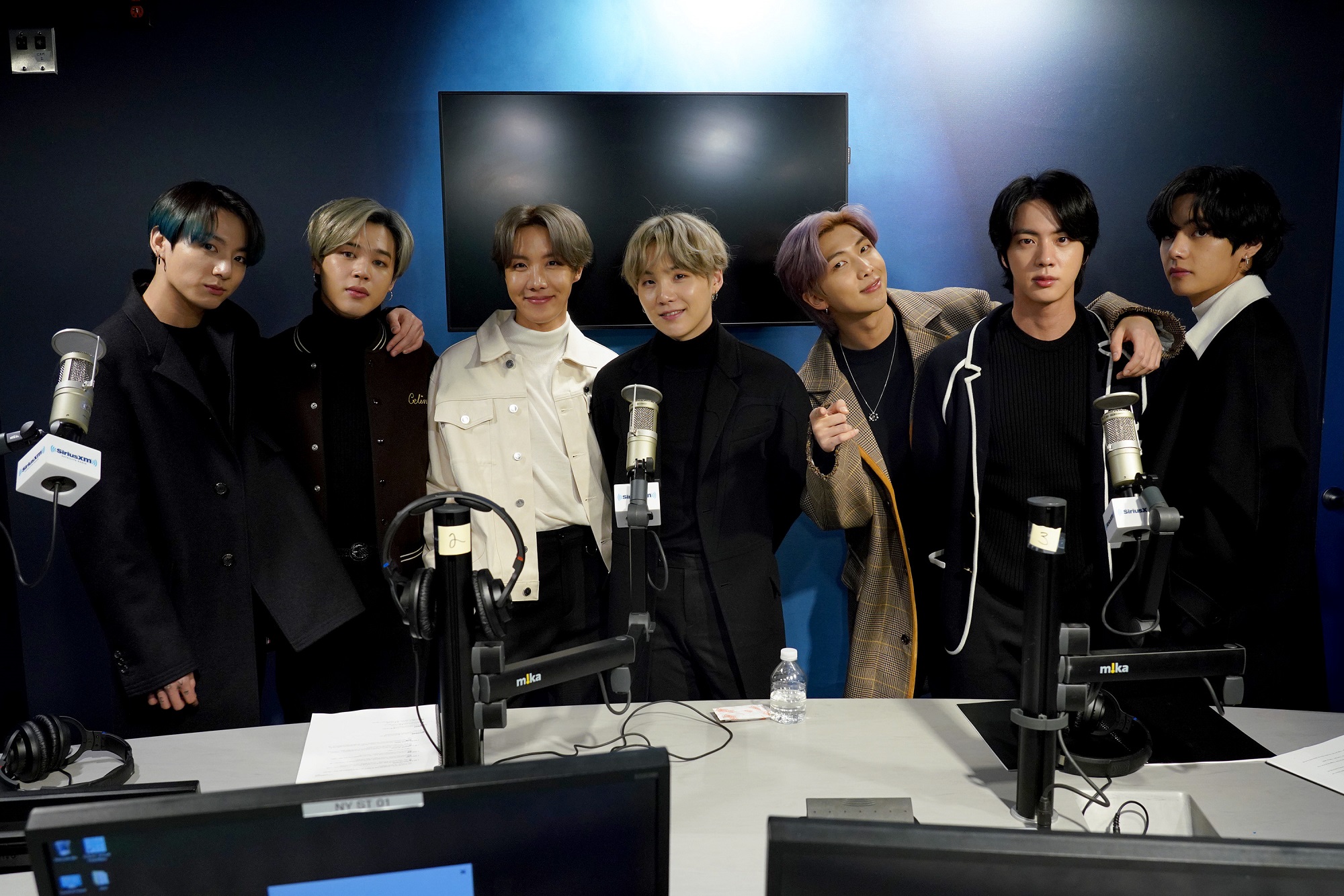 A look at the success of 'Dynamite'
Jin, Suga, J-Hope, RM, Jimin, V, and Jungkook released "Dynamite" and an accompanying music video on Aug. 21. The disco-pop track was written by David Stewart and Jessica Agombar. It has a retro feel and comes across as light-hearted in the time of the coronavirus (COVID-19) pandemic.
When "Dynamite" debuted at No. 1, BTS became the first all-South Korean group to hit No. 1 on the Hot 100. "Dynamite" remained at No. 1 in its second week, and it became the 20th song in history to debut at No. 1 and stay at No. 1 the following week.
Even when "Dynamite" fell from the No. 1 spot in its third week, the song debuted at No. 49 on the Billboard Radio Songs chart with 18.3 million radio airplay audience impressions, becoming BTS' first entry on the chart. In its fifth week, "Dynamite" re-peaked at No. 1 on the Hot 100, bringing the song to a total of three weeks spent at No. 1.
According to Billboard, "Dynamite" returned "to No. 1 from the runner-up spot on the strength of 14 million U.S. streams (up 11%) and 153,000 downloads sold (up 96%) in the week ending Sept. 24, according to Nielsen Music/MRC Data. It also drew 20.8 million radio airplay audience impressions (up 8%) in the week ending Sept. 27."
Why 'Dynamite' is such a hit with radio
While "Dynamite" is incredibly catchy and proved to be a fun summer anthem, the song had a huge factor that helped it with U.S. radio; the lyrics are in English.
BTS' songs that predominantly feature Korean lyrics receive little radio attention, despite the K-pop group's growing success in the U.S. The success of "Dynamite" essentially proved that the xenophobia BTS fans have been pointing out for years in U.S. radio exists.
At this point, the gatekeeping BTS have faced in the U.S. is so profound it is apparent in plain sight. In a special clip about "Dynamite" by E! News, Justin Bieber narrated the struggles BTS faced with their Korean-language songs.
"So what sets this song apart from their other hits? Unlike the group's Korean-language songs like 'Boy With Luv' and 'ON,' U.S. radio stations are giving 'Dynamite' a lot of air time," Bieber said in the video. "Historically, non-English songs have had a hard time getting radio play, and as a result, rarely do they see the top of the Billboard charts."
BTS' new song 'Life Goes On' is not getting much radio play
To date, the "Life Goes On" music video has over 125 million views on YouTube. The septet debuted the song at the 2020 American Music Awards on Nov. 22, and the song topped the iTunes Top Songs chart in the U.S. upon its release.
However, "Life Goes On" is receiving little radio play, which happened to BTS' single "ON" from their album Map of the Soul: 7 in February 2020. While the song has some English lyrics, "Life Goes On" is primarily sung in Korean. Pdogg is credited as a writer and the producer of the song, and RM, Ruuth, Chris James, Antonina Armato, Suga, and J-Hope are credited as songwriters.
"Dynamite" received over 900 spins on its first day. "Life Goes On" received less than 10 spins by U.S. radio on its first day of release, and "Dynamite" continues to receive solid radio promotion.
In addition to the language barrier, "Dynamite" is a more radio-friendly track with its disco-pop sound. As an alternative hip-hop track, "Life Goes On" is calming, but U.S. listeners are already familiar with "Dynamite." Because "Dynamite" is also included on BE, radio can promote BTS' new album while continuing to push "Dynamite," a proven hit, over the new "Life Goes On."