BTS: Lizzo Wore a 'Vmin' Shirt to Show Her Love for Jimin and V
There are seven members in BTS: Jin, Suga, J-Hope, RM, Jimin, V, and Jungkook. While all of the members are good friends, both Jimin and V were born in 1995 and the two have a close friendship. In BTS' fandom ARMY, Jimin and V's friendship is often referred to as "Vmin," which combines the band members' names.
On Sept. 23, BBC Radio 1 Live Lounge posted a video of Lizzo covering BTS' hit single "Butter." For the performance, Lizzo wore a shirt with the letters "VMIN" on it to give a shout-out to Jimin and V of BTS.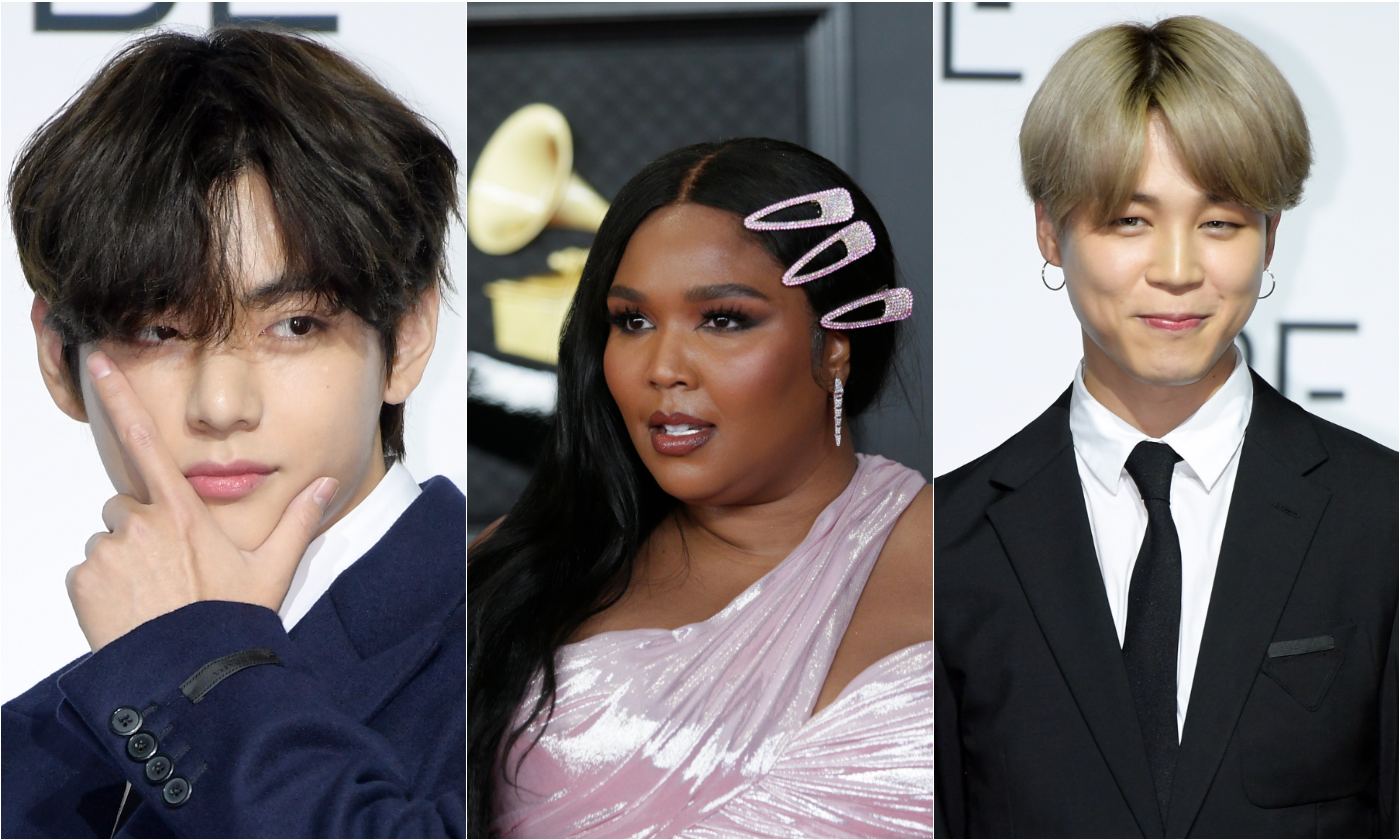 Lizzo wore a 'Vmin' shirt to show love for BTS' Jimin and V
BTS released "Butter" on May 21. The song is the septet's second English-language single, and it spent 10 non-consecutive weeks at No. 1 on the Billboard Hot 100. Billboard also named "Butter" the official Song of the Summer, and "Butter" won Song of the Summer at the 2021 MTV Video Music Awards.
As part of a performance for BBC Radio 1 Live Lounge, Lizzo covered "Butter" in addition to performing her own songs. During her rendition of "Butter," Lizzo wore a black crop top with the letters "VMIN" on it.
RELATED: 'Butter' Is Back at No. 1 on the Billboard Hot 100 Thanks to BTS' Remix With Megan Thee Stallion
BTS fans reacted to the performance
With the "Butter" cover, Lizzo showed off her singing talent and love for the Korean band. After the performance was posted online, ARMY shared their admiration for Lizzo on social media. Fans loved Lizzo's "Vmin" shirt in particular.
One fan wrote on Reddit, "She's so cute! I love the funky vibe on this one and the instrumentals. Love how she's always spreading love for the vmin soulmates friendship it's so sweet!"
"This arrangement is so fresh! Want an instrumental version so bad.. and her voice definitely adds a new vibe to the song, great cover," wrote a Reddit user.
"Love it !! Thank you Lizzo (i want that top lol)," a fan wrote on Reddit.
RELATED: 'Rumors': Cardi B Had a 'Whole Vision' About Working With Lizzo
Lizzo is actually a fan of Jimin and V's friendship
On multiple occasions, Lizzo has made it clear that she is a fan of BTS. During an Instagram Live in August 2021, Lizzo explained how she discovered the band.
"I just really love BTS," Lizzo said in the Instagram Live. "They are on my FYP so much on TikTok now. Because my sister is ARMY, or she loves BTS, she introduced me to BTS."
The singer revealed that her bias in BTS is Jimin, but she admitted she also really likes V and appreciates the close relationship V and Jimin share.
"You know Jimin is my favorite. Jimin is my bias, that's what you say? I love Jimin. I like V too. I like their relationship… They're like BFFs," Lizzo said.
Given that BTS and Lizzo's music have similar messages about self-love, we are just counting down the days until the artists collaborate.