BTS' Longest Brand Partnership Isn't With McDonald's or Louis Vuitton
BTS' McDonald's meal was a milestone for the K-pop group. It wouldn't be the first (or the last brand deal) for the "Permission to Dance' singers.
BTS is a chart-topping, record-breaking boy band. They collaborated with artists like Sia, Halsey, and Megan Thee Stallion. They even earned a Grammy nomination for their song "Butter." 
BTS has also been the ambassadors of several well-known brands — Louis Vuitton and FILA among them. 
BTS and McDonald's partnered to create 'The BTS McDonald's Meal'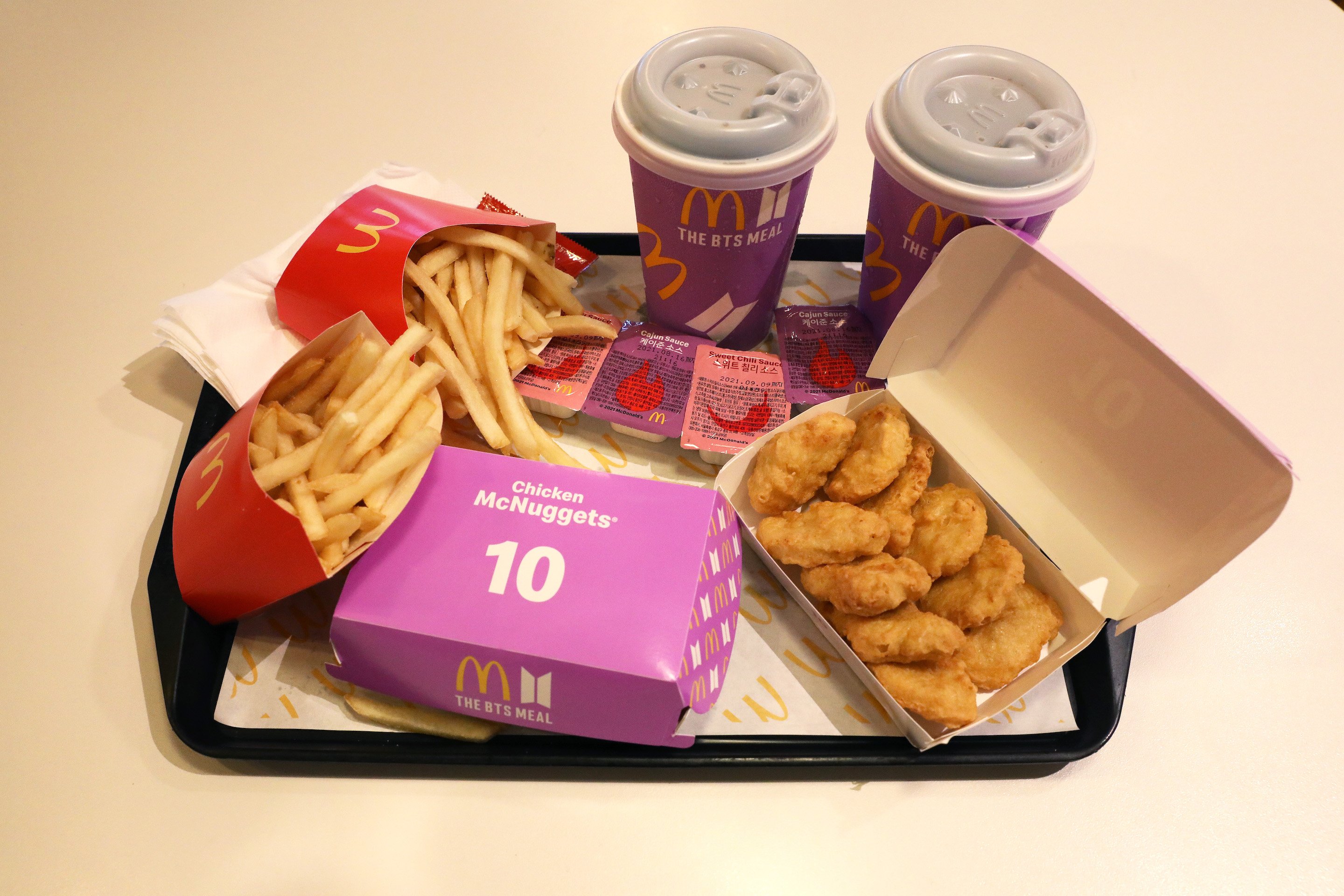 BTS is one of the biggest boy bands in the world. It made sense that they would collaborate with McDonald's, one of the world's biggest fast-food chains. This partnership came with the "BTS Meal" added to McDonald's locations across the globe, in addition to promotional material for ARMYs.
Although this menu item was only available for a limited time, some products and packaging from the BTS Meal are still resold on websites like eBay for twice (or triple) their initial cost. This wouldn't be the only food and beverage company that worked with BTS, as the K-pop group released official merchandise in select Starbucks stores. 
They also appeared in campaigns with The Coca-Cola Company, a particularly significant milestone considering the reach of the beverage company. However, one of BTS' longest brand deals is with the shoe brand/athleisure company, PUMA. 
What shoe brand is endorsed by BTS?
As one of the longest brand deals, BTS initially worked with the athletic and casual footwear company, PUMA. They appeared in campaigns wearing the merchandise, even sporting PUMA merchandise during rehearsals. 
In 2019, BTS ended its five-year partnership with PUMA, later collaborating with the South Korean sportswear manufacturer, FILA. This was in conjunction with FILA's 'One World, One FILA' message and brought the K-pop group new advertising opportunities in the Americas, Europe, and Asia.
BTS is now a global ambassador for Louis Vuitton
Hot off the heels of the release of their song "Butter," BTS announced their partnership with the French fashion house and luxury goods company Louis Vuitton. With their love for fashion, this collaboration came as no surprise to fans.
"I am delighted BTS are joining Louis Vuitton today," Virgil Abloh, men's artistic director at Vuitton, said in a statement. "I am looking forward to this wonderful partnership, which adds a modern chapter to the house, merging luxury and contemporary culture. I can't wait to share all the very exciting projects we are working on."
Before working with Louis Vuitton, BTS partnered with the fashion house Dior, even being the recipients of custom stage wear designed the Kim Jones. They became the first male pop band to receive custom pieces in the process. 
BTS also partnered with Hyundai for several advertisements, later working with the electronics company Samsung.
Aside from their brand deals, BTS collaborates with other artists to release original music. Most recently, that included Coldplay for the song "My Universe" and Megan Thee Stallion for a remixed version of "Butter."
Music by this K-pop group is available on most major streaming platforms.