A BTS Meal Chicken Nugget Sold on eBay for Almost $100,000
BTS is smooth like butter. They're also the boy band behind the McDonald's BTS Meal. In summer 2021, several products from this collaboration sold on resale markets, including one Among Us-shaped Chicken McNugget worth almost $100,000 on eBay.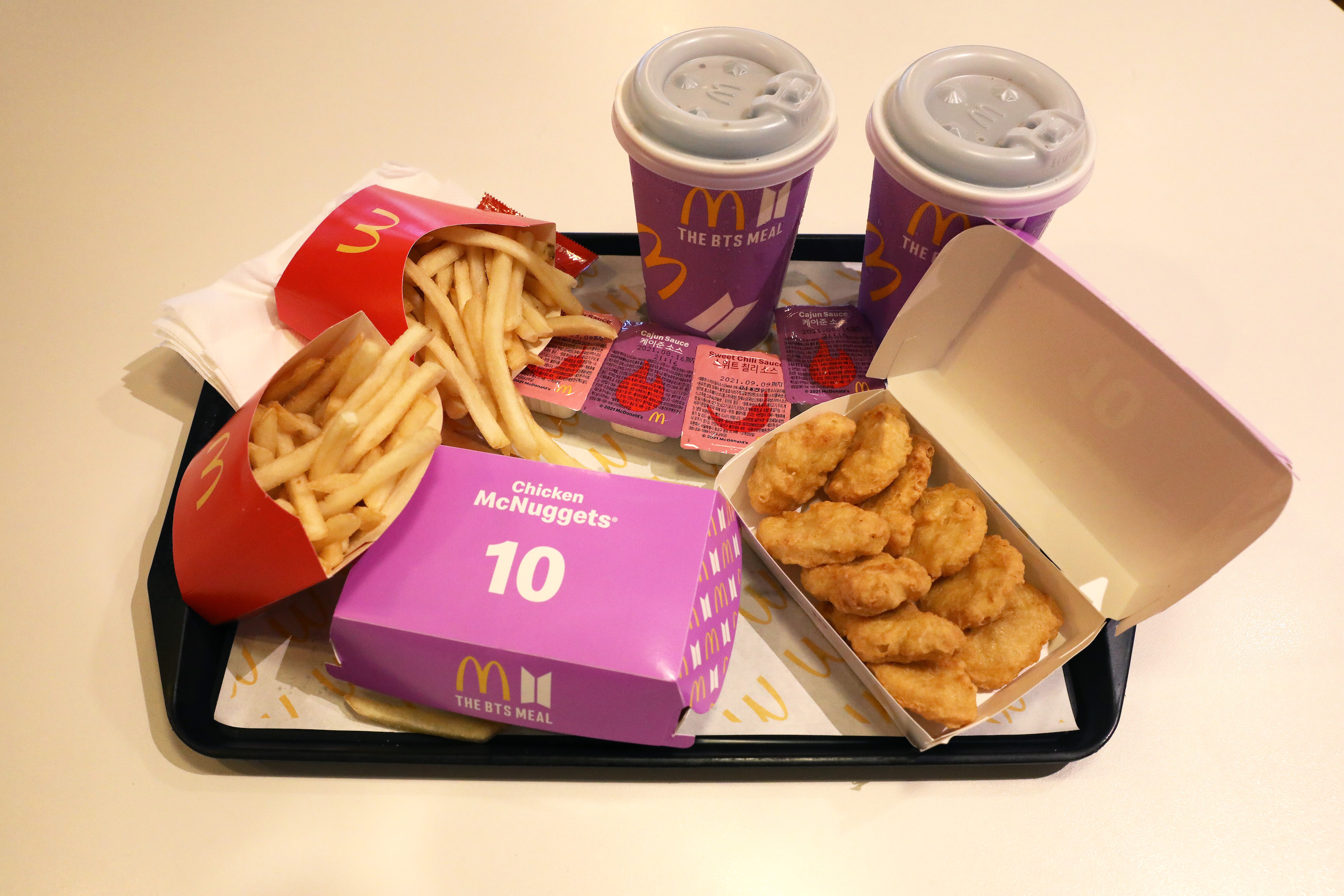 BTS partnered with McDonald's for the 'BTS Meal'
They're one of the world's biggest boy bands, but even the BTS members enjoy McDonald's Chicken McNuggets and fries. In a WIRED video interview, the BTS members revealed that they love McDonald's, especially RM, who shouted out the Big Mac. That came only a few weeks following BTS' partnership with the fast-food chain. 
"The band has great memories with McDonald's," Big Hit Entertainment said in a statement about the collaboration. "We're excited about this collaboration and can't wait to share the BTS Meal with the world."
This meal included 10 or 9-piece Chicken McNuggets, medium fries, a medium drink, and two dipping sauces. Those sauces, Sweet Chili and Cajun, were new to customers in the United States and came with pink and purple packaging. 
This wouldn't be BTS' first big brand deal, as the K-pop group previously worked with food companies like Starbucks and The Coca-Cola Company. As a limited-time offer, ARMYs worldwide rushed to McDonald's locations, each getting their hands on special edition packaging and the two BTS-picked sauces.  
An 'Among Us' shaped Chicken McNugget sold for almost $100,000
Even the food items given to customers are still worth money on resale markets. Last summer, a chicken nugget sold with the BTS Meal sold on eBay for $100,000, according to a BTS fan Twitter account.
This nugget was reportedly shaped like an "Among Us" character as seen in the trendy video game and was in "used" condition, according to the product description. The BTS members have not yet commented on this unique exchange. 
However, this wouldn't be the only relic from the BTS Meal available on resale markets. The McDonald's BTS Meal packaging and sauces are still available on online stores like eBay though they will cost ARMYs a pretty penny. 
Packaging from the McDonald's BTS Meal is available for resale on eBay
As of August 2021, some fans sold the McDonald's BTS Meal paper bag for as little as $0.99, while others sold used bags for as much as $200. Some fans on social media showcased innovative ways to use this packaging as home decor and even the background of clear phone cases. The limited-edition BTS meal sauces are no longer available at McDonald's, although they are available via eBay for about $20 per set.
Additionally, "Crew T-Shirts" worn by the actual McDonald's employees while the BTS Meal was sold are available through eBay. As of August 2021, prices range from $7.99 to $99.95, depending on the seller.
Recently, this K-pop group announced their partnership with the luxury fashion house Louis Vuitton. "Butter," BTS' single released just days before the BTS Meal, is currently available on most major music streaming platforms, including Spotify.