BTS: The Meaning Behind Suga's BT21 Character, Shooky
Suga is creative with his original music, and even while creating his cookie-inspired BT21 character. Even if he was initially inspired by his family dog, Suga's BT21 character still has plenty of personality and meaning. Here's what we know about Shooky and the BTS member's creative process.
The BTS members each created BT1 characters with Line Friends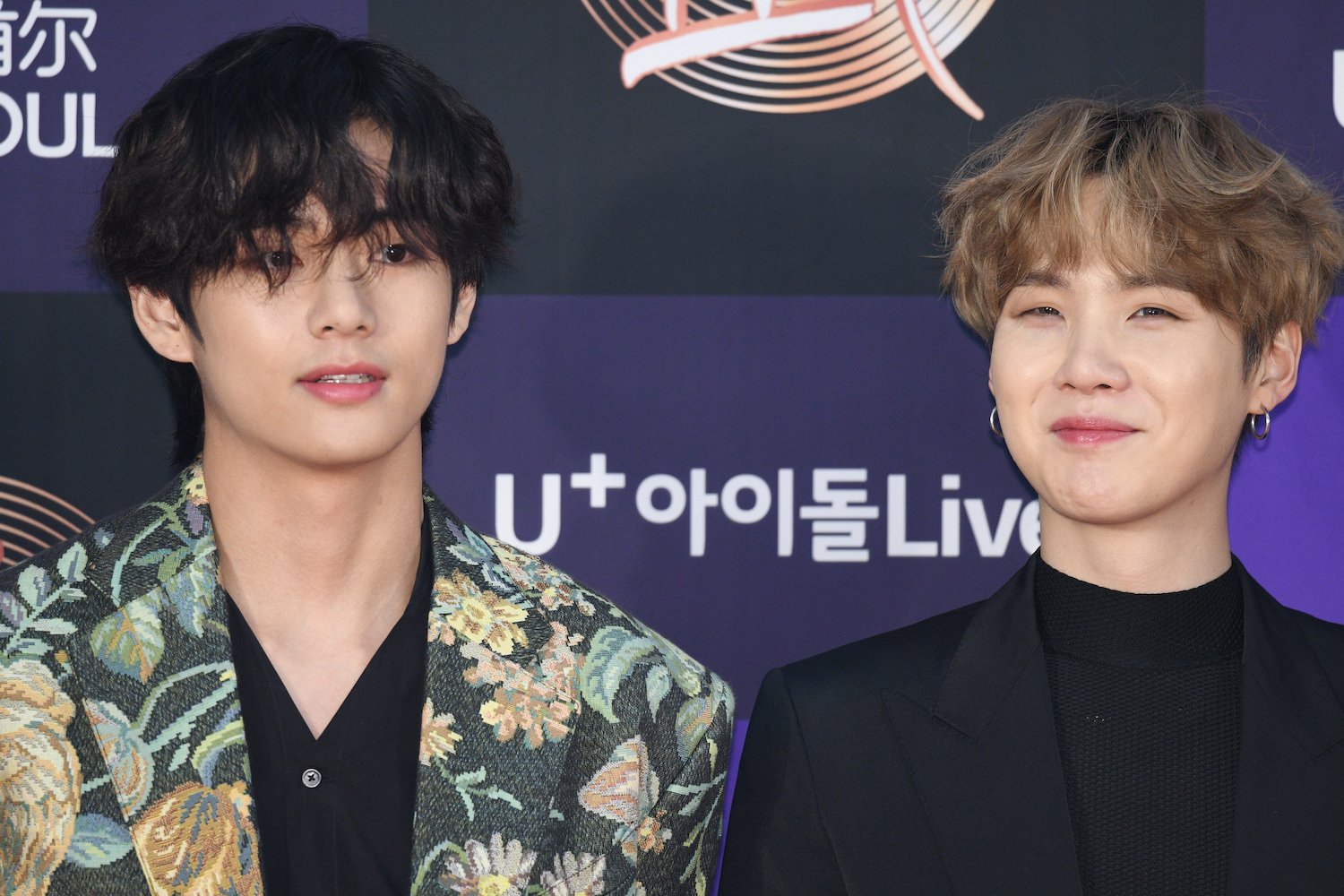 As the world's biggest boy band, BTS has some impressive brand deals, recently becoming the brand ambassador for Louis Vuitton. For years, though, this K-pop group had a partnership with Line Friends.
They created these colorful cartoon characters, known collectively as BT21. These characters then appeared on humidifiers, keyboards, keychains, headbands, and more.
This collaboration was extra unique because the BTS members created their own characters. That includes RJ (Jin), Chimmy (Jimin), Cooky (Jungkook), Mang (J-Hope), V (Tata), and Koya (RM). These artists also created Van, the BT21 figure that represents ARMY.
Suga created a brown circular figure who he affectionately named Shooky. (No relation to Jungkook's Cooky, with a name inspired by Jungkook's nickname. Although these characters are reportedly best friends.)
Suga first modeled his BT21 character after his dog
In one 2017 video created with BT21, Suga started a poodle, explaining to one designer that it was inspired by his own dog named Holly. As the first one to finish, Jimin created a dog character complete with a bowtie and floppy ears. 
"Don't you have characters roughly set up for this kind of thing," Suga asked, according to a translation on the video, ditching his poodle concept. "Normally, the outline is ready, and we just… Maybe we will end up just having an art class."
After saying that he drew five characters so far, Suga concluded that "creating is tough." In a separate YouTube video, the BTS members presented their creations. When it was time for Suga's sketches, the members noticed that it looked eerily similar to Jin's alpaca. 
Eventually, Suga settled on his cookie-inspired shape. According to Metro, this character has an attitude and a strong dislike of milk. Several facial expressions resembled his initial drawings, even if they weren't on a brown dog like Holly. 
ARMYs wear BT21 merchandise to concerts
As an added way to share admiration for their biases, some ARMYs sport BT21-themed outfits and accessories for concerts. That includes handmade Shooky merchandise. For one concert at Citi Field, J-Hope even noticed a fan wearing a Mang headband and gifted her his bag. 
Even some BTS members sport BT21 products at their concerts. That includes Jin, who had an RJ clinging to his back for part of a Permission to Dance on Stage concert.
These wouldn't be the only BTS-themed merch products available to fans. The K-pop group even inspired the "House of BTS" pop-up shop in Seoul. Music by BTS, including the Map of the Soul: 7 song, titled "Interlude: Shadow," is available for streaming on Spotify, Apple Music, and most major platforms.
RELATED: BTS' V Reveals the Meaning Behind His BT21 Character, 'Tata'