BTS: Multiple Members Want to Collaborate With Jimin on the Next Album, Proving They're Just As Obsessed As We Are
Everybody in the world is obsessed with Jimin of BTS, and that's just a fact. BTS is currently working on their next album, and the group is graciously showing fans their creative process through clips on the BANGTANTV YouTube channel. In a recent video, some of the members voiced that they wanted to collaborate with Jimin on the upcoming album, showing they're just as obsessed with Jimin as everyone else.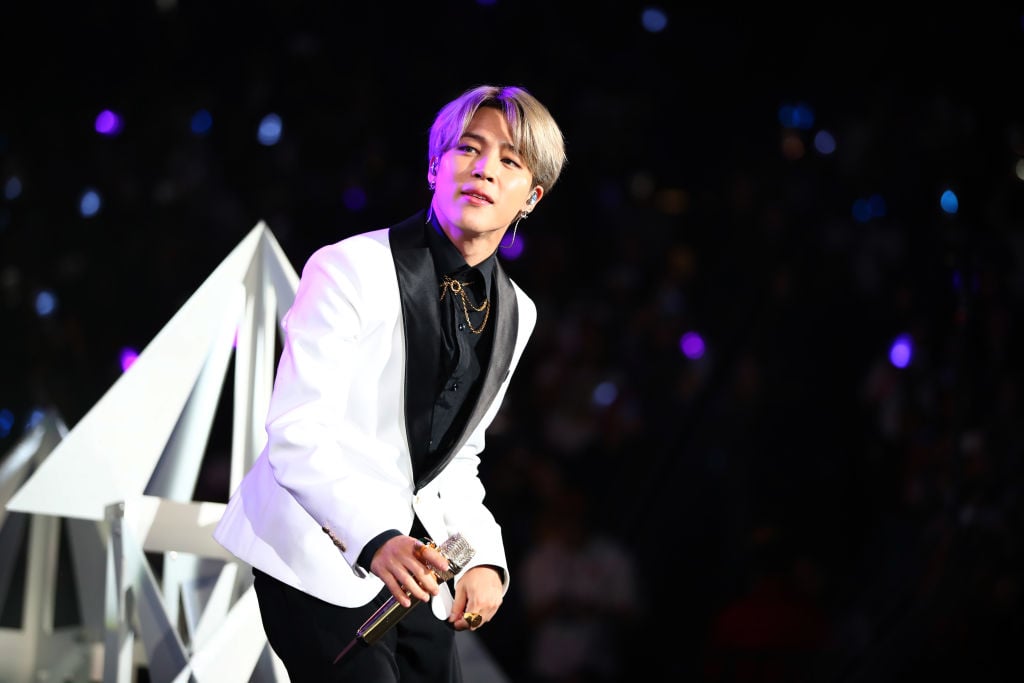 The group is self-producing their next album
RM first announced that BTS planned to make another album this year back in April. He told fans that the band planned to share more about their album-making process with fans. In another livestream, Suga told fans that each member was taking on a different role to help self-produce the album.
On May 11, BTS posted a livestream on the BANGTANTV YouTube channel. Based on the members' hairstyles, it appears this meeting was filmed before RM's announcement in April. In the video, the BTS members discussed their early vision for the album.
At the time they held the meeting, the members agreed that they envisioned six to seven songs on the album, and the album will feature songs with all seven members as well as sub-unit songs.
RELATED: BTS Wants to Make Another Song Like 'Spring Day' on Their New Album
"I want to include the message that no matter what's going on in the outside world, our lives go on," RM said according to a translation by Soompi.
Multiple BTS members want to collaborate with Jimin
During the meeting, the BTS members threw around ideas for sub-unit songs. Suga said that he could do a song with Jimin. V mentioned that he had a song he wrote that could be used on the album, and that it currently fit two people.
"Let's do it together," V said to Jimin according to a fan translation.
Jungkook pointed out that V and Jimin just collaborated together on Map of the Soul: 7 with the song "Friends."
"But you both already did it!" He said. "'Friends!'"
"Hey! I'm ready when you're ready," Jimin told Jungkook.
RM then reminded Jungkook and Jimin that they previously collaborated as well.
"You did! In 'We Don't Talk Anymore…'" he said.
"Hyung! I'm ready for a song with you too," Jimin replied.
Jimin is the production manager of BTS's new album
While it is humorous how a majority of the BTS members brought up having a sub-unit song with Jimin, it makes sense that the members want to collaborate with him. As with all the members of BTS, Jimin is a versatile and dedicated performer.
Over the years, the group has shown they can cover multiple genres and styles. They are all incredibly close with each other, and with their talent and chemistry, any sub-unit song is destined to be a hit, no matter which members are part of it.
That's what makes watching BTS work on an album together so intriguing, because it shows another side to their artistry. While fans already knew the members played a large role in producing their music, this gives fans a glimpse at the hard work they put into their albums.
For this upcoming album, Jimin is a production manager and he compiles all of the members' opinions and ideas.
"So we picked Project Managers and I've been picked as the music PM this time," Jimin told fans. "Suga had a strong opinion about it… Suga's opinion then was that, by doing this kind of work, he hoped that I could, kind of, get a little closer to the music."