What Did BTS Members Like Jimin, RM, and V Study in College?
These K-pop idols are talented in a few different areas. That's especially true when it comes to what they studied in college. Here's what we know about the BTS members.
They may be stars on the stage but they're also stars when it comes to their time in high school and college. Did all of the BTS members graduate from college? What did they study before becoming the biggest boyband in the world? Here's what we know about this K-pop group and their time at school. 
The BTS members attended college before finding success in the K-pop world
These performers certainly showcase their musical talents on stage. Together, BTS members performed at the Grammy Awards, the Billboard Music Awards, and sold millions of albums. When they started out, however, most of the members were considerably young. That's especially true of Jungkook, who was still in high school amidst BTS' debut. 
Before they were international award-winning and record-breaking pop stars, these performers went to school. However, some had their sights set on performing at a young age, as members like V and Jimin attended arts-based high schools.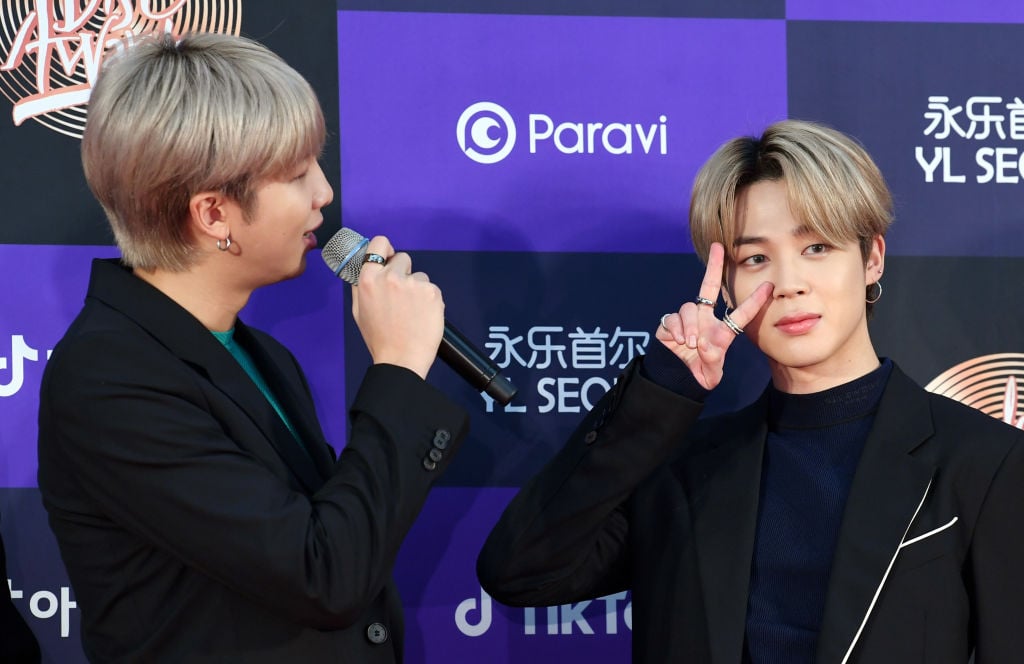 What did the BTS members study in college?
A majority of the BTS members actually went to the same college in South Korea — Global Cyber University. There, six of the seven performers focused on their future in the entertainment industry, majoring in Entertainment & Broadcasting, according to MNews.
The only BTS member who attended a different college was Worldwide Handsome, Jin. This singer graduated from Konkuk University's Department of Film and Visual Arts with a degree in art and acting. 
Upon graduating, the idol took to social media, tweeting a photo of himself to the group's official Twitter with the translated caption, "I'm so happy that we do everything together. Thank you, ARMY." According to Seventeen Magazine, afterward, he enrolled in graduate school at Hanyang Cyber University.
Most of the members attended performing arts high schools. That includes V and Jimin, who, for a brief amount of time, both went to Korean Arts High School. They even sang a song about their school life, mentioning their uniforms, in the song "Friends" off of Map of the Soul: 7.
The BTS members are more than just talented musicians
Recently, the BTS members shared their support for the high school and college graduates of 2020. Turns out, though, most of these performers were pretty good students. That is especially true of RM, who, reportedly, "placed within the top 1.3 percent of students in the nation on his freshman high school exams for language, mathematics, foreign language, and social studies," according to Soompi.
RM also often shows off his foreign language skills during interviews, sometimes sharing that he learned by watching the television show, Friends. Other BTS members improved their English considerably since their debut, some of them are even trilingual, including J-Hope, who often speaks Japanese on behalf of the group.