Do the BTS Members Like Football?
These Grammy-nominated artists still find time for fun, especially while performing at MetLife Stadium and Soldier Field. Do the BTS performers watch football or the Super Bowl? Here's what we know about these K-pop artists and their experience with sports.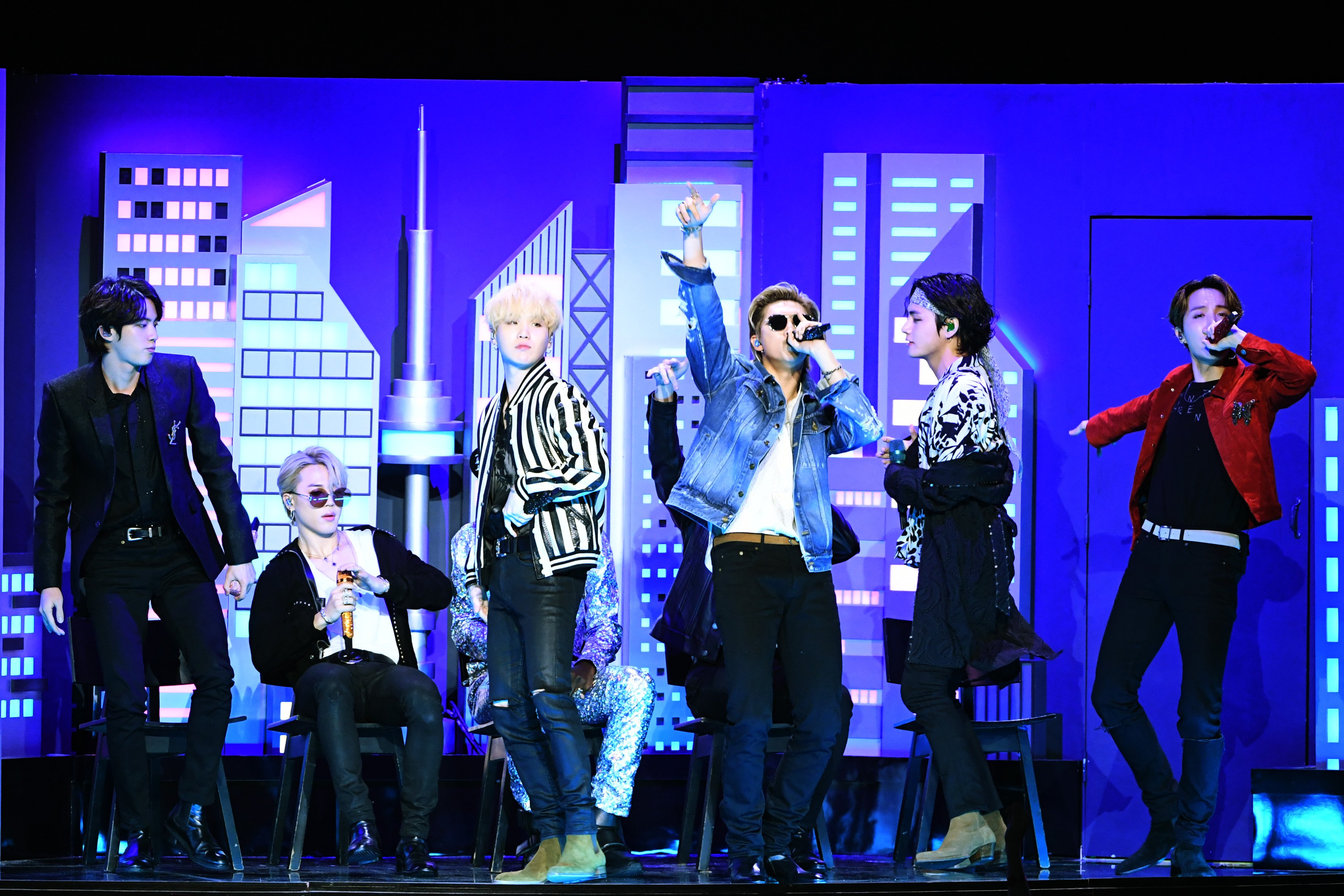 The BTS members played 'football' while performing live
They're award-winning dancers and singers. Still, RM, Jin, Suga, J-Hope, Jimin, V, and Jungkook have fun while onstage. They even pretended to play football while visiting iconic United States stadiums.
While performing at Soldier Field in Chicago during the Love Yourself: Speak Yourself World Tour, the BTS members wanted to have some football-themed fun. Using a balled-up face towel, Jungkook tried to make a touchdown, passing the other members.
"A little rain won't stop you from enjoying the show, right?" RM asked the audience prior to Jungkook's DIY-football play. "Let's think of when we play soccer or football when it's raining. It's more fun, right? You know, what? Soldier Field is known for football. Chicago Bears!"
A few days later, Jin wanted to join in on the football fun, according to Stylecaster. At New Jersey's MetLife Stadium, V turned to the crowd and asked, "Who is the running back?" Jin quickly yelled, "me!" Instead of getting tackled, Jin was met with a giant hug from the remaining BTS members.
Do these K-pop idols like football?
Between writing, performing, and recording original music, it's unclear if these performers find time to watch the Super Bowl or keep up with American football teams. However, during one interview, RM congratulated the Toronto Raptors for winning the championship. 
Some of the BTS members are somewhat sports fans, though. It's no surprise to BTS fans that J-Hope is a bronze medal winner for tennis — out of three teams. Before joining BTS, J-Hope and Jimin were both trained dancers. 
The BTS members played their share of sports for 'RUN BTS'
Sometimes when they're doing challenges for RUN BTS, the BTS members perform in sports-related activities. In 2020, they played badminton, some of the members using dustpans and even frying pans as rackets. During the same episode, they played a game of "foot volleyball," which involved a lot of running from both teams. 
Another episode of RUN BTS had the members play a game a Laser Tag in two teams. Whoever captured the other teams' balloons won. This proved to be a problem for some members, especially when one of the balloons floated away. 
On a few other occasions, the members showcased their skills at sports like archery and soccer. Of course, each of these performers are skilled dancers, performing intricate choreography for songs like "Black Swan" and "On" off of Map of the Soul: 7.