BTS' Newest Interview on 'Spotify: For the Record' Is a Great Place to Learn More About the Group
It is no secret that BTS gain new fans every day, especially with their new hit song "Dynamite" still making waves. On Sept. 17, the Korean band appeared on an episode of the Spotify: For the Record podcast called "BTS: The Band, The Brand & The ARMY."
On the podcast, Jin, Suga, J-Hope, RM, Jimin, V, and Jungkook discussed their songwriting process and their appreciation for their fan base, ARMY. The Spotify: For the Record episode also featured fans and experts to discuss BTS' history and groundbreaking success, including TIME Magazine editor Kat Moon.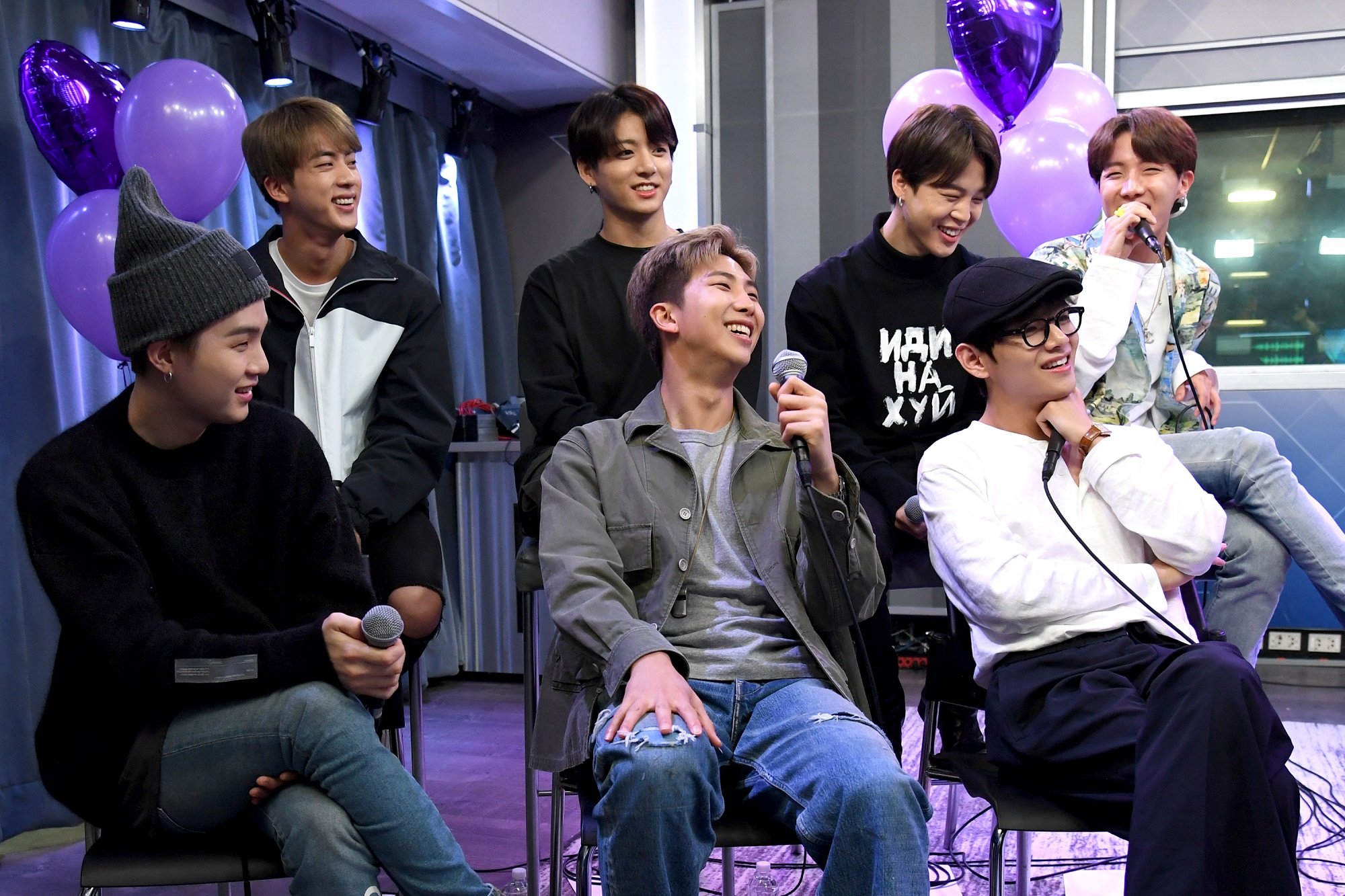 BTS' records on Spotify
On Aug. 21, BTS released their new single "Dynamite," which is their first single to ever be sung entirely in English. The song debuted at No. 1 on the Billboard Hot 100, broke the YouTube record for the most-viewed video within its first 24 hours, and debuted at No. 1 on Spotify's daily Global Top 50 chart.
The BTS members are now the first Korean artists to ever debut at No. 1 on the Spotify Global Top 50 chart, and since releasing "Dynamite" there has been a 300% increase in users listening to BTS on Spotify. To date, the K-pop group has been added to over 3.5 million playlists and has over 11.4 billion streams.
While "Dynamite" is BTS' most recent breakthrough in the music industry, one of their most notable breakthroughs came in 2017.
"A big breakthrough moment in the States was during the 2017 Billboard Music Awards, when BTS fans, you know, the ARMY, they made headlines because BTS won the top social artists award. And that was when they ended a six-year streak by Justin Bieber, who had won the award in the past, and also beat out artists such as Selena Gomez and Ariana Grande, who all have huge social followings," Moon said on Spotify: For the Record.
RELATED: The Special Reason BTS Performed 'Anpanman' for the NBC 'Today' Citi Music Series
BTS on their songwriting process
For those who tune in to the "BTS: The Band, The Brand & The ARMY" episode of Spotify: For the Record, fans will get to hear insight about the band's songwriting process.
"It's very, various, sometimes we start with melodies. Sometimes we start with some just a word or a theme. But basically, when there's an album, there's some kind of like a theme or a keyword that comes, that goes through the whole album. And if we succeed to, like, make a decision for the keyword, then everybody gathers and we guess the tracks and melodies and lyrics or whatever. So it's like making a puzzle when we try to make an album," RM said.
When asked about the most challenging and joyful parts of making music, J-Hope replied, "The music-making process is difficult, they sort of think of it as in a birthing pains. So it takes a lot of focus and a lot of attention, a lot of time because they put in so much; when we have a good result and when we see the result, we feel really proud and we get a real sense of accomplishment."
V added, "The most difficult thing and the most challenging thing is coming up with verse two, the second verse of any song. And then when it turns out good, then we're always happy and satisfied."
The members on the success of 'Dynamite'
So far in BTS' careers, "Dynamite" is the group's most successful song in the U.S. According to Jin, this has made the song even more meaningful.
"So there are a lot of meaningful songs for BTS, I mean, the songs that we, that took first place ever at a music awards show. So this is our most recent accomplishment so it's really important for us and very meaningful for us," Jin said.
The band released the song to help bring positivity to listeners amid the coronavirus (COVID-19) pandemic.
"I think it appeals to and it's easy to listen to and it's easy to enjoy for anybody, anyone of any generation, anyone," Suga said of the song. "And especially with the COVID-19 situation… we're really glad that people have come to enjoy this song, and get some energy from this song."
For those looking to learn even more about the group's history and their connection to their fans, "BTS: The Band, The Brand & The ARMY" is available on Spotify.