BTS' NPR Tiny Desk Concert Shows Those Who Don't Stan the Band Are Missing Out
NPR's Tiny Desk Concert series gives artists a way to perform their songs in an intimate setting with live music. On Sept. 21, BTS performed a Tiny Desk Concert for the first time. The Korean band performed their new English-language single "Dynamite" and two older hits from their discography, "Save Me" and "Spring Day." As always, the members' charisma stood out, showing that no matter the setting, BTS are some of the most captivating artists of our time.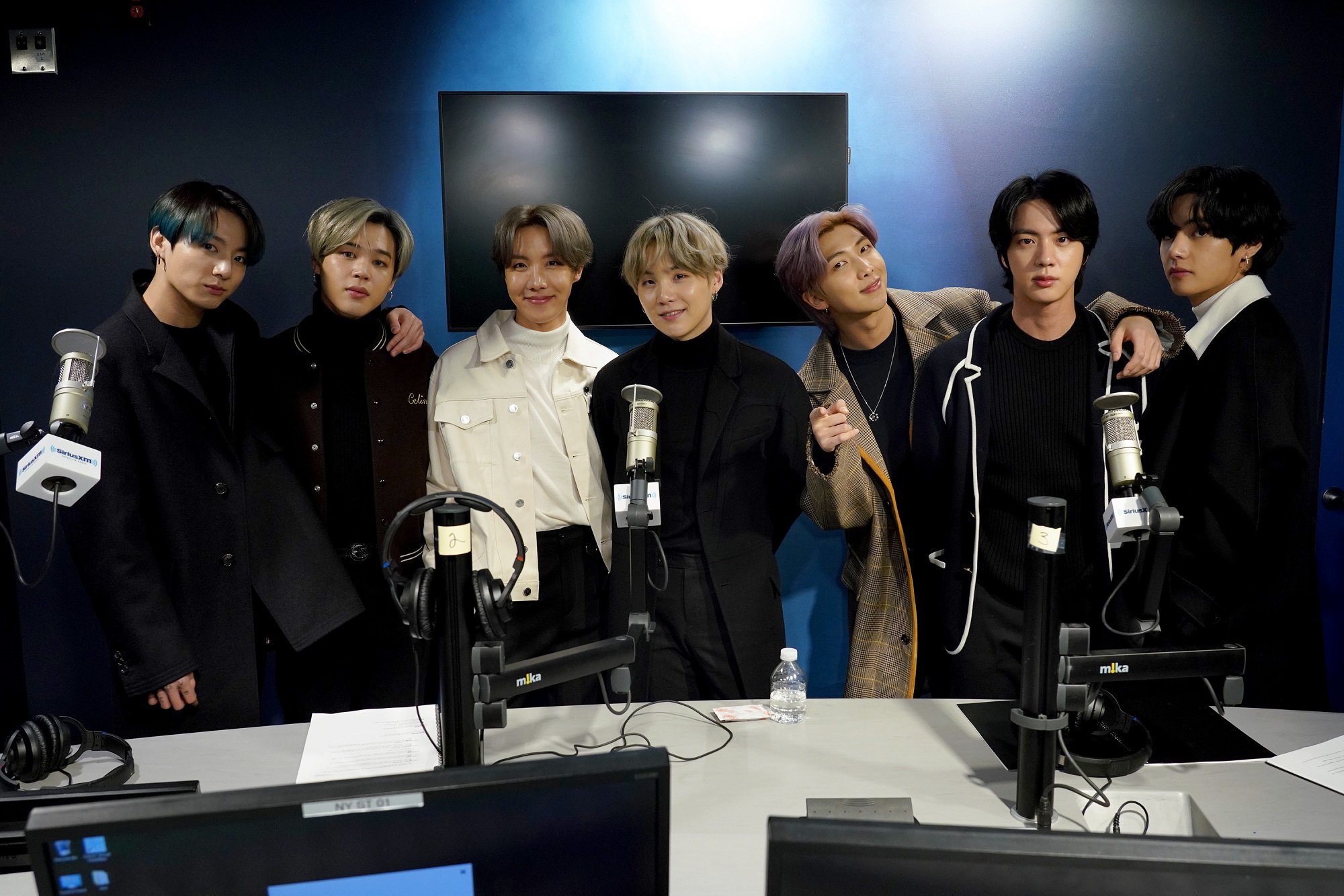 BTS performed their new song 'Dynamite'
The K-pop group released "Dynamite" on Aug. 21. The song debuted at No. 1 on the Billboard Hot 100, making BTS the first all-South Korean group to hit No. 1 on the chart. In its second week, "Dynamite" remained at No. 1, and the song became the 20th song in history to debut and stay at No. 1 the following week. The song has kept steady on the Hot 100, and in its third and fourth week, the song stayed at No. 2 on the chart.
While Jin, Suga, J-Hope, RM, Jimin, V, and Jungkook are known for incorporating energetic choreography into their performances, the Tiny Desk Concert featured the band members sitting on chairs, giving listeners a chance to focus on their vocals.
Complete with a live band, BTS filmed the Tiny Desk Concert in South Korea instead of the U.S. because of the coronavirus (COVID-19) pandemic. While one might assume this performance of "Dynamite" was toned down, it was anything but. Decked out in '70s attire, the BTS members sang their hearts out, making the song's key change stand out even more.
RELATED: Jimin Thinks BTS' Next Song Is Just as Good as 'Dynamite'
The group performed two fan-favorite songs
After performing "Dynamite," BTS performed "Save Me" from their 2016 compilation album The Most Beautiful Moment In Life: Young Forever. For their rendition of "Save Me," some of the members could not help but jump out of their seats and dance along.
To close out the concert, the band performed "Spring Day" from their 2017 album You Never Walk Alone. The song is beloved by ARMY because it deals with themes of loss and moving on, giving "Spring Day" even more meaning during the pandemic.
"We all are wishing for the spring day to come," Jungkook said before the song.
RM added, "It's been the roughest summer ever, but we know spring will come. So let's go together."
Fans loved BTS' Tiny Desk Concert
On social media, ARMY could not stop gushing about the Tiny Desk Concert. For many, it reminded fans why they began stanning BTS in the first place. Their bond with each other, love for their fans, and talent was apparent throughout the performance.
"I loved this so much!!! vocals + energy on point!!! unexpected Save Me??? such cute explanations in English. I'm so endeared!!!!!!!!! AHHHHHHH," one fan wrote on Reddit.
"That was over too soon, I need like a one-hour version of this," another Reddit user wrote. "Perfect setlist, perfect energy, perfect charm, perfect vocal? Seriously, all this time off from touring sucks for everyone, but it's probably so restorative for the boys' bodies and vocal chords. They are sounding so ridiculously good, and even the old songs have a newer, more emotional texture to them that we haven't heard before. 10/10 my favorite thing on YouTube right now, will be replaying over and over."
"This performance is up there as one of my faves, along with the ARMYPedia one. I love when they do acoustic or live band stuff cos it brings a different energy and we can really appreciate how amazing they all sound. Like wow, everyone sounded sooooo beautiful…," wrote a Reddit user.