Does BTS Really Produce Their Own Music?
These idols are award-winning singers, rappers, and dancers. However, they also have a hand in writing and producing songs like "Boy With Luv," "Black Swan," and "Dynamite."
Here's what we know about the BTS members, including what RM had to say about writing the group's latest disco-pop release.
BTS has a considerable amount of freedom when it comes to writing and releasing music
They're not just singers and rappers. These K-pop idols actually have a hand in writing their own songs, especially for the Map of the Soul era. For their groundbreaking song featuring Halsey, "Boy With Luv," Suga, RM, and J-Hope are all awarded songwriting credits, according to BTS Fandom.
According to Elite Daily, for the album Map of the Soul: 7, Rm, Suga, and J-Hope are the masterminds behind most of the songs. However, Jin wrote his solo song, "Moon," while V wrote and Jungkook wrote their respective solo songs along with RM. Additionally, Jimin wrote his subunit song "Friends."
RELATED: Jimin From BTS Finally Puts the 'Dumpling Incident,' Mentioned During 'The Late Late Show With James Corden,' to Rest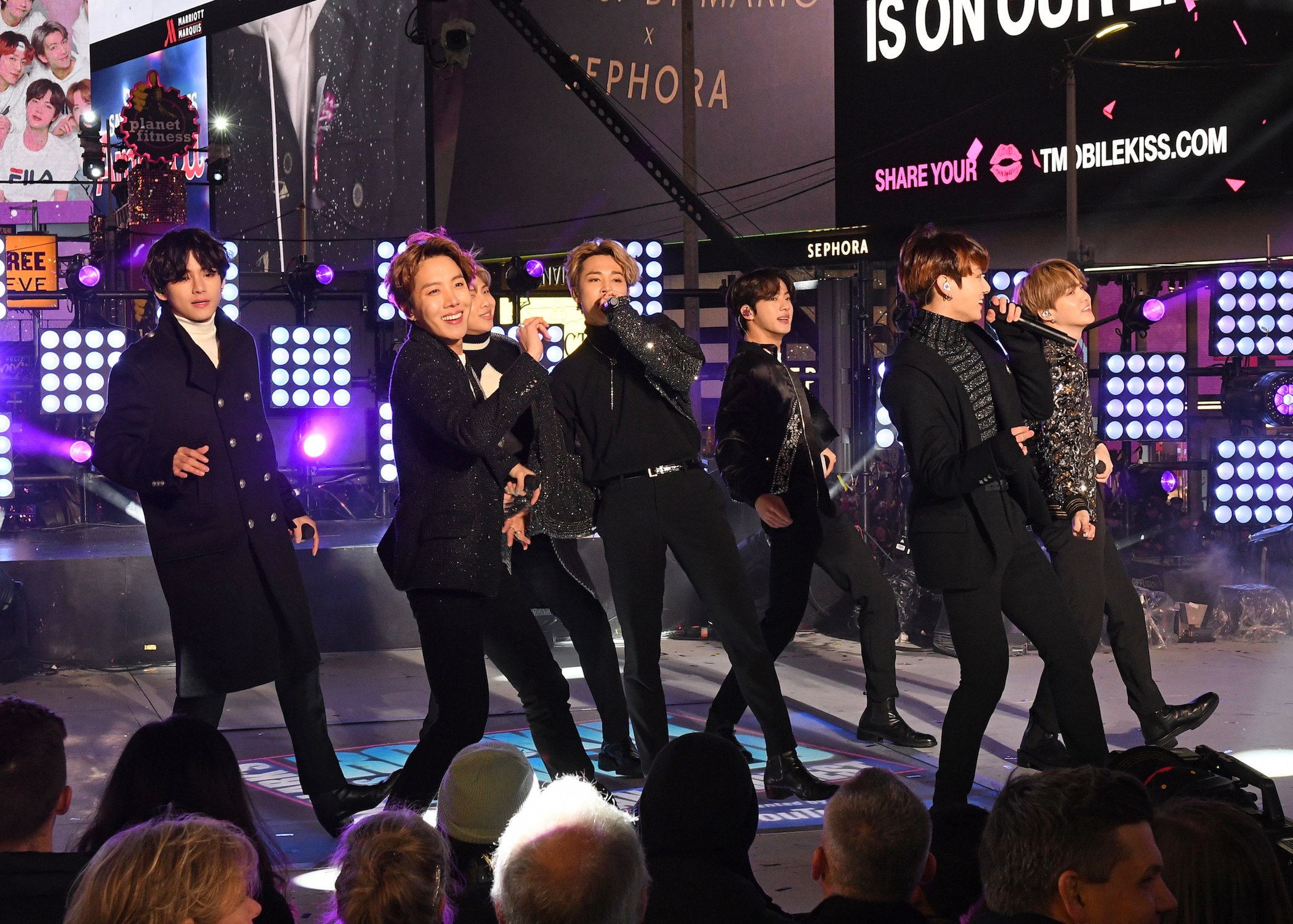 RM shared the reasoning behind creating an all-English song, their 2020 release, 'Dynamite'
One of the latest songs by this K-pop group, "Dynamite," features somewhat of a new sound for the group. Although David Stewart and Jessica Agombar are credited as the primary songwriters and producers, RM shared a bit of the meaning behind this song and its all-English lyrics.
"We never expected this song would come, you know, like even in fully English, like you said, but many things have changed," RM said during an interview with USA TODAY, regarding the group's decision to record and perform "Dynamite" entirely in English.
"You know during the process of making our album, which we're going to release later this year, we just met this song like a destiny and when we first listened to the demo, the lyrics and the vibes and you know, everything was so perfect," RM continued.
Each of the BTS members write and produce music
This wouldn't be the first time RM gave some insight into the recording and writing process for BTS. Oftentimes, the rapper will go on a live stream, sharing demos and the meaning behind his lyrics and the songs.
He's not the only BTS member who has a hand in the writing and producing process, though. During one interview with Jimmy Fallon, Suga shared that if he wasn't in BTS, he'd still be working on music in some way.
That could mean songwriting or producing, which he does both for the K-pop group and for his solo music as Agust D. Other BTS members write, produce, record, and release songs as solo artists, including V, who even appeared in a video for the song "Winter Bear."
J-Hope worked on a song with Becky G, titled "Chicken Noodle Soup." Music by BTS, including their single "Dynamite" and Map of the Soul: 7, is available for streaming on platforms like Spotify and Apple Music.
RELATED: Is Jungkook the Last BTS Member to Create a Solo Song? Here's What We Know About 'Still With You' and the Mixtapes of These K-Pop Idols