BTS' RM Said This Post Malone Hit Is 'the Best Drive Song'
RM may be the only BTS member without a driver's license. Still, this rapper named one Post Malone original as the "best drive song," even singing along during the Carpool Karaoke segment of The Late Late Show With James Corden.
BTS appeared on James Corden's 'Carpool Karaoke' segment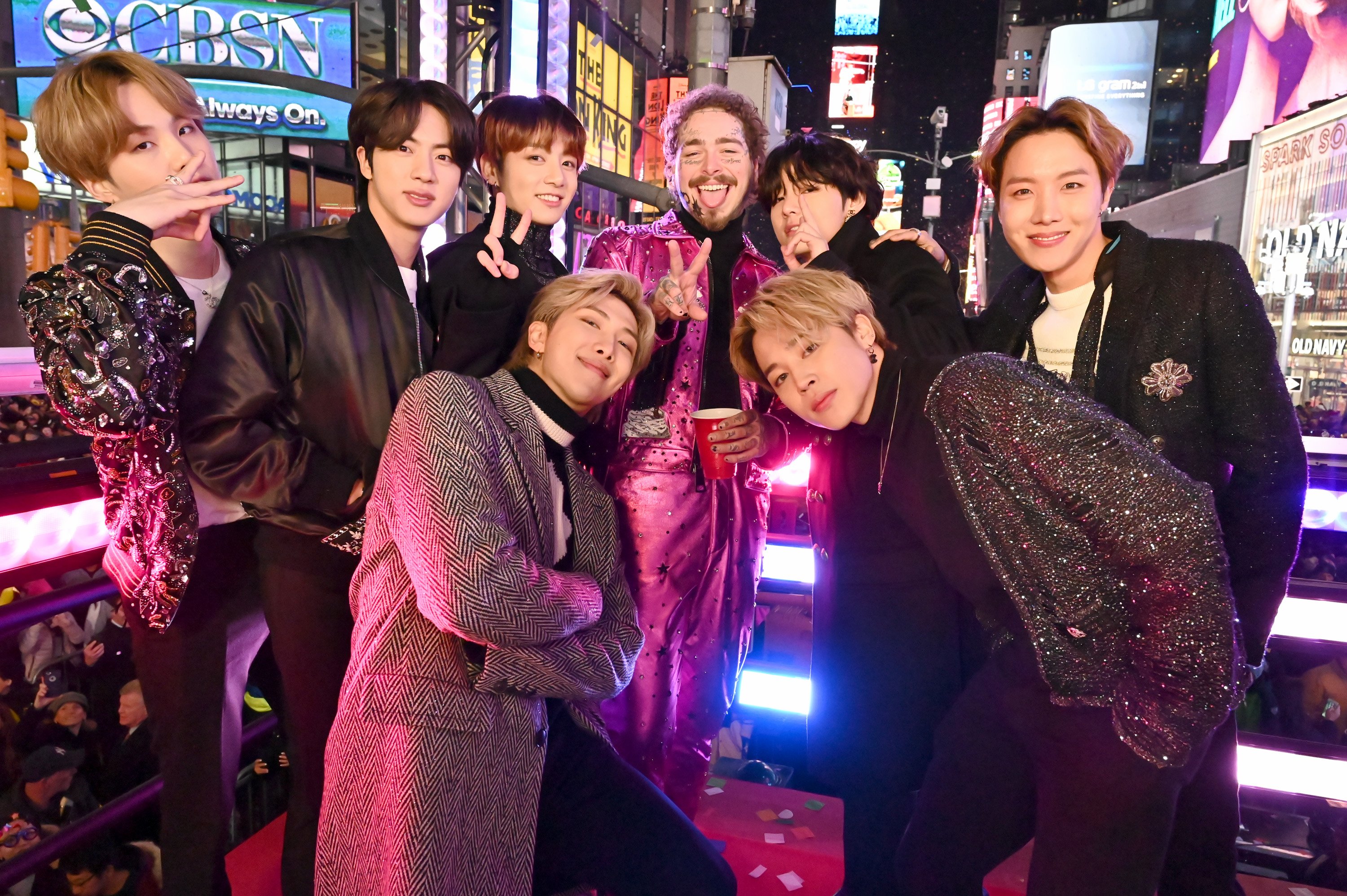 They're the world's biggest boy band, breaking records with their YouTube music videos and making history with their Grammy nominations. In 2020, BTS appeared on The Late Late Show With James Corden, also starring in a Carpool Karaoke segment with the host.
As with any Carpool Karaoke YouTube video, BTS sang along with their own hits. That includes the Map of the Soul: 7 single "On." They jammed out to "MIC Drop (Steve Aoki Remix)," and Corden even surprised the idols by knowing most of the lyrics.
BTS also discussed their experience with other artists. J-Hope mentioned meeting Madonna, while RM talked about meeting the "legend" Nas. The K-pop group also discussed their experience with Post Malone — the singer behind "Sunflower," "Congratulations," and "I Fall Apart."
RM names Post Malone's 'Circles' as the 'best drive song'
In addition to jamming out to BTS originals, these K-pop idols sang along to Bruno Mars and Cardi B's "Finesse." They also sang along to "Circles" by Post Malone, a song released in 2019 along with Hollywood's Bleeding. When the song started, RM turned to the host, saying, "this is the best drive song."
Some ARMYs quickly pointed out RM actually can't drive — he's the only BTS member without a drivers' license. Regardless, this K-pop idol often shares his admiration for other artists and their original music.
Will BTS and Post Malone collaborate on new music?
BTS met Post Malone on several occasions. J-Hope posted a Twitter video in 2017 of the performers hanging out, earning thousands of likes in the process. One of the most notable meetups 2020 New Years Eve celebration in New York City's Times Square. 
These performers welcomed the new year together, also performing separately for Dick Clark's New Year's Rockin' Eve with Ryan Seacrest. While on Carpool Karaoke, Corden asked the idols what it was like meeting Post Malone.
"He smokes too many cigarette," Suga said according to a translation on the video. The other idols laughed.
There's no word regarding when, or if, these artists would collaborate in the future. It's not completely out of the question, as BTS recently recorded with Megan Thee Stallion, Coldplay, and other chart-topping musicians. For one interview on The Ellen DeGeneres Show in 2017, V even singled out Post Malone as an artist he wanted to collaborate with.  
"Please call me, please," he said.
Of course, BTS is currently prepping for their summer 2022 comeback, with Proof scheduled for release on June 10. Until then, fans can listen to already released music from this K-pop group.
RELATED: Collaborations With BTS That Are So Good We Must Manifest Them