Why BTS' RM Wanted to Gift Suga a 'Big Tissue' for Christmas
RM is BTS' leader, as well as a rapper, songwriter, and friend to Suga. Here's what this idol said he would gift the 'Interlude: Shadow' performer for Christmas.
Jin, Suga, J-Hope, RM, Jimin, V, and Jungkook are often filled with the holiday spirit, sometimes sharing their Christmas well-wishes with BTS ARMYs. 
During one interview, the BTS members revealed what they would gift one another. RM's answer for Suga's gift was pretty thoughtful, according to some fans.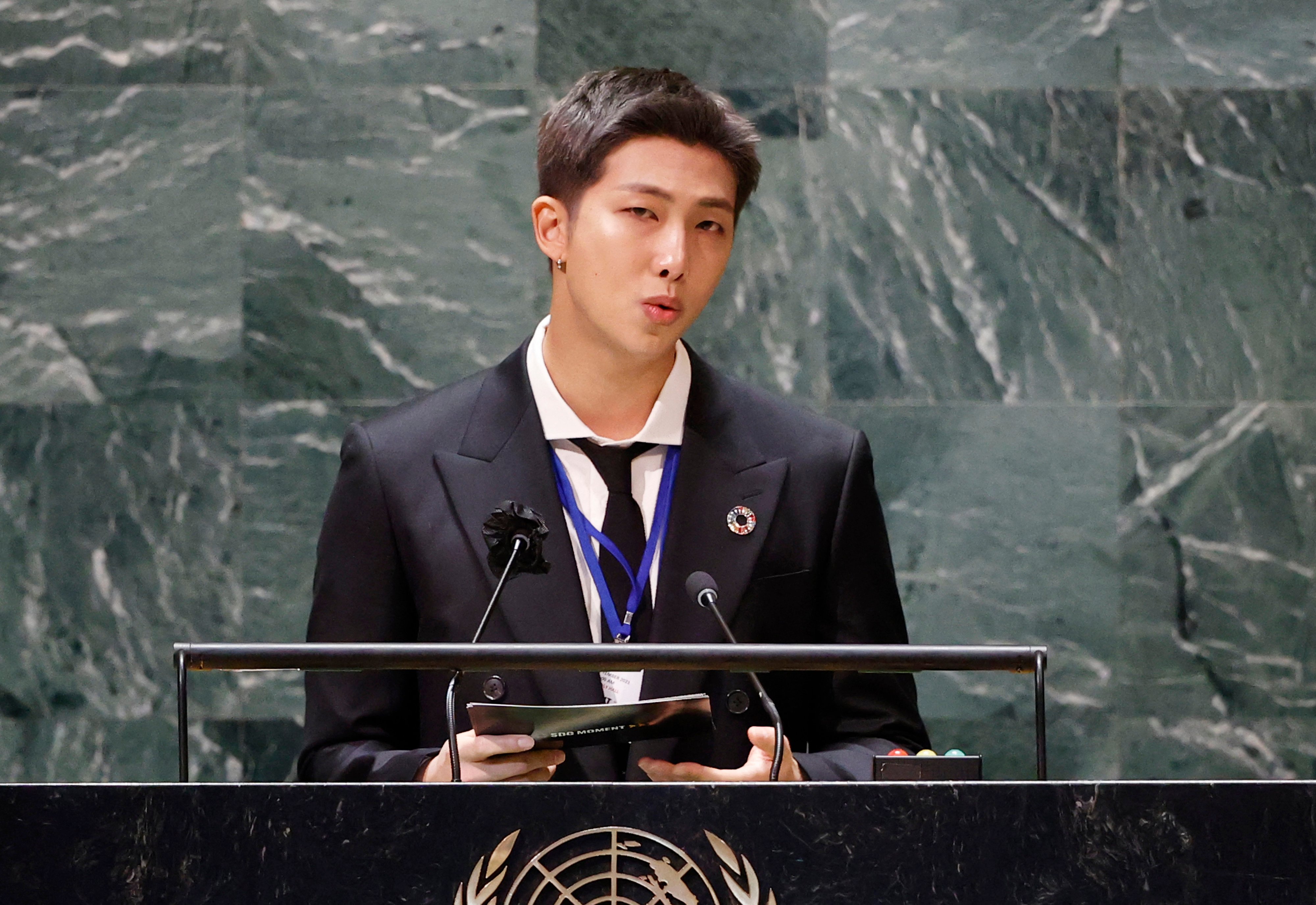 The BTS members release holiday versions of songs like 'Butter' and 'Dynamite'
This K-pop group is known for chart-topping songs like "Butter," "Boy With Luv," and "Permission to Dance." With over seven years since their debut, BTS also spent several holiday seasons with ARMYs, even releasing their "Seasons Greetings" package and hosting live streams. 
The BTS members share holiday remixes of their hit songs. In 2020, that included a jingle bell-filled version of "Dynamite." In 2021, that meant the "Butter (Holiday Remix)," which dropped on Dec. 3. During one interview, the BTS members also shared their potential Christmas gifts for one another.
RM said he wanted to give Suga a 'big tissue' for Christmas to give him peace
During an interview with Ask Anything Chat, the BTS members answered what they would give each other for Christmas. The BTS members had some questionable gift ideas for one another. Jimin wanted to give Jungkook a computer, even though Jungkook said he already had one, so Jimin didn't need to waste his money. 
V wanted to give J-Hope "color-changing soup," somewhat referencing J-Hope's bright red hair. When it came to RM's gift to Suga, RM had a thoughtful answer regarding his gift to the "Interlude: Shadow" rapper.
"For Suga, he said he finds peace when he goes to the restroom. I want to give him some, a 'big tissue,'" RM said. Of course, RM was only kidding, and he most likely didn't give Suga a big tissue for the holidays. 
However, the BTS members are often gifting each other presents for birthdays and special occasions. During one live stream, these artists opened gifts together as part of a "Secret Santa."
For Jin's birthday, Jimin gave him a bright yellow cake (which Jin sampled and promptly spit out, reassuring the member that it was still good.) Because Suga loves coffee, J-Hope sent a coffee truck to the set of Suga's music video, "Daechwita." 
The BTS members sometimes celebrate the holidays with ARMYs
The BTS members often share their holiday well-wishes with fans. In 2020, they performed "Santa Claus Is Coming To Town" (sans Suga, who was still recovering from surgery), during the Disney Holiday Singalong.
In 2019, BTS performed a Christmas Carol Medley at the SBS Gayo Daejeon_Music Festival. This included Jungkook performing "Oh Holy Night" while V and Suga performed "Jingle Bell Rock." All seven members united for a performance of "Silent Night Holy Night."
Some winter-themed songs by BTS, including "Crystal Snow," are available on most major streaming platforms.