BTS Songs That Start With 'T' to Listen on Taehyung's Birthday
BTS released dozens of chart-topping songs, including some featuring the vocalist and dancer Kim Taehyung (also known by his stage name V).
V hates wearing shoes but loves spending time with the BTS ARMY. The feeling is mutual, with fans often mentioning their admiration for Kim Taehyung. Here's our list of BTS songs and solo songs that start with a "T" to stream in honor of this vocalist. 
V's birth date is on Dec. 30, 1995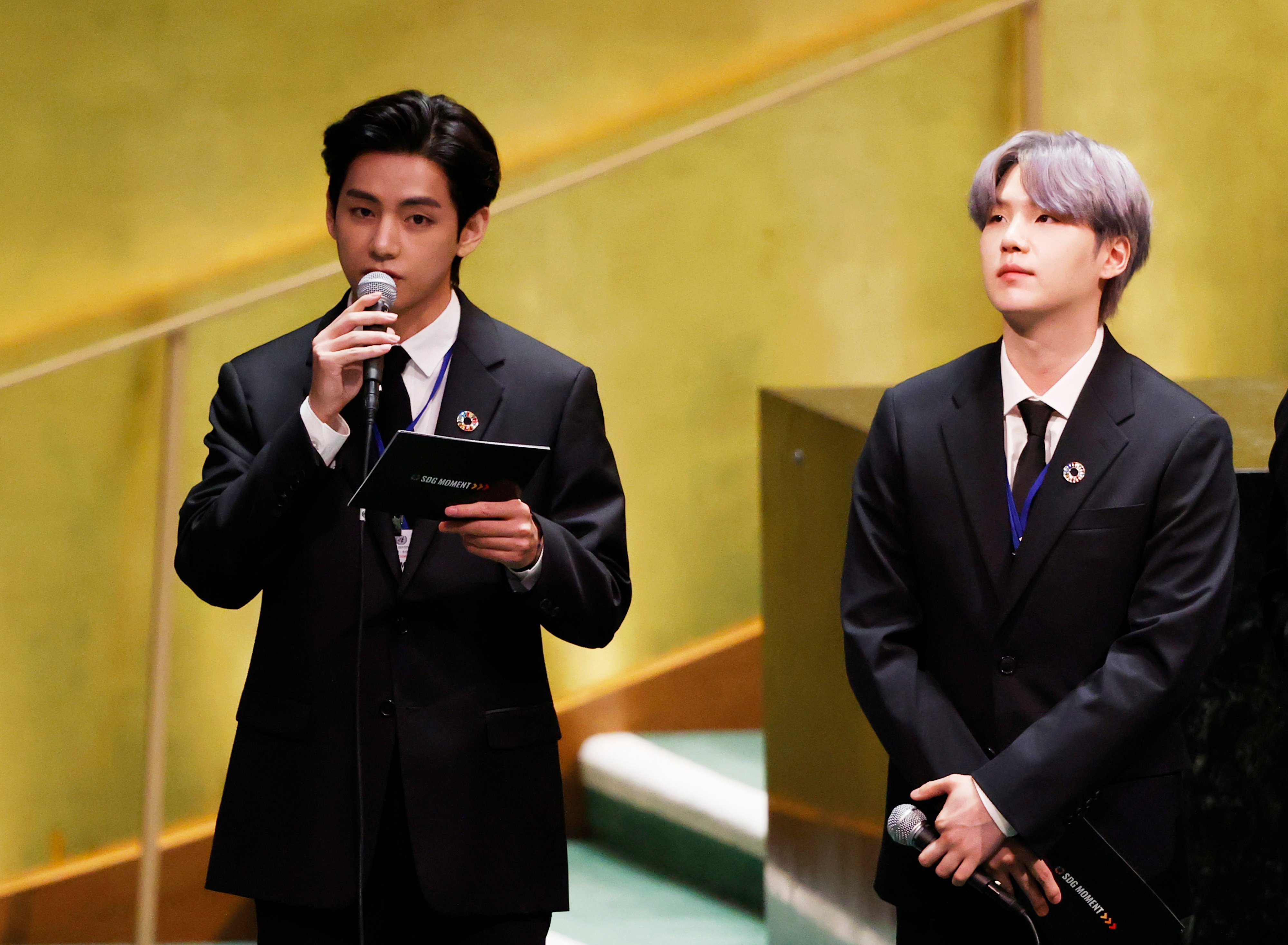 Known for his unique and somewhat eccentric personality, V is one of the seven BTS members behind "Permission to Dance," "Butter," and other chart-topping hits. He appears as a vocalist and dancer for this band, even acting as a creative director for Be (Deluxe Edition). 
As a member of the "maknae line," V was born in 1995. Taehyung has Capricorn as his zodiac sign, with some Capricorns known for exhibiting ambitious, hard-working, disciplined, and persistent personality traits.  
BTS paused accepting presents after receiving some pretty extravagant gifts from ARMYs, (including a gold bar gifted to the "Golden Maknae" Jungkook). As a result, fans stream solo songs by this idol, as well as group tracks to honor V's birthday. There's even a list of BTS songs starting with the letter "T" for V's real name — Kim Taehyung.
Technically, the only BTS song starting with a V is RM's solo song 'Voice'
Ok, so it's not one of the best-known songs by this K-pop group. Technically, this song doesn't even include other BTS members. Before even releasing mono, RM created the solo, self-titled mixtape, including one track called "Voice."
This song is not available on Spotify, although Teen Vogue reports "Voice" is streamable on Soundcloud over seven years after its release.
'The Truth Untold'
This song is performed by V, Jimin, Jungkook, and Jin — collectively known as BTS' vocal line. "The Truth Untold" is known for its emotional themes, with the sub-unit performing this song along with the "Love Yourself" tour. This also proved to be a favorite song of fans, with the Spotify track earning over 270 million plays. 
'Outro: Tear'
The vocal lie has "The Truth Untold," while the rap line has "Outro: Tear." RM, J-Hope, and Suga's song was included on Love Yourself: Tear, with lyrics about saying goodbye when you love someone. 
'Telepathy' off of 'Be (Deluxe Edition)'
Included on BTS' Be (Deluxe Edition), "Telepathy" was an original song written by Suga years prior. When the boy band decided to take an active role in creating the 2020 album, this song was an obvious choice, performed by all seven members. In Feb. 2021, BTS performed this song during their MTV Unplugged segment. 
Jimin's 'Tony Montana'
Originally included among BTS' Soundcloud tracks, Tony Montana became a welcome inclusion to the 2022 album Proof. This version will be performed by Jimin and co-produced by Suga, available for streaming on most major music platforms as of June 10, 2022.