Why BTS' Suga Doesn't Think He'll Become a Full-Time Producer
Suga is a rapper in BTS, a solo artist known as Agust D, and a producer. He's also a songwriter, collaborating on well-known tracks for his boy band. Although producing takes up a large portion of his time, this artist confirmed that he wouldn't become a full-time producer after BTS.
BTS' Suga is a rapper, songwriter, and producer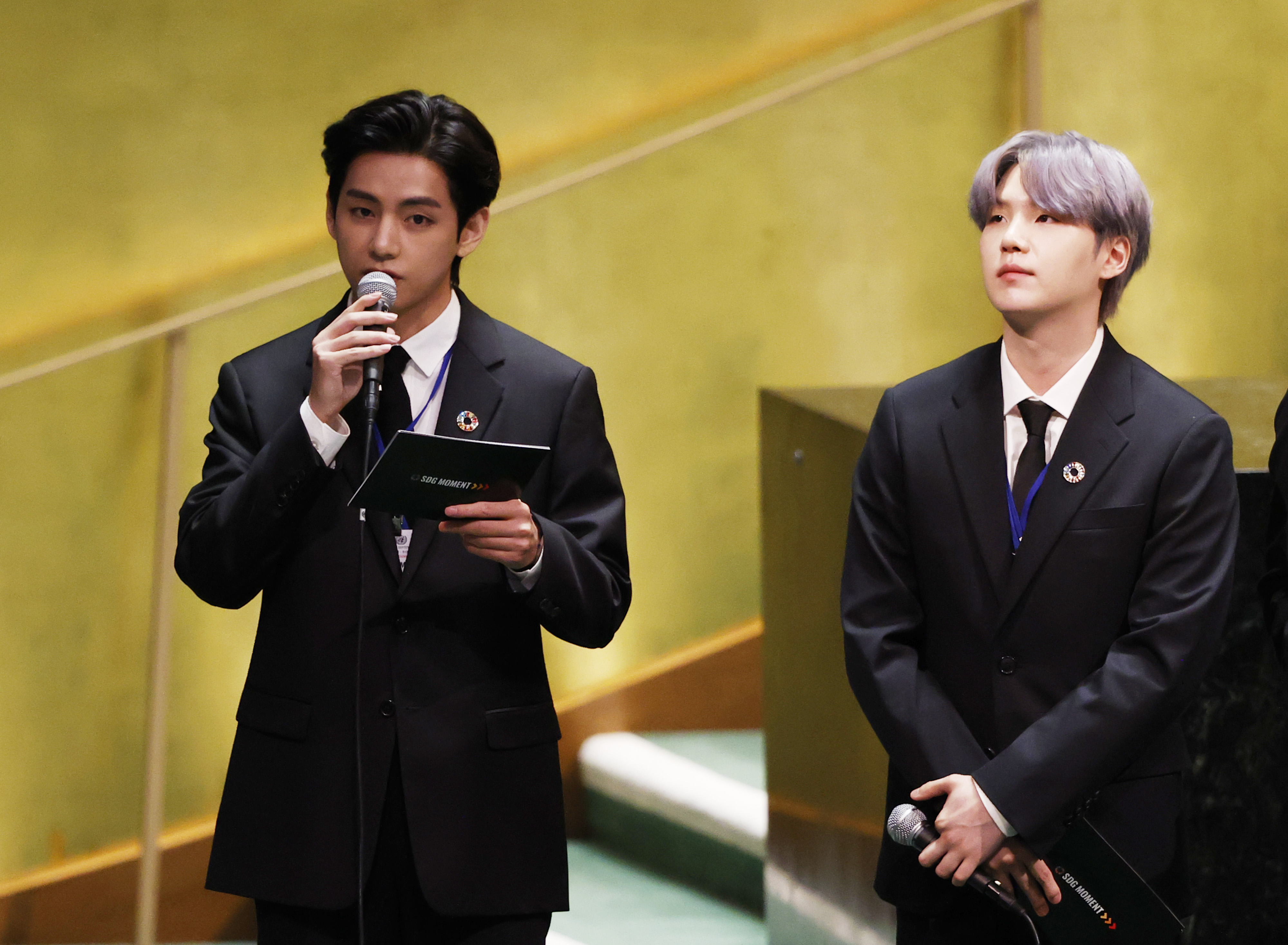 Some ARMYs know Suga as the unofficial "grandpa" of BTS. As a rapper, Suga appears on group songs like "Permission to Dance," "Boy With Luv," and "Butter" along with Jin, J-Hope, RM, Jimin, V, and Jungkook.
Music was an essential part of Suga's life even before he was in BTS, with this artist performing in the underground rap scene as "Gloss." During one interview on The Tonight Show Starring Jimmy Fallon, Suga revealed that he would still be a songwriter or producer even if he weren't in BTS.
That music appreciation extends beyond Suga's work with BTS. Sometimes, this rapper appears on other artists' songs, including Halsey's "Suga's Interlude." He also produced originals for 7Fates: CHAKHO, with Jungkook singing on most songs.
Regarding his 'next move,' Suga said he will 'always be a member of BTS'
With Permission to Dance on Stage concerts lined up for Las Vegas and Seoul, BTS doesn't have any plans for retiring soon. Still, when asked about his plans after BTS, this artist doesn't have any plans for being a full-time producer. (Some retired K-pop idols later turned their attention to songwriting for newer groups, including BLACKPINK's producer, Teddy Park.)
"I'll always be a member of BTS," Suga said during an interview with Vogue Magazine. "People have suggested I should become a full-time producer, but I don't think I will. I'm not responsible enough to take responsibility for anyone. I like being part of BTS."
With over seven years of writing and recording music with BTS, these artists developed a close friendship with one another. They also have a close musical relationship. BTS earned several Grammy nominations, record-breaking Spotify streams, and millions of fans worldwide.
BTS' Suga also releases solo music under the stage name Agust D
As with most members of this K-pop group, Suga debuts solo music for ARMYs to stream. Under the stage name Agust D, Suga releases songs like "Daechwita" on most major streaming platforms.
During an interview with GQ, this artist was asked which part of his music takes up the most time — SUGA of BTS, solo artist AGUST D, and commercial producer BY SUGA. The idol said that he couldn't pick just one role.
"All three are me," Suga said. "They each take up a third of myself, and one isn't more reflective of me than another. I simply give people a choice. These three sides of myself are incredibly different, so I'm giving people a choice to see me as they want."
RELATED: BTS' Suga Didn't Wear Braces on His Upper Teeth — They're Just Naturally That Perfect