BTS' Suga Wants To Keep Making Music 'Until the Day [He Dies]'
Even when Suga's not writing, recording, producing, or performing music, this idol wonders what's next in his career. Don't worry, though. BTS' Suga confirmed that he wants to keep making music "until the day [he dies.]" Here's what we learned about the "Tony Montana" artist.
What Does Suga Do in BTS? Min Yoongi is more than a member of BTS' 'rap line'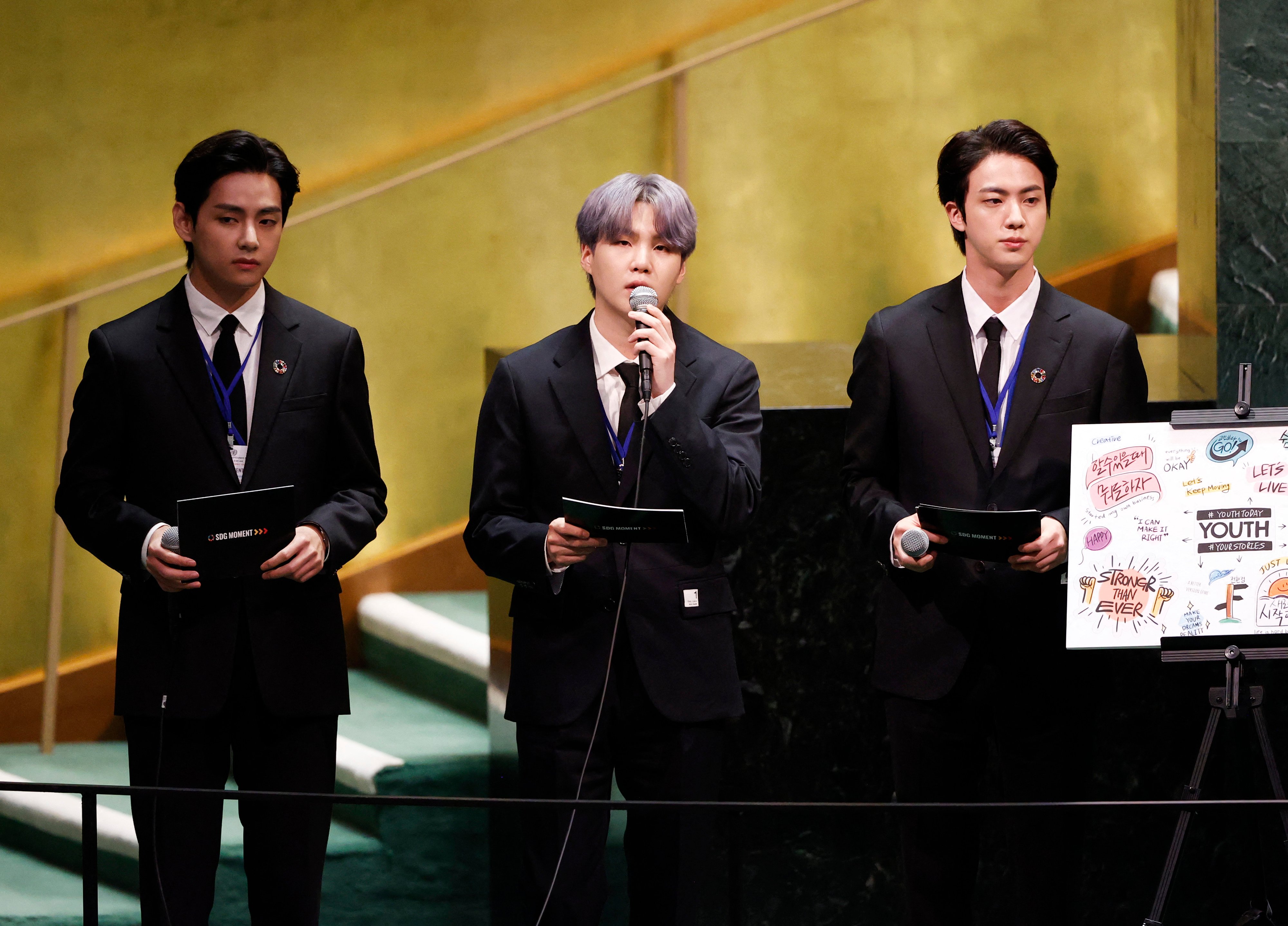 Some fans know him as "Lil Meow Meow." Suga is one of BTS' rappers and dancers, lending his voice on group tracks like "Butter," "Life Goes On," and "Dynamite." He appeared at the Grammy Awards, performing alongside Jin, J-Hope, RM, Jimin, V, and Jungkook.
Additionally, Suga is one of BTS' songwriters and producers. He earned credits on songs like "Yet To Come," "Interlude: Shadow," and "Telepathy." This artist is also constantly looking to the future, even sharing his career plans with ARMYs.
Suga has plans to make music in his 30s, 40s, or 50s
With BTS' "Yet To Come" hinting at more beautiful moments with these idols, Suga revealed his upcoming career plans during an interview with Weverse Magazine. 
"I started to consider that my secret weapon from some point," Suga said, according to a translation. "I tried songs in various styles on D-2, too. I feel like I might not be able to become a master of one genre, but I can wear many hats. There's still so much I want to do."
Already, Suga composed the soundtrack for the 7FATES: CHAKHO webtoon, with Jungkook as a featured vocalist for the production. He sometimes writes and produces for other artists. Recently, he partnered with PSY for "That That," also enjoying a starring role in the official music video.
"I have no feel for what kind of music I'm going to be making in my 30s, 40s, or 50s, but I want to keep doing music until the day I die," he added. "I'm someone who can wear many different hats, so I think I started to worry less when I think about what kind of music I'll do after."
Born on March 9, 1993, Suga still has a long way to go until he's in his 40s or 50s. With Proof showcasing three new tracks and new versions of fan-favorite releases, ARMYs are already excited for the K-pop group's upcoming endeavors.
Suga releases solo music outside his work with BTS
Even when BTS is taking "extended periods of rest and relaxation," Suga is working on music. In 2020, he released his second mixtape, D-2, under the stage name Agust D. He created a music video for "Daechwita," also inviting Jin and Jungkook to have a cameo in the production.
Suga even featured other artists in his solo music, including BTS' RM and MAX. His song "So Far Away" has over 55 million Spotify plays, while "People" holds over 75 million plays on the streaming platform.
RELATED: BTS' Rapper, Suga, Is Practicing His Singing Skills: 'The Members Don't Think Much of It'