BTS: Was Suga's Next 'Agust D' Mixtape Unveiled by a Change on Apple Music? Why Fans Think New Music Is Coming Soon
BTS fans theorized Suga's next 'Agust D' mixtape is coming soon after the music artist changed his Apple Music profile picture on May 21, 2020.
For the past few days, BTS fans have been wrapped up in the mysterious countdown presented by the Big Hit Entertainment Twitter account. The cryptic tweets began with "D-7," and with every passing day, a black-and-white figure became increasingly clearer. Of course, ARMYs had their theories, many wondering whether Jungkook or Suga would emerge with their highly-anticipated solo projects. Now, BTS fans are sure Suga's next Agust D mixtape is coming soon after the music artist's profile picture changed on Apple Music.
Suga teases BTS fans about his new 'Agust D' mixtape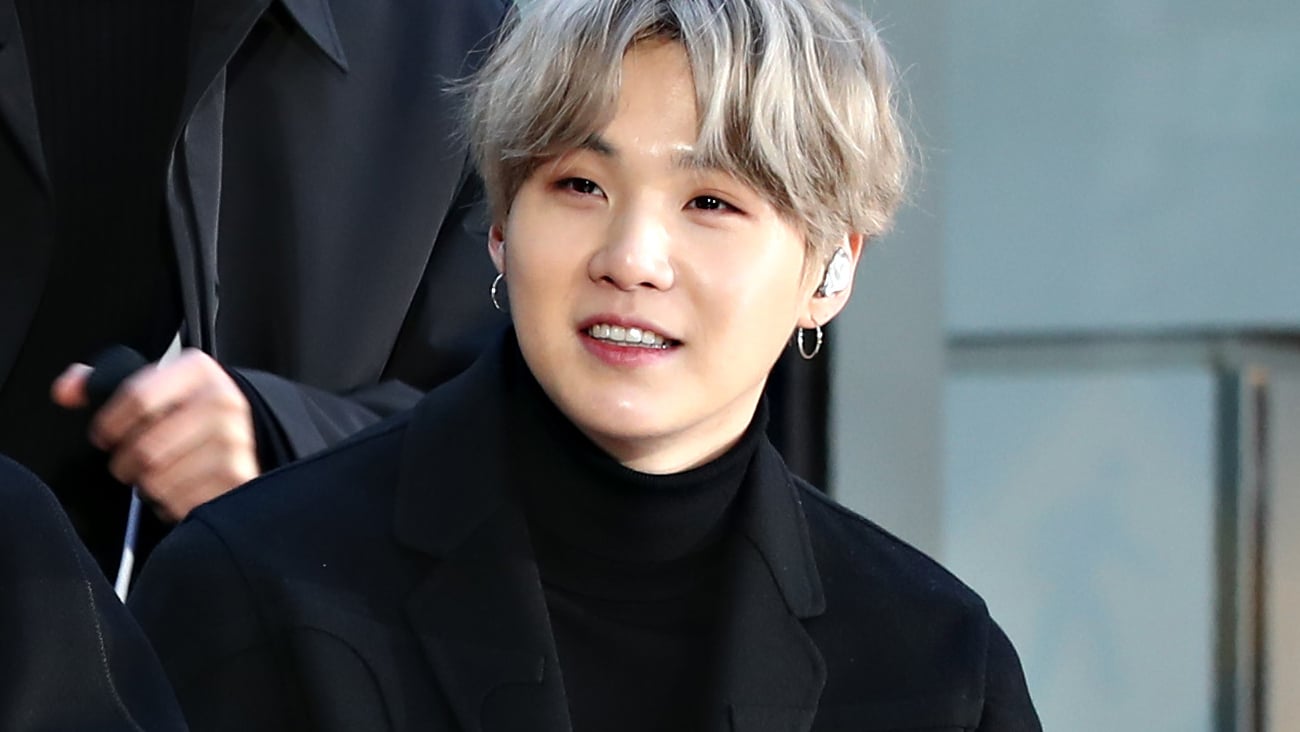 In August 2016, Suga released his first Agust D mixtape and BTS fans have been waiting for the rapper's follow-up ever since. Then when BTS' Bon Voyage dropped in November 2019, Suga shared his plans to finish his next mixtape once the travel special wrapped filming. 
Meanwhile, Suga explained he was supposed to release new music in 2019 during a New Year's VLIVE broadcast with BTS. However, it didn't happen because of scheduling conflicts. 
Finally, in early May 2020, Suga and RM teased the next Agust D mixtape during a chat on VLIVE. But despite his previous remarks, Suga claimed he wouldn't release anything soon.
"What I can tell you now is, that the music will not be released anytime soon," Suga said at the time. "Not close at all. Not today or tomorrow. Please wait for a while. And I'll come back with good music." 
Why BTS fans think Suga's 'Agust D' mixtape is coming 
On May 16, Big Hit Entertainment unveiled the first countdown teaser with "D-7." The BTS official Twitter account also retweeted the new posts each day. Then by "D-3" and "D-2," fans could vaguely see a person tied up. But as mentioned, many members of ARMY weren't sure about the individual's identity.
Nevertheless, some hawk-eyed fans noticed Agust D's Apple Music profile picture was changed on May 21. The photo also seemed to match the teasers presented by Big Hit Entertainment on Twitter, from Suga's black hair down to the outfit. The musician was also tied up in the photo.
Then other fans used the Shazam app on a clip from Break the Silence and discovered a song titled "What Do You Think" from the album D-2. But as always, we're going to have to wait for an official announcement.
BTS fans react to the Agust D Apple Music profile picture
While we all "patiently" wait for Big Hit Entertainment to reveal the meaning behind the countdown, BTS fans have rushed to social media to share their excitement over the Agust D profile photo change on Apple Music. And instantly, ARMYs trended "#AGUSTD2ISCOMING" to the no. 1 spot on Twitter worldwide. 
"Man hasn't released any songs yet and he already looks like he's about to end some lives," a fan wrote on Twitter. "Are we even fking ready bc whether we accept it or not 2016 Agust D will surely be different from 2020 Agust D #AGUSTD2ISCOMING."
Meanwhile, "MIN YOONGI" and "ALL MEN DO IS LIE" also trended on Twitter in honor of the music artist's remarks from his VLIVE broadcast with RM earlier this month. 
"DID Y'ALL REALLY JUST TREND ALL MEN DO IS LIE. MIN YOONGI'S POWER LOL," a fan wrote. 
But regardless, most fans are speculating the profile pic change on "D-2" was fully intentional. 
"All I'm saying is it ain't a coincidence that this picture dropped on the same day we got to D2 on the countdown," a fan tweeted. 
"Ok so, I think the reason why they dropped Yoongi's photo because it might will drop today(Friday)," another fan wrote. "And do y'all realized the countdown stopped at D-2, it could also be that D-2 is the name of the mixtape shortcut for AgustD 2!!!!! get ready for 6pm kst y'all!!"
Whether or not Suga drops his next Agust D mixtape within the next few hours, it's been one hell of a ride. And ultimately, we're just excited to dive right into the musician's introspective musings — whenever that may be. So stay tuned.