BTS' Suga Paints, Even Getting 'in the Zone' While Working on a Piece
Suga is a talented rapper, songwriter, and painter. When it comes to new creations that just aren't sticking, this artist knows when to step away. Here's what we know about this BTS member and his hobbies outside of music.
Suga is BTS rapper and the solo artist Agust D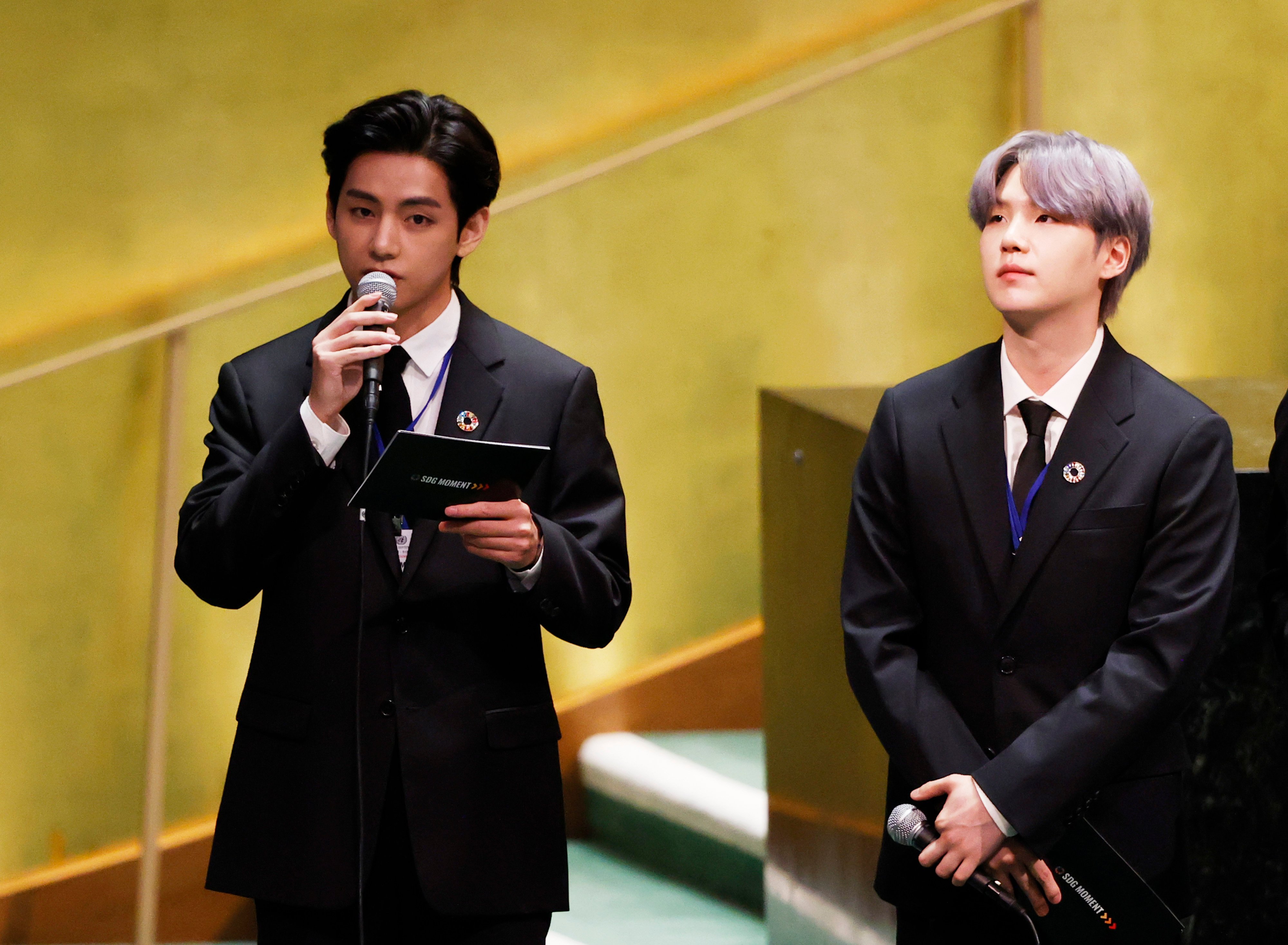 Some know this idol as the unofficial "grandpa" of BTS. Along with Jin, J-Hope, RM, Jimin, V, and Jungkook, Suga performs BTS songs like "Permission to Dance," "Boy With Luv," and "Butter." Suga wrote songs like "Interlude: Shadow" and was featured on Halsey's album Manic.
Outside of his role with BTS, Suga releases solo music under the stage name Agust D. He debuted the "Daechwita" music video, featuring Jungkook and Jin in the production.
Of course, Suga is a multi-talented performer — writing, dancing, and rapper original BTS songs. Additionally, this artist can paint. He sometimes gets lost in his work, painting for over half an hour before stopping to chat with ARMYs.
Suga painted during one YouTube Live
Aside from being an award-winning rapper, Suga is also a painter, showcasing his talent during one YouTube Live event. During an interview with GQ, Suga commented on his work process and the point when he stops working on a project.
"I stop working when nothing comes out," Suga said. "I just stop. I'm not the type to cling onto something when it doesn't work. But when I'm in the zone, I'm hardly aware of the time."
"I think I'm like that with everything, not just painting," Suga added, mentioning one YouTube Live while he worked on an original piece. "If I find something I like, I carry it to a ridiculous point. I keep at it for a long time simply because it's fun."
Suga wouldn't be the only BTS member who pursues art as a hobby. Jungkook also paints, sometimes sharing his creations with ARMYs. RM is a huge fan of museums and galleries, even visiting exhibits abroad.
BTS' Suga often explores other hobbies, including basketball
Suga's primary focus is music. The artist revealed he would still be a songwriter or producer if he wasn't in BTS. Sometimes, this artist showcases his other talents and hobbies. One of his newest dreams is to improve his basketball skills.
"My dream could be to become better at basketball, for example," Suga added in the same interview. "I believe it's a good, worthwhile life to achieve dreams like this, one by one."
Along with V and Jungkook, Suga also shared an interest in photography. During one interview from the You Never Walk Alone era, the "Interlude: Shadow" rapper said he was a photography major in college, calling one project "Suga's Eyes."
Suga sometimes showcases his hidden talents during the variety show RUN BTS. The BTS members compete in unique challenges, from going voiceovers for Disney movies to playing tennis.
RELATED: BTS' Suga Didn't Wear Braces on His Upper Teeth — They're Just Naturally That Perfect