BTS: Suga Says Preparing for the 2022 Grammy Awards 'Was Extremely Hectic'
The 2022 Grammy Awards were held on April 3 in Las Vegas. At the award show, Jin, Suga, J-Hope, RM, Jimin, V, and Jungkook of BTS performed their single "Butter." The band was also nominated for Best Pop Duo/Group Performance for the song. In a recent interview with Weverse Magazine, Suga went into detail about what it was like for BTS to prepare for their performance at the 2022 Grammy Awards.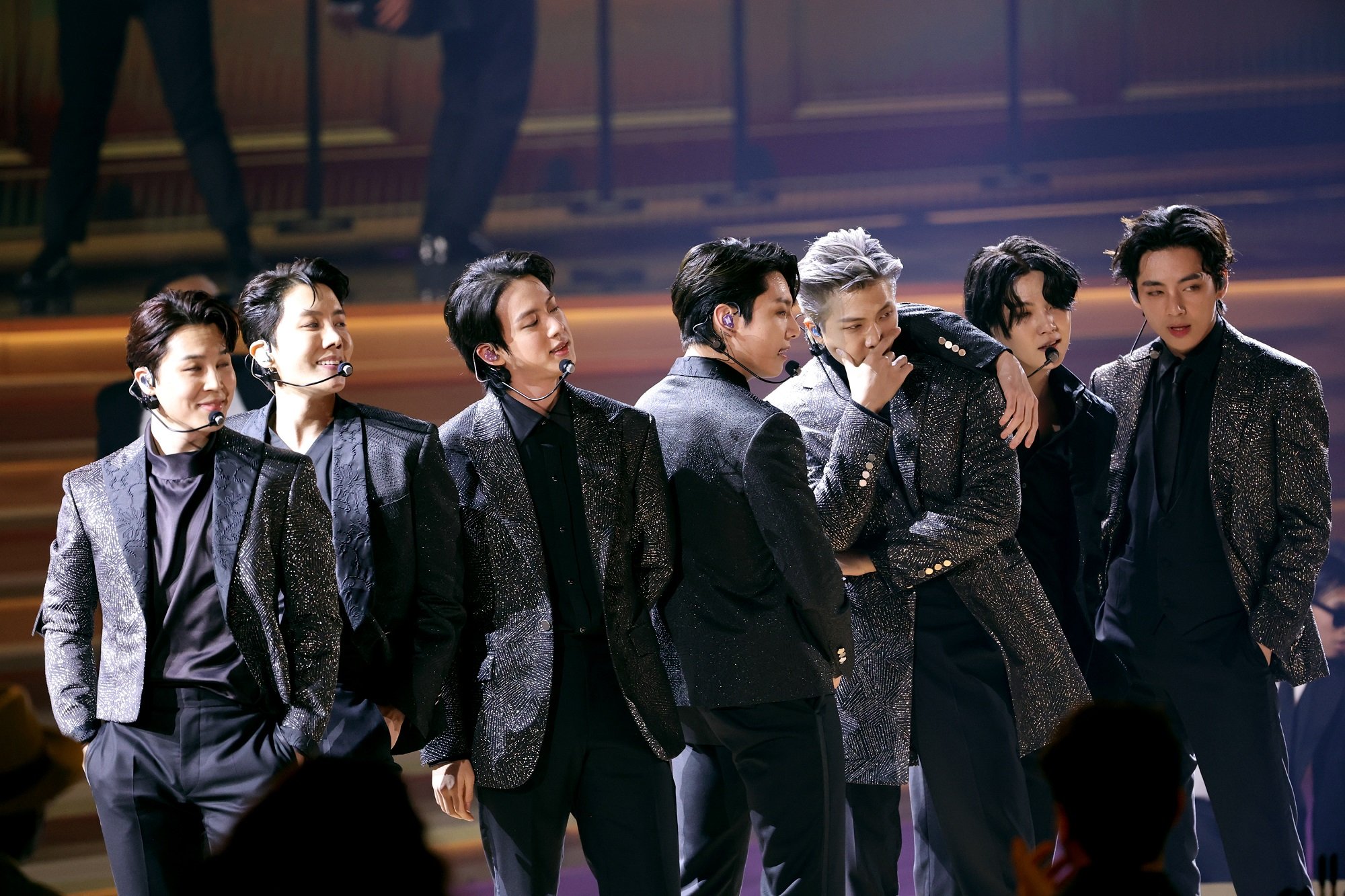 Suga thinks preparing for BTS' Grammy Awards performance 'was extremely hectic'
Leading up to the 2022 Grammy Awards, Jin underwent surgery. J-Hope and Jungkook also tested positive for the coronavirus (COVID-19).
Speaking with Weverse Magazine, Suga shared that these complications made planning BTS' 2022 Grammy Awards performance "extremely hectic."
"We actually practiced really hard. (laughs) We're not going to do that kind of performance again for quite a while. We had a part that involved clothes and there was a dance break in the middle, too. The process of getting ready was extremely hectic, too: Seokjin got hurt, and Hobi and Jung Kook were in quarantine, so there were times when it was just four of us," Suga told Weverse Magazine.
The BTS rapper added, "It was an experience I won't soon forget. And the directors were really enthusiastic about the performance. So it was a bit stressful getting ready…"
RELATED: President Joe Biden Said the Members of BTS Have 'Great Talent'
Suga had 'fun' performing at the 2022 Grammy Awards
While Suga thought the preparation for the 2022 Grammy Awards was stressful, the rapper has a different outlook on the performance when "looking back."
Suga told Weverse Magazine:
"… but I guess it was also sort of fun, looking back now. The performance went off without a hitch anyway. The part of the performance involving our clothes kept not working out, including during the rehearsal the day before, so I thought we must have had some kind of luck because it ended up going fine on the day regardless. Whenever we try to do something like that, we typically always fail. (laughs) Viewers wouldn't realize it, but we talk about it a lot between ourselves, so we were really worried, but fortunately it all turned out in the end."
RELATED: TXT: Taehyun Was Inspired by Jimin of BTS When Performing 'Opening Sequence'
Suga thinks the members of BTS 'have come a long way'
As an album, Proof encompasses BTS' past nine years as a group. The album includes 48 songs with three tracks being brand-new songs.
One of those new songs is "Run BTS." In this song, Jin, Suga, J-Hope, RM, Jimin, V, and Jungkook reflect on their drive to succeed.
Speaking to Weverse Magazine about "Run BTS," Suga shared:
"For 'Run BTS,' we kept saying we wanted to try doing a song in our older style, so we chose a title that both shares its name with our variety show and reflects who we are—always running. All the members have come a long way, and there's times when we're exhausted but there's also things we want to do moving forward, so I think we tried to include those desires as well."