BTS: Suga Surprise Drops Second Mixtape 'D-2' With Lead Single 'Daechwita'
The countdown is finally over. Suga of BTS's newest mixtape under his persona Agust D is here. On May 22, Suga dropped D-2, his second mixtape, along with a music video for the mixtape's lead single, "Daechwita."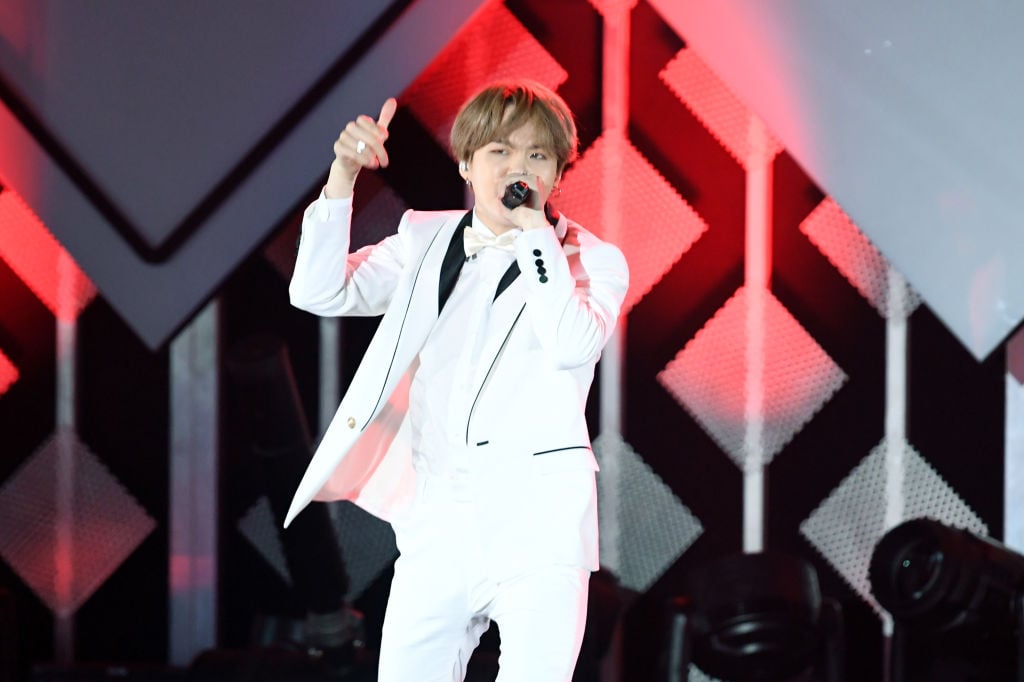 There was a countdown for BTS fans leading up to the mixtape's release
On May 17, Big Hit Entertainment began posting pictures on Twitter as part of a countdown, posting a new photo every day at midnight KST. The countdown started with "D-7," and each tweet featured a grayscale photo that was edited so fans could not easily see the content of the photo.
The "D-4" clue posted on May 20 showed a bright outline that confirmed the countdown was related to a solo project by a BTS member. On May 21 at midnight KST, Big Hit Entertainment posted the "D-3" hint on Twitter and gave fans a clearer look at the figure in question.
By the time the label posted the "D-2" clue on May 21, a majority of BTS fans were convinced the countdown was for Suga's mixtape. The rapper released his first mixtape Agust D in 2016, and ARMY knew Suga was working on a follow-up to the mixtape.
RELATED: BTS: Suga's Tweet Has Fans Thinking the Follow-Up to His Mixtape 'Agust D' Is Coming
The countdown stopped at "D-2," and Suga released his mixtape D-2 on May 22. In an interview with Billboard, Suga revealed he came up with the promotion strategy himself.
"I like surprises, so I came up with the release promotion myself. I didn't want to release it on D-DAY, and also wasn't satisfied with just Agust D 2. So I wanted to release it on D-2 to surprise the people who were waiting for it to drop on D-DAY," he said.
BTS's Suga released 'D-2' as Agust D
The BTS rapper's mixtape D-2 consists of 10 tracks. "Daechwita" serves as the title track for "D-2." There are multiple features on the mixtape, and Suga collaborated with RM from BTS on "Strange," MAX on "Burn," NiiHWA on "28," and Kim Jong Wan of NELL on "Dear my friend."
According to a press release from Big Hit Entertainment, Suga's D-2 captures his "current emotional state" through candid songwriting the same way his 2016 mixtape Agust D did.
The mixtape also explores a variety of sounds and genres with a central focus on classic hip-hop. Through "Daechwita," "Moonlight," "What do you think?," "Strange," "28," "Burn It," "People," "Honsool," "Interlude : Set me free," and "Dear my friend," Suga incorporates hip-hop/R&B, trap/hip-hop, pop/Brit rock, and modern rock on D-2.
Suga released a music video for 'Daechwita'
In addition to releasing the mixtape, Suga also filmed and released a music video for "Daechwita," the song's title track. "Daechwita" uses Korean military music, traditional Korean instruments, and modern trap and hip-hop sounds.
In the music video, Suga's Agust D persona plays two different characters, and the video features stunning imagery and an intense story line.
"It all started with the ceremonial walk of the King. Daechwita is played during the military march and I was inspired to sample its beat, and since the track includes a lot of traditional Korean musical elements, it made sense to also shoot the music video on Korean historical filming sites. It wasn't necessarily my intention to purposefully include Korean aspects. It was more a natural process that had interesting ideas spring up along the way," Suga told Billboard.