BTS' Suga Wrote PSY's 'That That' With 'Summer Vibes' in Mind
Suga is one of the songwriters and producers behind 'That That,' an original song on Psy's '9th.' Here's what Suga said about channeling summer vibes for this song.
Suga danced alongside Psy for the "That That" music video. This BTS member also wrote and produced the song, keeping "summer vibes" in mind while working on this project. Here's what ARMYs learned during one of Suga's V Lives.
Suga is a songwriter and producer for the K-pop group BTS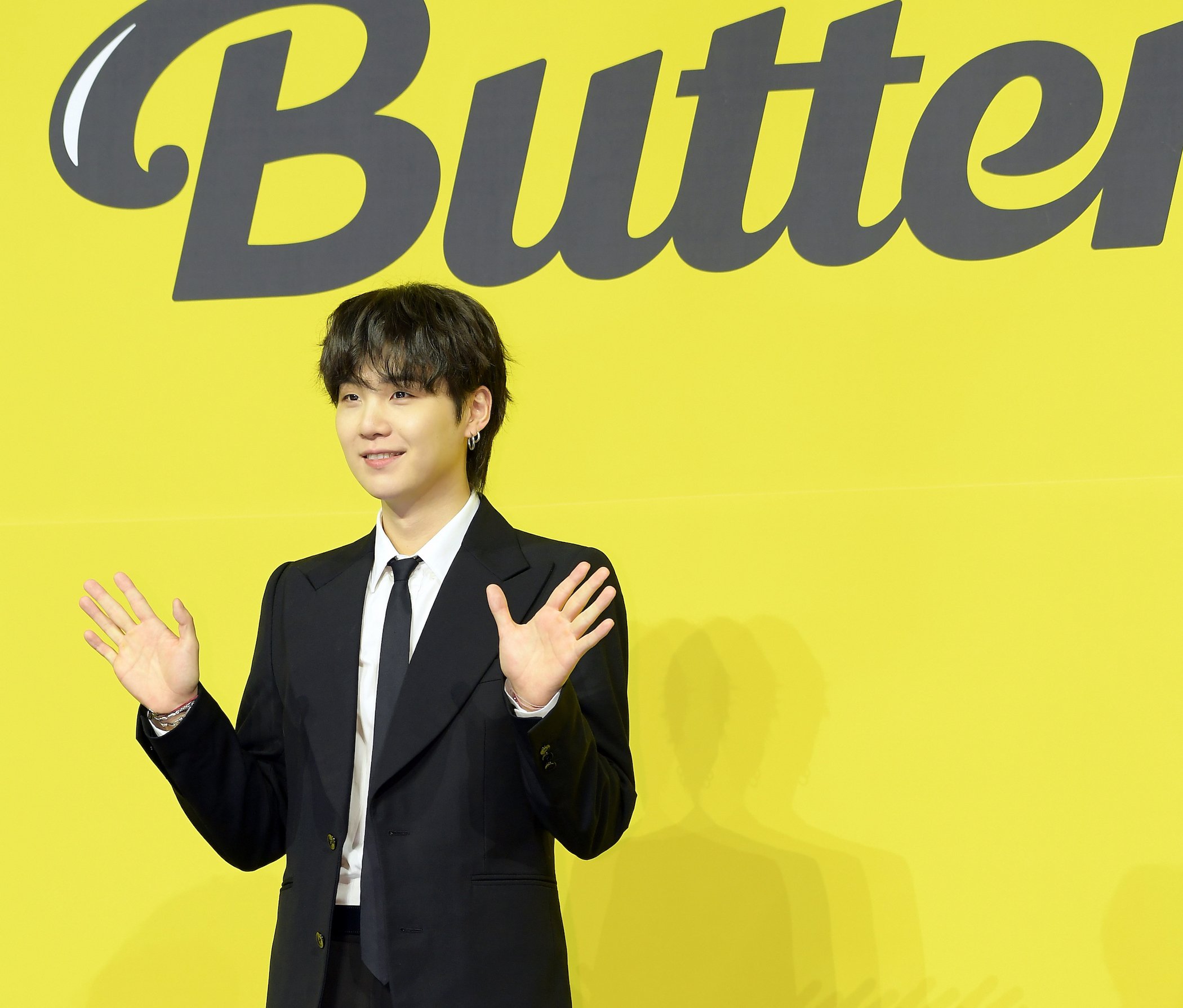 Aside from his solo music (typically released under the stage name Agust D), Suga is one of BTS' rappers and dancers. He appears on chart-topping group songs, including the recently released single "Butter."
Suga is also one of BTS' producers and songwriters, creating originals like "Telepathy," "Life Goes On," and "Dynamite." The artist wrote "I Like It" in under 40 minutes. He also appeared in solo songs in conjunction with the boy band, including "Trivia: Seesaw" and "Interlude Shadow." 
"Most of the music that I grew up listening to talked about dreams, hope, and introspection in the midst of despair," Suga said during an interview with BuzzFeed News. "I got influenced by that kind of music and became who I am today. So, in turn, I also want to give that kind of influence."
Suga is also a producer and songwriter for other artists, working on 7Fates: CHAKHO created by HYBE with Jungkook. He joined the "Gangnam Style" artist Psy for the original summer track, "That That."
BTS' Suga created 'summer vibes' for Psy's song 'That That'
After BTS' Permission to Dance on Stage — Las Vegas concerts, Psy and Suga teamed up to release "That That" and its corresponding music video, now available on YouTube. The production included original dance moves and lyrics written in part by Suga. 
Within a few weeks, this song earned over 30 million Spotify plays. Additionally, Suga is the mastermind behind the "vibe" of this song, elaborating on the creative process during one V Live.
"Since summer is just around the corner, I wanted to write something that went well with the summer vibes," Suga said, according to a translation on the YouTube video.
"The pandemic is almost over now," he continued. "So I thought a fun song would be nice, and it was mentioned before, but I looked through some of the songs that I had written a while back."
Psy's team didn't like Suga's first idea for 'That That' 
As a producer/songwriter for "That That," Suga shared insight into his songwriting process with fans. The BTS member even revealed his first idea didn't get the OK from Psy's team. (He might use that idea for a future solo project, though.)
"I told them there was a song that would be great, and they said they didn't like it at first," Suga explained during the same live stream. "But then I rearranged it, and that became 'That That.' That's how I started work on 'That That.' And it was pretty easy to work on. There weren't that man edits in the process."