BTS Unveils an Energetic 'Dynamite' Music Video Teaser
On Aug. 18, BTS released the music video teaser for 'Dynamite' and fans can't get enough of the catchy single.
Can it be Aug. 21 already? Big Hit Entertainment just released the music video teaser for BTS's new single "Dynamite," and we don't know how much longer we can wait.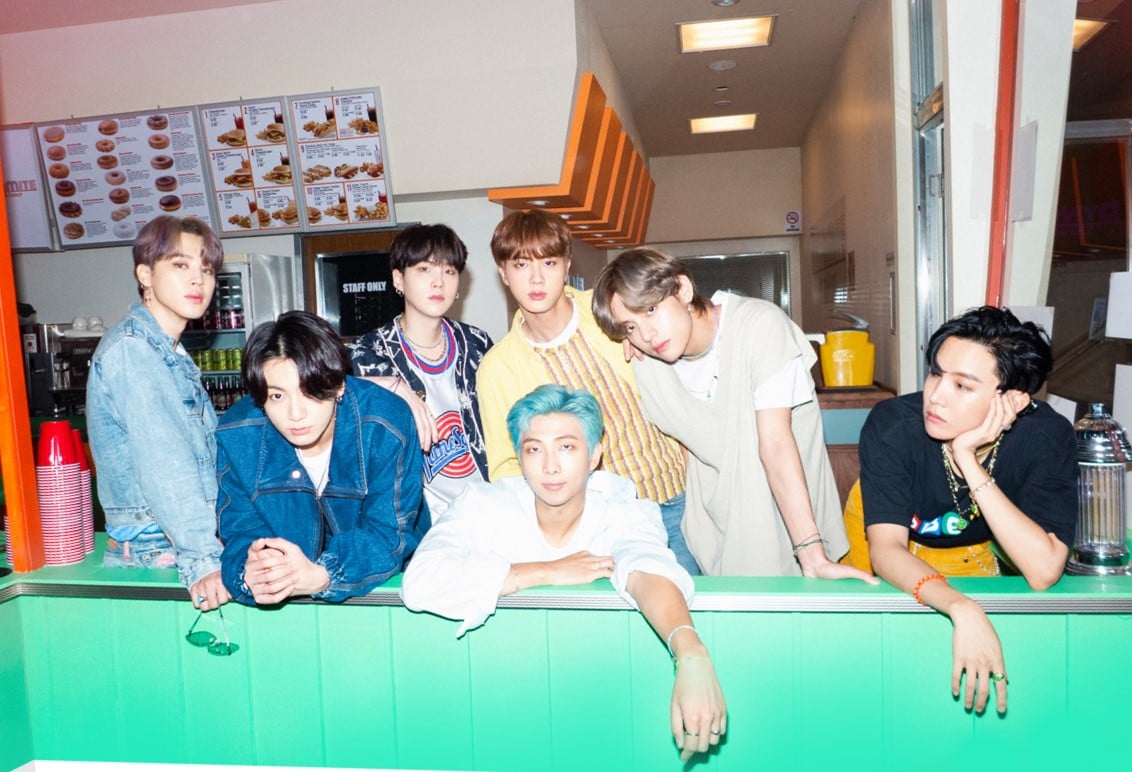 The music video teaser builds the hype for BTS's song
On Aug. 18, Big Hit Entertainment released a short teaser clip for the "Dynamite" music video on YouTube. The teaser begins with all seven BTS members wearing light pastels while surrounded by a pink skyline. Jimin points at the camera as the distant lyrics of "Dynamite" can be heard.
There is a quick shot of J-Hope before the septet breaks out into fun choreography while wearing '70s attire. Each member strikes a pose under a large sign that reads "Disco" at the end of the teaser, showing off their poise and stunning outfits.
A press release from Big Hit Entertainment describes the teaser as "a glimpse into the dynamic choreography and the upbeat Disco vibe of 'Dynamite' that exudes energy and freshness."
RELATED: BTS Will Perform 'Dynamite' at the 2020 MTV VMAs
The song drops on Aug. 21
Leading up to the music video's release, a "Countdown Live" starts on YouTube at 11:30 p.m. EST on Aug. 20 and 12:30 p.m. KST on Aug. 21. The song and the "Dynamite" music video drop at midnight EST and 1 p.m. KST on Aug. 21.
After the song premieres, a B-side "Dynamite" music video drops on Aug. 24 at 11 a.m. EST and Aug. 25 at midnight KST. BTS will perform "Dynamite" at the 2020 MTV Video Music Awards. The awards show begins at 8 p.m. EST on August 30 and 9 a.m. KST on August 31.
BTS fans already love 'Dynamite'
After just a few hours, the "Dynamite" music video teaser has over 10 million views on YouTube. Fans also trended #DynamiteVideoTeaser, #BTS_Dynamite, #DynamiteIsComing, and several phrases relating to the individual band members on Twitter.
As one fan pointed out, interest in BTS has grown since they released a music video teaser for their 2019 single "Boy With Luv."
"bwl teaser: 8M views in 8 hours and 49 mins dynamite teaser: 8M views in 3 hours and 37 mins," tweeted the fan.
ARMY also thinks BTS's song "Dynamite" has the potential to collect numerous Song of the Year awards.
"the way dynamite has literally been stuck in my head since the first time i heard it soty material," wrote a fan on Twitter.
What BTS revealed about the song
With just days to go until the release of "Dynamite," fans have a pretty good idea of what sort of vibe to expect from the song thanks to teaser photos and the new music video teaser.
When the Korean band first told fans about the song in an audio VLIVE broadcast in July 2020, they promised fans that the song would help bring positive energy to fans.
"We have prepared a new single for ARMY, set for August 21. We are preparing an album for the second half of this year, but decided to first release a single because we wanted to reach our fans as soon as possible. Due to COVID-19, people around the world have been going through tough times and we wanted to share some positive energy with our fans," they said.
The group continued, "The song is upbeat and sung in English, just like 'MIC Drop' and 'Waste It On Me.' We thought that the song sounded perfect as it is in English. We recorded the guide version and felt that the result was something totally new and fresh."
With the new music video teaser for "Dynamite," it seems BTS will keep their promise and deliver the uplifting song everyone needs.