BTS' V Created His Own Boutonniere During 1 'Run BTS' — The Flower Broke Less Than a Minute Later
BTS "Good Boy," V, is an award-winning singer, often performing alongside Jin, Suga, J-Hope, RM, Jimin, and Jungkook. This BTS member had difficulty keeping everything together when creating his floral arrangements. Here's what we know about his lisianthus-inspired boutonniere.
BTS appeared in a floral themed episode of 'RUN BTS'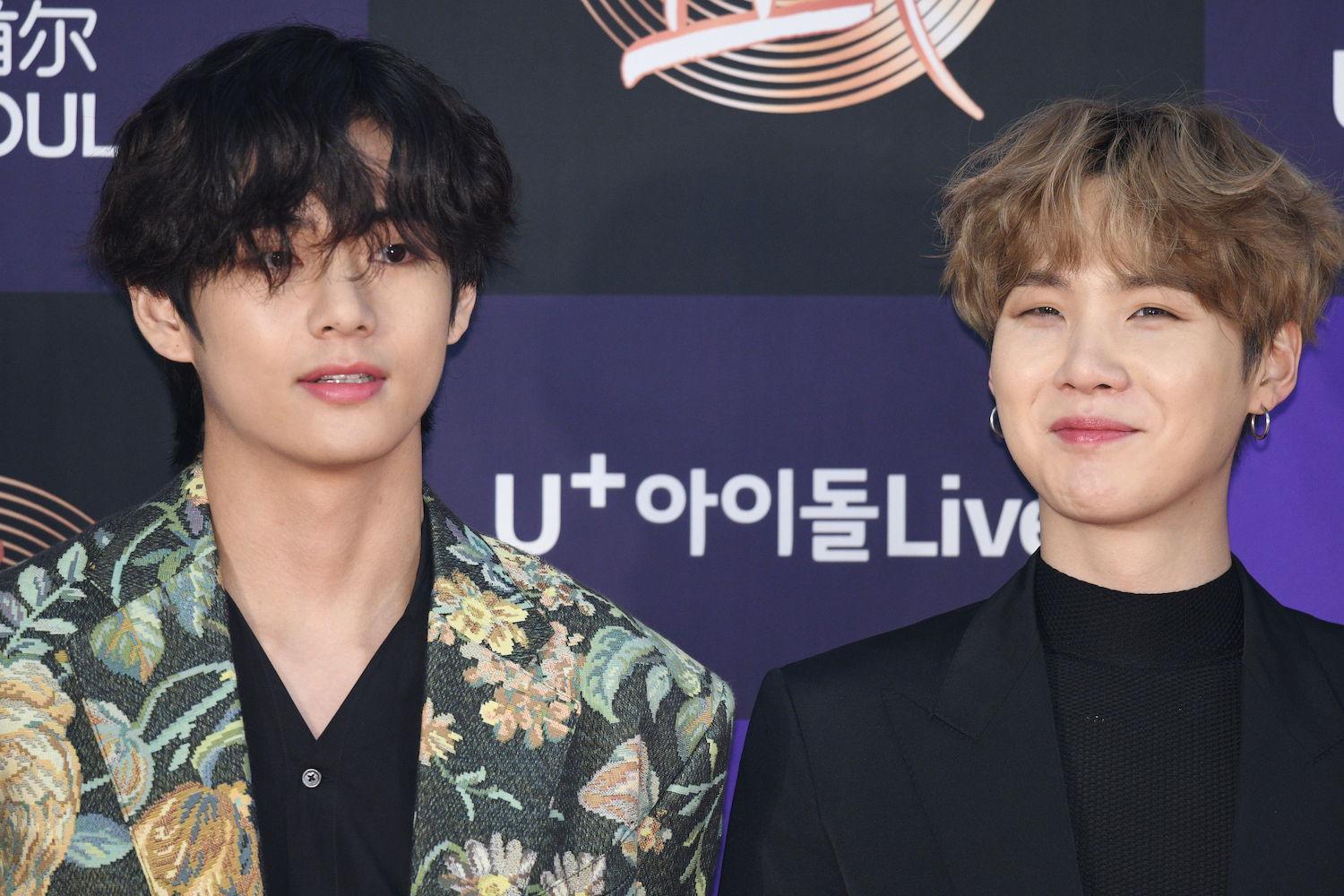 Thanks to RUN BTS, ARMYs see this K-pop group participate in unique challenges. Sometimes they cook together. Other times they do voiceovers for Disney movies. For one episode, these artists were tasked with creating floral arrangements. 
One of the more complicated arrangements they created were boutonnieres, also known as the floral decoration typically worn on the lapel of a man's suit.
The BTS performers each created boutonnieres that closely matched their personalities. RM created a purple-themed arrangement, earning the nickname "plant master" from the other members. Jimin chose a red rose surrounded by white-ish blue accessories. 
Jin loaded his creation with pepper-shaped plants, with Jimin even thinking they were little bananas. These weird plants kept poking Jin after he put the boutonniere on, but it was worth it for the individuality. 
V's boutonniere broke as soon as he put it on
When it came to V's boutonniere, the singer chose a large pink flower as the focus, with smaller green, white, and red flowers and leaves surrounding it. At first, the creation was perfectly showcased on V's shirt. Then, the largest flower bent downward.
V turned to the florist, cupping his wilted flower, saying, "this looks dead." 
The guest florist let out a small laugh, telling V that the stem broke. They both fiddled with the flower for a minute, eventually deciding "there's no hope."
"No, it's ok. It kind of looks like the supporting flower," RM said. At that point, V brought his hand up to the flower, and it completely fell off of the boutonniere. 
"The support broke," RM observed. "Sorry. Rest in peace."
The 'lisianthus' took the spotlight in BTS V's semi-broken boutonniere
The BTS members went around the table, describing some of the inspiration for their arrangements. Unfortunately, V noted his biggest flower was "a little embarrassed" and didn't want to join the rest of his boutonniere. 
"It's ok, come on out," V said, fishing his rogue pink flower out of his pocket. "Don't be shy. It's ok. These are all good people. These are all nice people. This flower is — what is this flower anyways?
V pointed at the dangling flower left in his boutonniere. The florist confirmed the plant was called a lisianthus, which V repeated to the other members. 
"I used the lisianthus. I used it as the main flower," V added.
Thanks to some nudging from J-Hope, the other artists clapped for V's attempt. V may not be a natural-born florist. However, the BTS member does have a few unique talents, including writing music and playing the trumpet.