BTS V's Instagram Post of Him Jamming Out at the Harry Styles Concert Earned Over 28 Million Views
Some BTS members and Lizzo attended Harry Styles' concert in Los Angeles, even sharing video clips with fans. That includes the vocalist V.
The BTS members collaborated with artists like Halsey and Megan Thee Stallion. They also made several celebrity friends, including the Grammy Award-winning artist, Lizzo. Here's what we know about their time at the Harry Styles concert, thanks to a post on V's Instagram account. 
Lizzo is a member of the BTS ARMY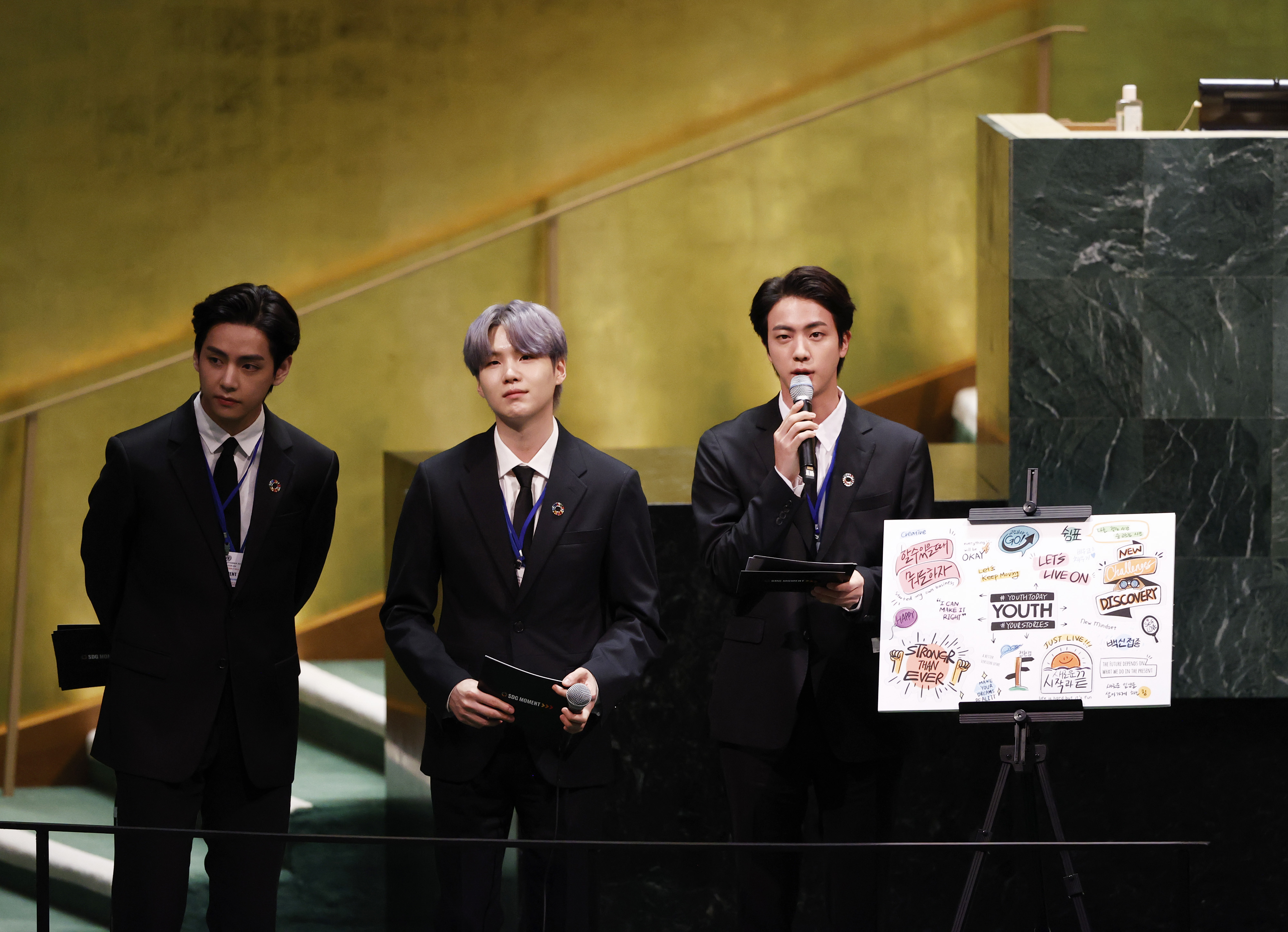 BTS has a few impressive celebrity fans. There's John Cena, who shared his love for "old school" rappers like J-Hope and RM. There's also Halsey, who performed on BTS' song "Boy With Luv." Lizzo also shared her support for this K-pop group, even covering "Butter" during a live performance.
"I do like BTS," Lizzo said according to Koreaboo. "My sister loves BTS. My sister is an ARMY and she introduced me to BTS. I think they're extremely talented, it's mindblowing, and funny when you really get to know everyone's individual personalities."
"I love Jimin. I think Jimin is hilarious and like, fierce and beautiful," she continued. In a video posted to Twitter, Lizzo freestyle a BTS-inspired rap. She, of course, made it about two of her favorite members — V and Jimin. 
"I love you, you love me, just like Jimin loves some V," Lizzo sang while snapping along. "Gooey like that butter, B. Gooey like that butter, B. Say I like you, you like me, BFF like Vmin, G."
Recently, the "Juice" artist saw the BTS members perform live, thanks to their residency in Los Angeles' SoFi Stadium. Decked out in zebra print, Lizzo lip-synced along to "Dynamite" at a Permission to Dance on Stage concert.
BTS' V Instagram post featured Lizzo and himself dancing at a Harry Styles concert
While in Los Angeles, some of the BTS members attended Harry Styles' concert. They jammed out to songs like "Falling" and "Watermelon Sugar." When V got his individual Instagram account, he was sure to post a reel from this moment. 
The video clip he chose was himself and Lizzo singing and dancing along to Styles' "Treat People With Kindess." Within a matter of days, this post earned over 29 million views and a comment from J-Hope.
"I think the mood is crazy," V captioned it, along with a cowboy emoji. 
Lizzo shared a similar video with V at the Harry Styles concert
Lizzo shared a similar video from this concert on her Twitter account. On Nov. 20, she posted a video with the caption, "Enjoy this short clip of me and V screaming, 'YOU DONT KNOW YOU'RE BEAUTIFUL.'"
The "Truth Hurts" singer also reacted to V's Instagram post, later shared on Twitter by an ARMY. She retweeted the clip and added her caption, "so cute." The post earned over 75,000 likes in the process. 
Music by BTS, including their recently released album, Map of the Soul: 7, is available for streaming on Spotify, Apple Music, and most major platforms.