BTS: Will Suga or Jungkook Drop a Mixtape? Fans See Both Artists in Big Hit Entertainment's New Twitter Clue
This is like the dress illusion from 2015. Is the dress black and blue or white and gold? Is Big Hit Entertainment's new "D-3" Twitter clue of Suga or Jungkook of BTS? Some fans see Suga in the picture and think the countdown is for the follow-up to Suga's 2016 mixtape Agust D. However, ARMY around the world also see Jungkook in the clue.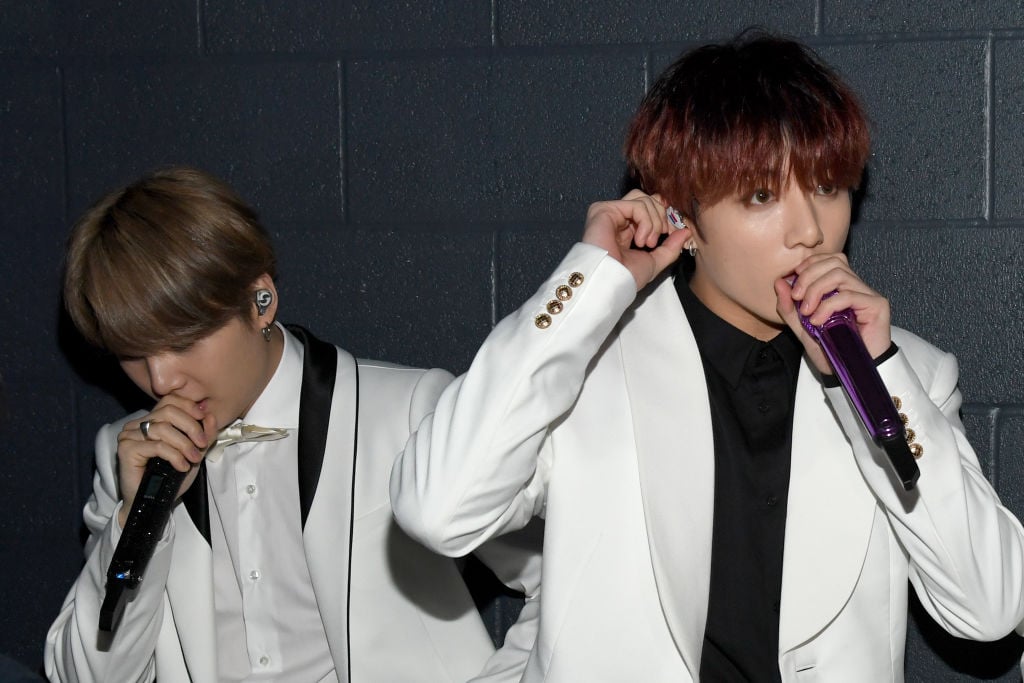 BTS fans think the countdown is about Suga or Jungkook
On May 17, Big Hit Entertainment began posting pictures as part of a countdown, and a new photo is posted every day at midnight KST. The label started the countdown with "D-7" so the countdown will end on "D-1" on May 24. Each tweet features a grayscale photo that is edited so fans cannot easily make out the content of the photo, however, every day the photo becomes a little clearer.
The "D-4" clue posted on May 20 showed a bright outline that appeared to be a person. This seemingly confirmed that the countdown is related to a BTS member's solo project and not the group's upcoming self-produced album.
On May 21 at midnight KST, Big Hit Entertainment posted the "D-3" hint on Twitter. In this photo, the figure is more clear, however some fans disagree on which BTS member is in the photo.
RELATED: What Are BTS and Big Hit Entertainment Counting Down To?
"I SEE BOTH YOONGI AND JUNGKOOK," a fan tweeted.
"The tl seeing both yoongi and jungkook so YOONKOOK MIXTAPE," another fan tweeted.
A majority of BTS fans seem to think the photo is of Suga
After Big Hit Entertaiment posted the "D-3" clue on Twitter, it seems most BTS fans think the countdown is about Suga. Immediately after Big Hit Entertainment tweeted, "Agust D" trended on Twitter as fans speculated.
"This is DEFINITELY AGUST d 2. YOONGI was tied up on a chair in the first AGUST d mv," wrote a Twitter user.
"THE CHAINS, SOMEONE BEING TIED UP. EVEN SIMILAR HAIR STYLE. I'VE CONNECTED THE DOTS, IT'S AGUST D 2," one fan tweeted.
Wardrobe wise, the picture does seem to resemble Suga and his Agust D persona. While Suga recently told fans during a VLIVE not to expect his next mixtape anytime soon, he very well could have done that to throw ARMY off.
RELATED: BTS: Suga's Tweet Has Fans Thinking the Follow-Up to His Mixtape 'Agust D' Is Coming
After all, he originally planned to release his next mixtape in 2019, meaning he has been working on it for awhile. In addition, he tweeted drafts of his past songs in March and April of this year, which BTS fans interpreted as a sign he was trying to distract them from the fact he planned to release a mixtape soon.
Other fans think the image is of Jungkook
While most fans seem to be in agreement that the countdown is related to a solo project by Suga, a great number of fans think the countdown is for Jungkook.
"I mean I see the outfit, the chains to be Yoongi but if you focus the chin, it's really Jungkook for me. Bout you? @BTS_twt D-3," one fan speculated on Twitter.
"jungkookkk looking up to the sky!!! It's literally jungkook," another fan tweeted about the photo.
In 2019, Jungkook posted an original song of his on Twitter on his birthday. He later hinted that he planned to release a mixtape of his own during a VLIVE with J-Hope, and he confirmed those plans during an interview on "Ask Anything" with Most Requested Live.
Suga recently told ARMY that Jungkook's mixtape sounds good. Jungkook has been working on it since 2019, meaning the chance Jungkook's mixtape is done is quite high.