'Burn Notice': Jeffrey Donovan Said Being On the Series 'Seemed Like a Prison Sentence'
Burn Notice premiered in 2007. By the time it went off the air in 2013, USA Network's hit TV show had been nominated for numerous accolades, including multiple Primetime Emmy Awards, a People's Choice Award, and recognition from the Writers Guild of America.
Despite Burn Notice's popularity among both TV critics and TV audiences, the cast of this spy drama didn't always seem to appreciate the espionage drama and the series' pop-culture momentum. Even its lead star, American actor Jeffrey Donovan, had initially harsh words to say about his own show that helped launch his Hollywood career.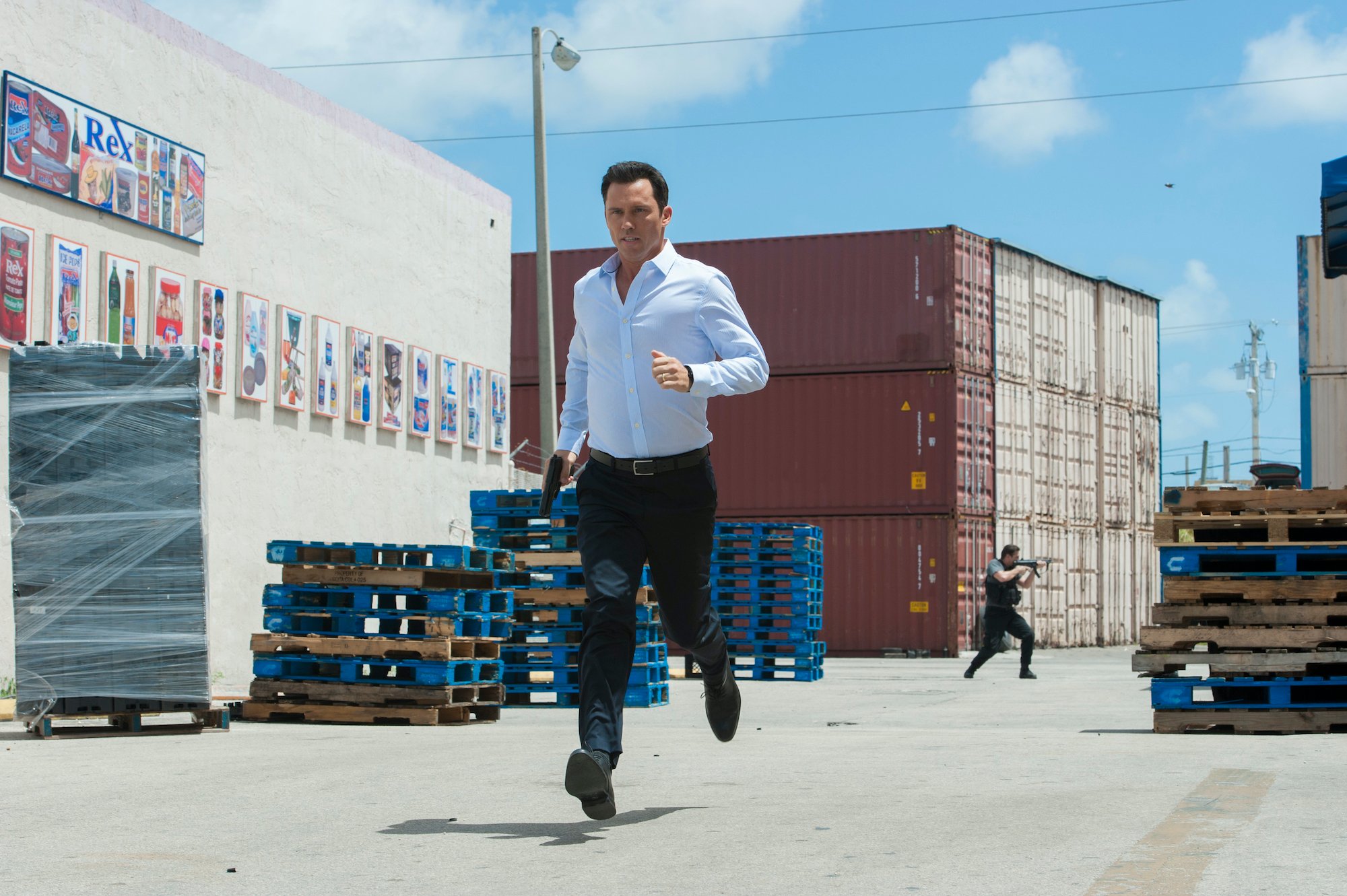 The Westen character was one of Donovan's first major roles 
"[Donovan] became interested in acting after performing a monologue in a high school English class to avoid a writing assignment," explains TV Guide. 
According to IMDb, Donovan landed his first acting gig in the mid-1990s, but the outlet notes that "he mostly played minor parts." That all began to change when the actor got his first major role on 2004's Touching Evil, followed by getting cast to lead Burn Notice in 2007. Soon, he wasn't just playing the role of Westen, but even doing his own stunts and directing the 2011 spinoff movie entitled Burn Notice: The Fall of Sam Axe.
Cinema Blend points out that Donovan often did everything you see on screen in Burn Notice himself, including building Westen's gadgets and weapons, and fighting off villains. Donovan said in an interview:
"It's really important that not only do I build my own gadgets, that I do my own fights … [It's] really important that I keep it authentic. And one of the things that I take pride is in that even though we shoot 16 episodes and it takes six months, I actually train in the off-season…to get ready for those 16. So I'm doing workouts in the weight room three days a week, and then I'm doing mixed martial arts those other three days, and on Sunday I rest. And it's really important that when I do something, it looks like I can actually do it."
Despite Donovan's on-screen and off-screen commitment to his Burn Notice role, he had harsh words to say about the filming experience.
Donovan said he felt imprisoned by 'Burn Notice'
In Burn Notice, Westen is constantly striving to avoid going to jail for false charges. Ironically, the actor had a prison allegory of his own to share.
"When I look back at seven years, it looked at the time like it would never end because I was doing not only all of the scenes, but I was also doing all of the action," said Donovan in an interview with BUILD Series. "The driving, the punching … being shot at. And then all my fight sequences, I would fight all the time." Donovan opened up and said the hard work took its toll.
"You know, at the time it seemed like it was a prison sentence, … When it wrapped and it was a year later, I just cried … like god, I wish I had that back. You know, be careful what you wish for. [It was] a hit series and … afterwards you're just so grateful for it and it changed everything."
'Burn Notice' ran for seven seasons on the USA Network
The drama's name comes from the real-life "burn notices" issued by the CIA when its agents are no longer to be trusted. The series follows Donovan's covert operations agent Michael Westen as he tries to figure out who has falsely framed him and triggered his own burn notice.
The show also stars English-American actor Gabrielle Anwar as Westen's ex-girlfriend Fiona Glenanne; Bruce Campbell as Westen's Hawaiian shirt-wearing best friend Sam Axe; and his chainsmoking mother, Madeline Westen, played by actor Sharon Gless. 
Each episode typically involved Westen, Glenanne, Axe and Westen's mother taking on a mission or solving a crime case in exchange for information, money or resources that Westen needs to solve his own burn-notice case. 
Burn Notice quickly became the highest-rated original show on the USA Network, reports Indie Wire in their review of the show:
"Burn Notice is a consistent, slickly executed diversion that's just complex enough to be intriguing and just simple enough to follow as to not be a chore … Burn Notice deserves a great deal of credit for being what it is so perfectly. There is always a place for well-crafted character-based escapism on the big and small screens."