Burt Reynolds and Tammy Wynette: How Loretta Lynn Helped Her Hide From His Ex Dinah Shore
Actor Burt Reynolds and country music's "First Lady" Tammy Wynette were once an item. And the tabloids ate them both up, so they loved them together. Read on to learn more about the fling between Reynolds and Wynette and how her friend Loretta Lynn helped her hide from his famous ex, singer, and actor, Dinah Shore.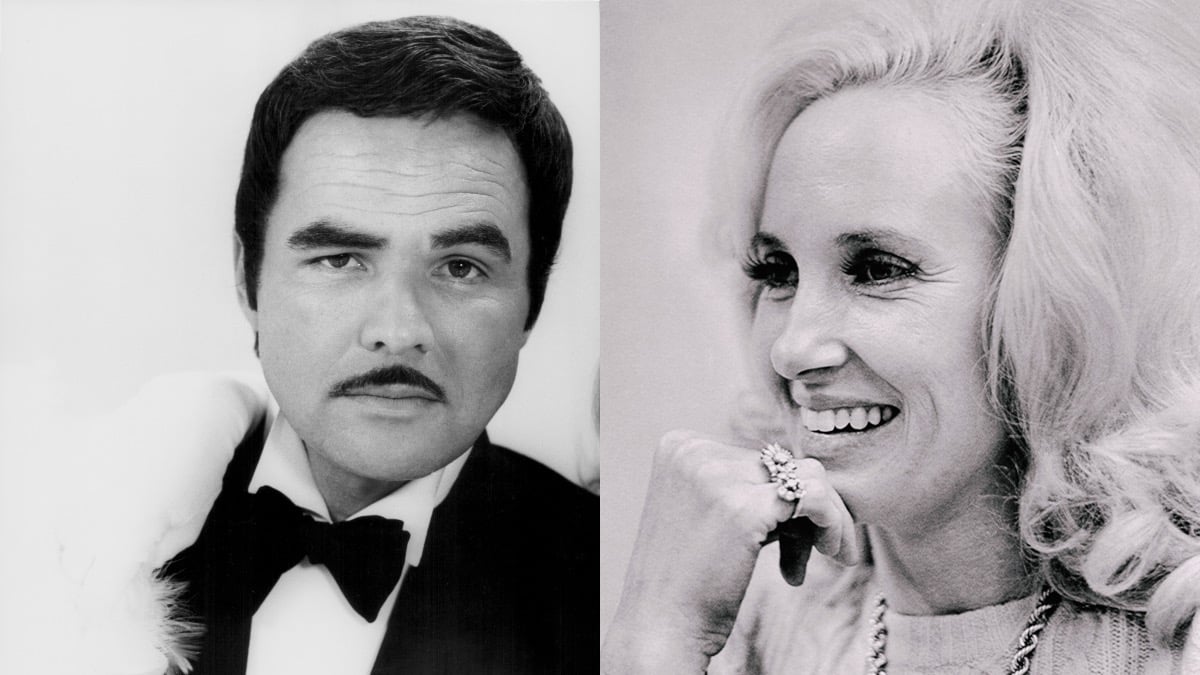 When did Burt Reynolds and Tammy Wynette meet?
According to Cocaine and Rhinestones, Reynolds and the "First Lady of Country" met in 1975 after her painful divorce from her third husband, the legendary George Jones.
The first night Wynette and Reynolds became acquainted, they went out with a group of friends but ended up socializing alone by the end of the evening. They did it again the next day and spent the night together afterward.
The unexpected relationship drew the attention of tabloids, and pictures of the stars together trickled out to the public. But Wynette began distancing herself from Reynolds because of his recently-ended relationship with Shore.
Loretta Lynn learned Tammy Wynette was dating Burt Reynolds when she found her hiding from Dinah Shore
The end of Shore's romance with Reynolds might have overlapped with Wynette's first night with him, so she rebuffed his attempts to see her at least once. When she visited Los Angeles and was scheduled to do a show hosted by Shore, she told Reynolds she was too busy for a date.
But as a fellow "girl singer" and close friend to Wynette, Lynn learned about their relationship when her friend came to hide from Shore in her dressing room (per NPR.) That was when Wynette told Lynn she'd been "going with" Reynolds, and the "Fist City" singer joked, "Oh, my God! A good friend you are to Dinah!"
Whether because of Shore or not, Reynolds and Wynette seemed to keep much of their romance a secret. She supposedly had real feelings for him but may have responded by trying to sabotage their relationship, according to some who knew her.
As Reynolds was considerably more famous than Wynette, she was kept up to date on his other dinner companions during their time as lovers. So, some observers speculated she made choices that were intended to make him jealous in return. And she openly dated other stars, too, including her ex-husband Jones.
Burt Reynolds wasn't Tammy Wynette's 'white knight'
The relationship between Reynolds and Wynette seemed to light up and burn out relatively quickly. While it was reported that both parties seemed serious about each other at different times, their flame eventually faded. He later said Sally Field was the love of his life.
Most would guess it was over by the time Wynette married her fourth husband. And when she left him shortly after, she soon married her fifth husband. She was with him until she died in 1998, but her daughters believed their marriage had severe troubles.
Unfortunately, some people who knew Wynette agreed she "never found what she was looking for," which was, "A white knight, a Prince Charming, that heart of gold." (Per NPR.)
But she once said, "My life's not a fairy tale," and added, "I'm not Snow White."
RELATED: Why Tammy Wynette's Daughters Believed She Concocted Her Kidnapping Story