Busy Phillips' Workouts Involve Trampolines, Bulletproof Coffee, and Sweaty Selfies
Busy Phillips has been in the entertainment world since the late 90s where she rose to fame playing teen characters in shows like Freaks and Geeks. Her more recent endeavors have included several product endorsements and an eponymously named pop culture talk show called Busy Tonight.
When her show was unexpectedly canceled by E!, she responded with shock and then immediately declared that she would begin working on building something new, promising that 2020 would hold big things. It seems that part of that work includes cultivating a positive self-image and a strong workout routine that helps her feel empowered and clear-headed.
Busy Phillips was blindsided by her show's cancellation
Phillips was incredibly open about her emotional state upon hearing that her show was canceled. She posted a series of pictures on Instagram to catalog the devastating evening, and she ended with a reflection on the future.
"I work hard AF and love to prove people wrong and finally, the men will always try to f**k you over so f**k em and figure out something else. Which is exactly what Caissie and I have been doing. And next year; in 2020 we will finally be able to share it," Phillips wrote.
Obviously, overcoming this kind of adversity and deciding to come back stronger and harder requires some mental fortitude, and Phillips credits working out with providing her the mental health she needs to succeed.
Busy Phillips turned to exercise after being asked to lose weight for work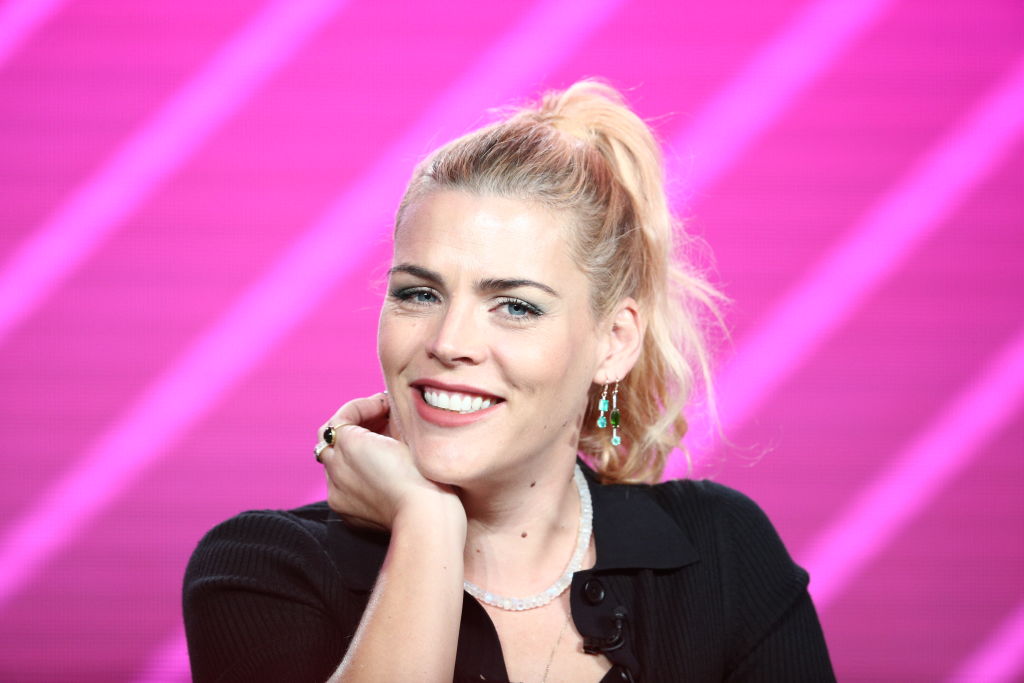 In the early 2000s, Phillips was asked to lose weight for one of her acting roles. She was perturbed by the request, but she went to celebrity trainer Gunnar Peterson. Peterson introduced her to high-intensity workouts including spin classes and other cardio-heavy activities.
Phillips may have been annoyed at being forced into weight loss, but after she found fitness activities that clicked for her, she was excited to add them into her life. She tells other people who may think that working out isn't for them to keep an open mind: "So for people who aren't told they have to, I would just say to be open to the possibility."
Busy Phillips' role as a mom also informs her workout philosophy
In addition to using exercise as a way to keep herself focused and grounded, Phillips is also very aware of the way that her own relationship with her body will impact her kids. She has two daughters named Birdie and Cricket who are now 11 and 8 years old.
"Post-motherhood, that was when that finally clicked in for me. Working out ceased becoming a chore and more something I looked forward to. I finally understood it," Phillips explained. She also hopes that her children will have a different relationship to working out than she did growing up. "I feel like modeling behavior for younger generations is so important, and that's part of the reason why I post my workouts on the [Instagram] stories," Phillips said of sharing her fitness journey.
Busy Phillips' routine is fun and full of energy
Phillips' actual workout routine fits right in with the high-energy persona she typically portrays on screen. She is especially fond of a trampoline workout that involves ankle and hand weights. The classes run for 50 to 60 minutes and take place in a room with heaters on the ceiling, adding an extra element to the exercise. Phillips reports being "drenched" at the end of the class and frequently posts the selfies to prove it.
Anyone wanting to copy her tips at home might also want to consider her philosophical approach to working out. For instance, she doesn't worry about her weight.
"I stopped weighing myself a long time ago because it was driving me crazy. I knew it was doing me a disservice on a daily basis," she explains. She also makes sure that she shows off body confidence to her girls: "I'll always like walk around in my underwear in front of my girls. I want them to see me comfortable in my body."
Even though she admits that she sometimes struggles with her own self-image, it's clear that Phillips' approach to fitness is a lifelong journey that puts her sense of self and mental health at the top of the priority list.