Camilla Parker Bowles' British Vogue Interview: 6 of Her Most Memorable Quotes
Camilla Parker Bowles is officially in the pages of British Vogue. The Duchess of Cornwall joins the list of royals to appear in the magazine. Apart from posing for photos, the future Queen Consort got candid in an accompanying interview. She discussed everything from birthdays and being a grandparent to her marriage to Prince Charles and the Princess Diana years. Ahead, check out some of Camilla's British Vogue quotes.
Camilla Parker Bowles appears in British Vogue's July 2022 issue
After celebrating Platinum Jubilee weekend with the British royal family, Camilla made yet another public appearance. However, this time she did so in the pages of British Vogue. 
The Duchess of Cornwall appears in the July 2022 issue of British Vogue, complete with an interview and photos. She spoke with British Vogue's editor-in-chief, Edward Enninful, at Clarence House, the London home she shares with Prince Charles.
According to the publication, the Duchess of Cornwall posed for photos in April 2022. Taken by photographer Jamie Hawkesworth, they feature Camilla inside and outside of Clarence House.
Camilla Parker Bowles talked about the Princess Diana years in British Vogue: 'It's not easy'
The Duchess of Cornwall opened up about the scrutiny she received relating to Charles and Princess Diana. For years, Camilla and Charles were linked. In one instance, the late Diana even recounted confronting Camilla about her relationship with her then-husband.
"It's not easy," Camilla said of the scrutiny. "I was scrutinised [sic] for such a long time that you just have to find a way to live with it. Nobody likes to be looked at all the time and, you know, criticised [sic].
"But I think in the end, I sort of rise above it and get on with it. You've got to get on with life," she added with what the outlet described as a "calm little shrug."
Camilla Parker Bowles shared her thoughts on birthdays, Wordle, and mauve
In one of the lighter moments in Camilla's British Vogue interview, it was revealed the Duchess of Cornwall steers clear of the color mauve. Enninful wrote he and staffers noticed wisteria in the Clarence House gardens. They inquired if Camilla had any clothing in her wardrobe to match. The answer was no. She even had a name for the color, "menopausal mauve."
Shifting gears, Camilla also opened up about being a grandmother. She has two children with her ex-husband, Andrew Parker Bowles, and now has five grandchildren. In addition to surprising her granddaughter who attends school nearby, she admitted to being a fan of Wordle.
"I do Wordle every day with my granddaughter," Camilla said. "She'll text me to say, 'I've done it in three', and I say, 'Sorry, I've done it in two today.' It's very satisfactory when it tells you how brilliant you are," she added with a laugh.
Another subject she addressed? Birthdays. "I let them come and go. I mean I'd be very happy to turn back the clock," she added with a laugh. "When you get to any big number, whether it's 30, 50, 70, you think: 'God, that's so old.'"
Camilla Parker Bowles British Vogue interview quotes: Catching up with Prince Charles over tea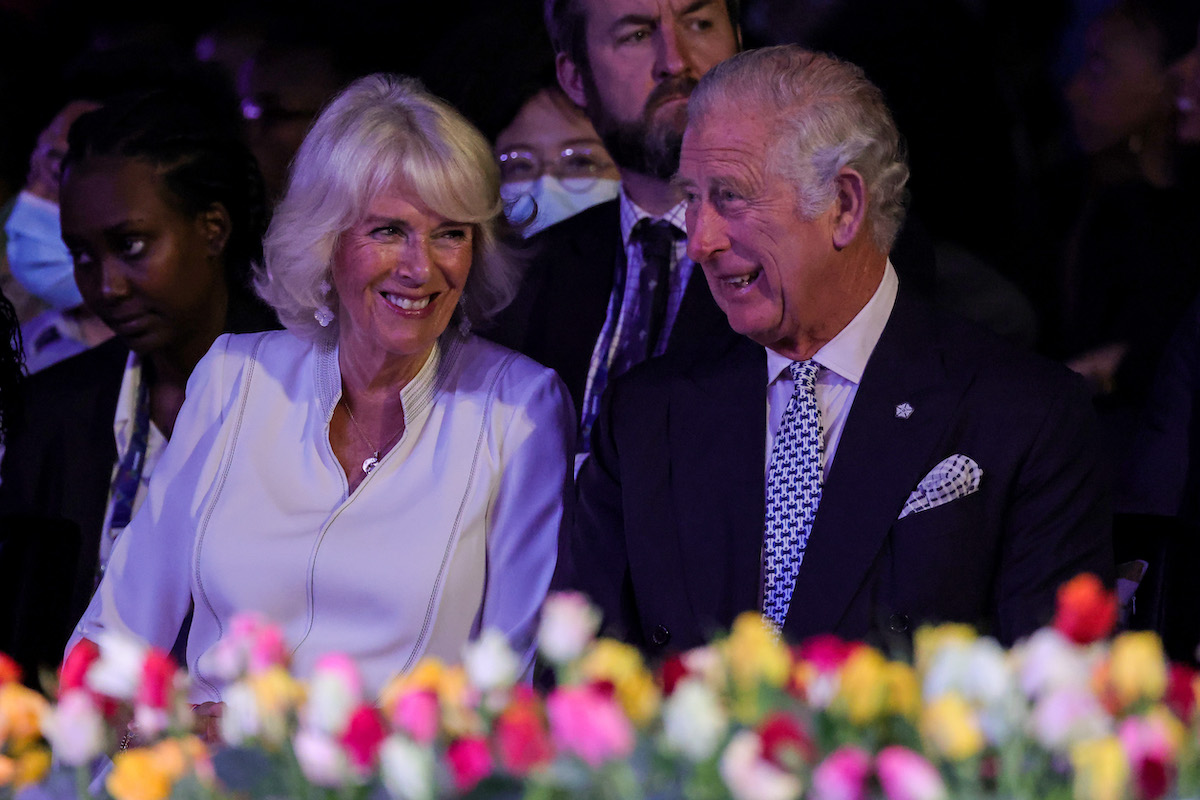 Additionally, the Duchess of Cornwall offered a glimpse at married life with Charles. The two wed in 2005 and they try to catch up every night despite their busy schedules.
"It's not easy sometimes, but we do always try to have a point in the day when we meet," Camilla said. "Sometimes it's like ships passing in the night, but we always sit down together and have a cup of tea and discuss the day.
"We have a moment," she added, calling it "lovely" to "catch up" when they "have a bit of time."
Camilla also revealed sitting together in silence is the "nicest thing" she and Charles do when they travel. "You know when we go away, the nicest thing is that we actually sit and read our books in different corners of the same room," she said. "It's very relaxing because you know you don't have to make conversation. You just sit and be together."
RELATED: Prince William and Prince Harry Are 'Absolutely Sick' Prince Charles Wants Camilla Parker Bowles to Have Queen Title Destined for Princess Diana, Royal Author Says