Camilla Parker Bowles Was Not Allowed to Wear a Tiara When She Married Prince Charles
Camilla Parker Bowles did not wear a tiara when she married Prince Charles, and there are two reasons why. Royal brides usually wear a regal headpiece for their weddings, including Kate Middleton, Meghan Markle, and Princesses Beatrice and Eugenie. But one major exception to that tradition was Camilla, Duchess of Cornwall, when she wed Charles in 2005.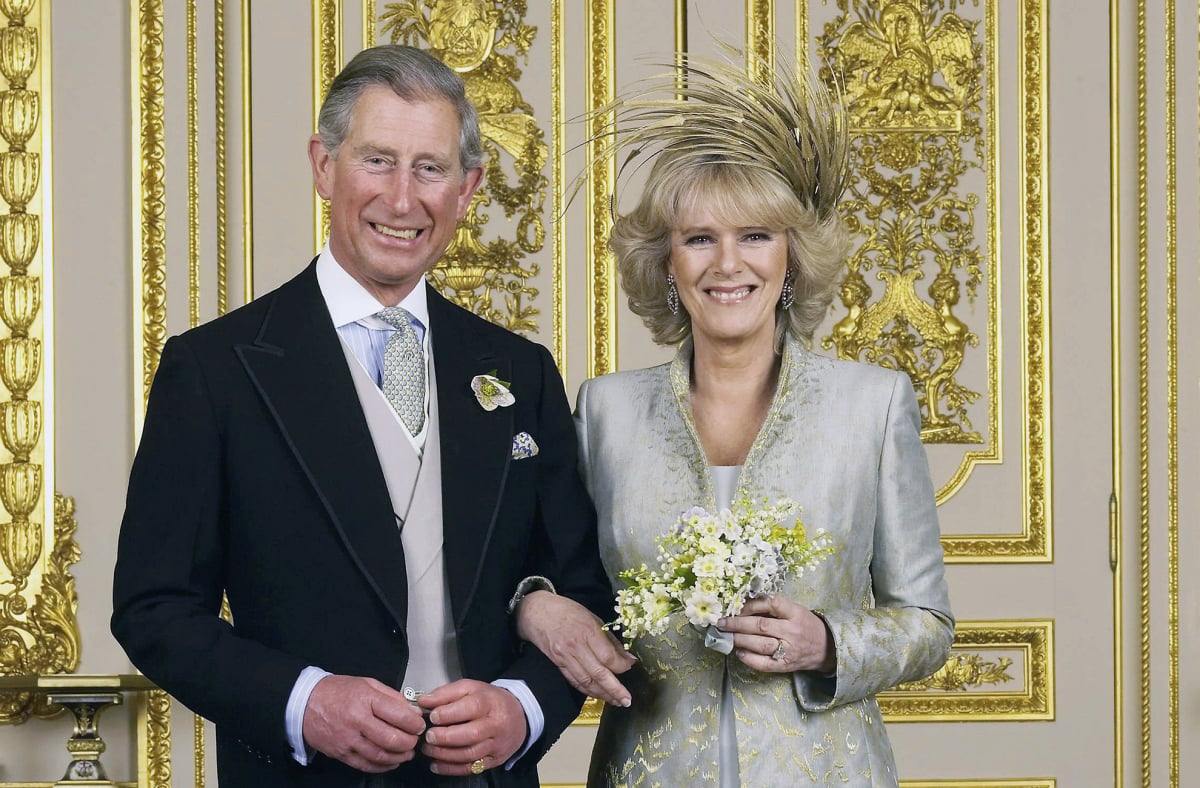 Camilla Parker Bowles and Prince Charles wed in a civil ceremony in 2005
It's no secret that Charles and Camilla's wedding was not a traditional royal ceremony. The couple had a relationship before Prince Charles married Princess Diana, and they continued their affair throughout his marriage. 
The Prince of Wales' cheating was a hot topic in the UK tabloids for years before Diana died in a Paris car crash in August 1997. Royal fans did not support Charles and Camilla when they went public with their relationship years later.
When Charles and Camilla tied the knot on April 9, 2005, they still did not have the full support of the public or many members of the royal family. To keep things more low key, they wed in a civil ceremony at the Windsor Guildhall, followed by a blessing at St. George's Chapel instead of having a traditional church wedding.
Queen Elizabeth and Prince Philip did not attend the wedding ceremony, but they did join Charles and Camilla at the service of blessing. The queen and her husband also threw the newlyweds a reception at Windsor Castle. 
Disapproval slowly changed to support
Despite the bad press from Charles' divorce and Diana's tragic death, Charles and Camilla stayed together and endured the public backlash. 
British journalist Tom Bower claimed in his biography Rebel Prince: The Power, Passion, and Defiance of Prince Charles that Queen Elizabeth once called Camilla "that wicked woman." According to Good Housekeeping, he also claimed that the monarch wanted "nothing to do with her."
RELATED: Camilla Parker Bowles 'Doesn't Need to Be Queen' When Prince Charles Takes the Throne Claims Royal Expert
Queen Elizabeth also allegedly skipped out on Charles' 50th birthday party in 1998 due to his relationship with Camilla.
By 2000 Her Majesty appeared to be warming up to the couple. Queen Elizabeth accepted an invitation to an event she knew Camilla would be attending.
It took a lot longer for the public to support the relationship. A 2004 Populus poll cited that just 32 percent of participants approved of Charles and Camilla getting married. 
When they announced their engagement in February 2005 the public started to change their tune about Charles and Camilla's relationship.
There were two reasons why Camilla Parker Bowles wasn't allowed to wear a tiara
Many UK citizens didn't like the idea of Camilla and Charles getting married because she was a divorced woman. Also, the Church of England does not support second marriages when a former spouse is still living.
Camilla's first husband, Andrew Parker Bowles, was still living at the time she wed Prince Charles. So they decided to have a unique royal wedding to try and make everyone happy. Charles and Camilla divided the day up into a civil ceremony at Windsor Guildhall. Then had their special marital blessing at the chapel. 
RELATED: Camilla Parker Bowles' New Title Could Have Gone to Prince Harry
According to Pure Wow, there are two reasons that Camilla Parker Bowles didn't wear a tiara on that day. The first is that divorced royal brides do not wear tiaras. Not only did Camilla skip the head accessory in 2005, but Princess Anne did the same thing when she got married a second time in 1992. 
The other reason for the lack of a tiara is because of the wedding's location. Because Prince Charles and Camilla Parker Bowles opted for a civil ceremony instead of a church wedding, it was not custom for the bride to wear formal jewelry.