Can Kim Kardashian Go to Jail for Her Taylor Swift Videos?
By now, the feud between Taylor Swift and Kanye West and Kim Kardashian West is very well-documented. From the moment West interrupted Swift's Best Female Video Award speech at the VMAs in 2009, the two had tension. They seemed to make up at some point after, but in 2016 he released the song "Famous" that reignited the beef. Now there is newly leaked video footage of the secretly recorded phone call that shows Swift and West's full conversation. Could Kim Kardashian West go to jail for this? It's not that simple.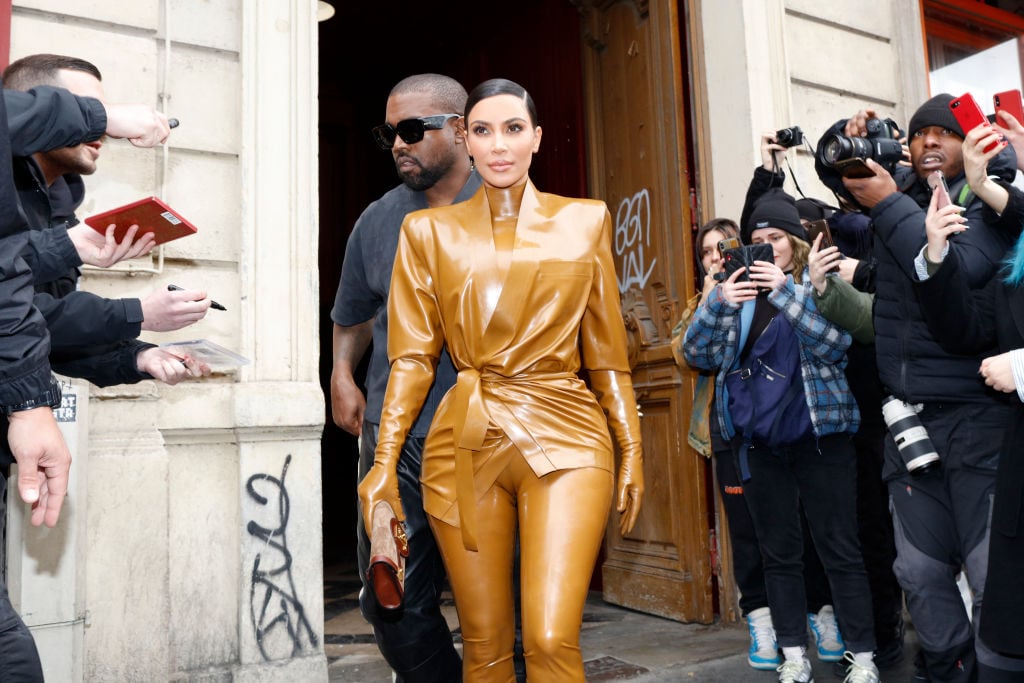 What did Kim Kardashian West share in 2016?
Taking it back to 2016, West's song "Famous" had the line,"To all my Southside n*ggas that know me best/I feel like me and Taylor might still have sex/Why? I made that b*tch famous."
After the song came out, TMZ reported that Swift was OK with this line, giving approval directly to West. However, Swift's representatives told The New York Times, "Kanye did not call for approval … She declined and cautioned him about releasing a song with such a strong misogynistic message." Her rep also said that Swift didn't know West would use the word "b*tch."
To defend her husband, Kardashian West posted video snippets to Snapchat at the time that showed Swift apparently approving the lyric about sex, and seemed to be on board with the song. At the time, these videos seemed to corroborate West's claim that Swift approved the song. Despite Swift coming out later, saying she didn't approve of the "b*tch" line and more, she was painted as a false victim and a liar.  
Now, the full, leaked conversation proves Taylor Swift wasn't lying, despite what Kardashian West says
Fast-forward to 2020, amid a serious pandemic, the full conversation between West and Swift leaked. These full videos show that Swift was actually telling the truth. The original lyric said, "I feel like Taylor Swift might owe me sex," instead of "still have sex" and Swift responded that she would have to think about it. But she was relieved he didn't call her "that stupid dumb b*tch," which he didn't get the approval of in the final version. This is what Swift said from the beginning. 
The 25-minute video also showed West asking Swift to promote the single and promising to send the final cut to her. As for West implying that he made her famous, Swift said, "Well, what am I going to do about it? It's just kind of, like, whatever at this point." Again, in the recording, he didn't mention saying, "I made that b*tch famous."
California has strict defamation and secret recording laws
There are two laws that Kardashian West could have violated in posting those Snapchat videos in 2016. For one, the videos of West and Swift's conversation were recorded without Swift's knowledge, according to her side of the story. In the full leak, it didn't seem like anyone alerted her to it being recorded. 
California law is pretty clear and strict about this type of invasion of privacy. It's a "two-party" state, meaning that both parties have to know that they're being recorded, and both have to consent to it, according to the Stimmel Law Office. 
And the other law Kardashian West could have broken is defamation law. According to the Shouse California Law Group, the court has to prove four things to constitute something as libel or slander. The person accused of defaming someone has to pass that lie as a "fact," they have to publish it to a "third party," they acted "negligently, recklessly or intentionally" and lastly, the alleged victim's "reputation was damaged."
Could Kim Kardashian West go to jail?
In 2016, there were reports that Kardashian West could be sued and face jail time for her invasion of privacy. At the time, a defamation lawsuit wasn't really on the table, since the full video wasn't public. But now, it could be argued that Kardashian West checked off all four of those defamation boxes; Swift's sixth album was literally called Reputation because of all the hate she'd received. 
However, for Kardashian West to be proven guilty, Swift would have to press charges. Since Swift didn't in 2016, odds are she probably won't this time around. Now four years later, the statute of limitations seems to be over for a secret recording case. However, now that the possible evidence for defamation is new, it could be a case for a new suit. 
If Swift presses charges, the most that could happen is that Kardashian is fined. The odds of Kardashian West going to jail are slim because of money and connections.
Fans on either side are rooting for their favorite in all of this, but jail doesn't seem to really be in the cards. While Swift addressed the leak by urging people to donate amidst this pandemic, Kardashian West posted a Twitter rant about her side of the story. In the end, she also urged people to focus on the "millions of real victims" suffering during the coronavirus (COVID-19) pandemic. At least they can agree on that.