'Candy' on Hulu: The Real-Life Steve Deffibaugh Inspired Many of Justin Timberlake's Lines
Steve Deffibaugh still believes that Candy Montgomery is guilty, 42 years later. Justin Timberlake spoke to him for his role in 'Candy.'
The creators of Candy on Hulu spoke to several real-life people from the Candy Montgomery (Jessica Biel) trial to develop the true crime series, including Steve Deffibaugh. Surprise guest star Justin Timberlake also spoke with the cop who visited the actual crime scene 42 years ago. Timberlake asked his wife, Jessica Biel if he could play the sheriff in the Candy cast after reading the script with her. Although he didn't get paid for the role, his wish came true.
Justin Timberlake spoke to Steve Deffibaugh before portraying him in 'Candy' on Hulu
To create an accurate account of what happened to Betty Gore (Melanie Lynskey) in Wylie, Texas, in 1980, the Candy creators spoke to Steve Deffibaugh and Robert Udashen.
"We talked to Robert Udashen, one of Candy's lawyers who was wonderful and super helpful," Nick Antosca told Showbiz Cheat Sheet. "He believes in her innocence to this day and obviously still has affection for her and cares about her."
On the other side, they spoke to a cop who worked the investigation — Steve Deffibaugh.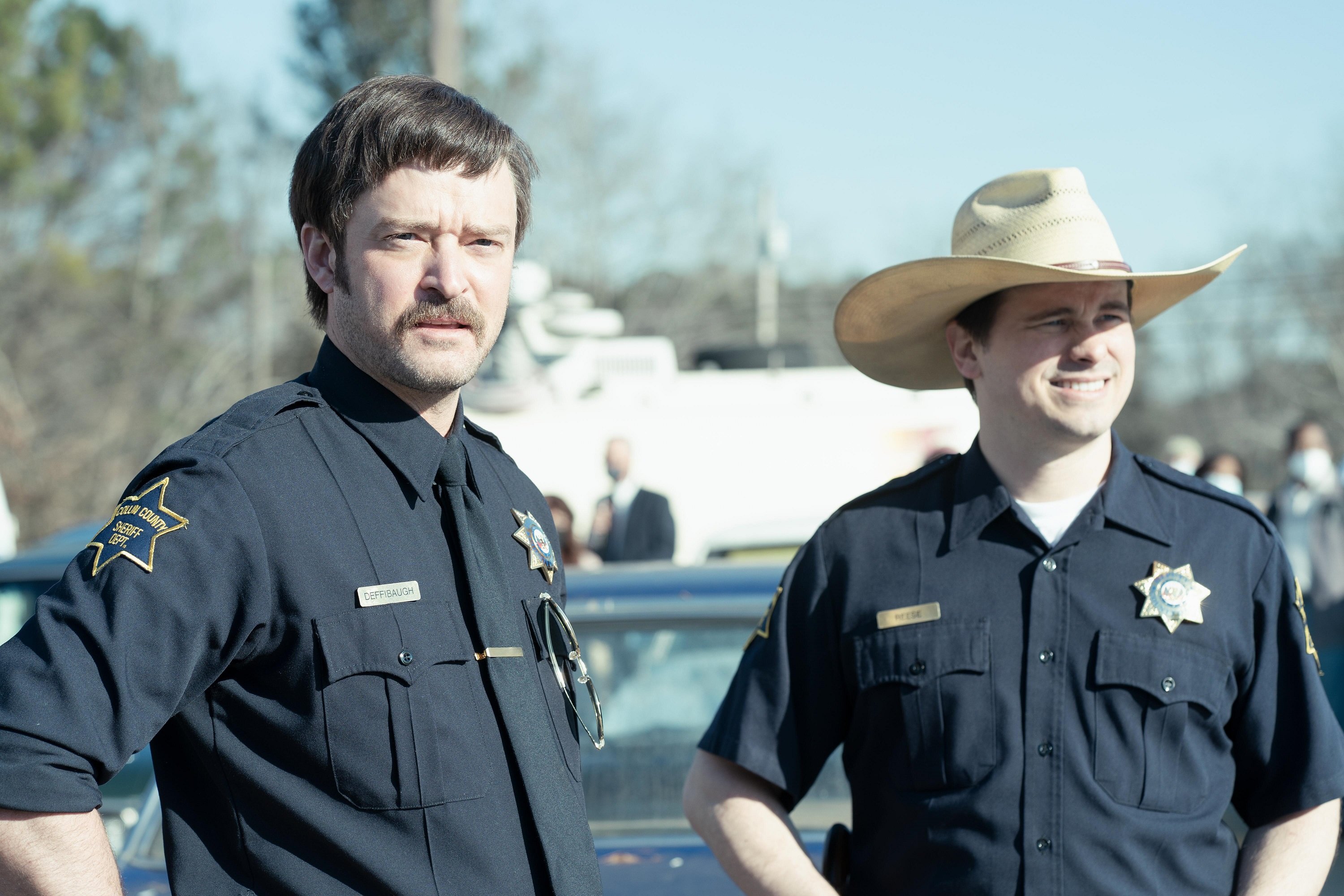 "We also talked to Steve Deffibaugh, who is the cop [in Candy episode 4]," he added. "And of course, [Timberlake] talked to him too and got that from him. A lot of his lines are things that the real Steve Deffibaugh said to us, and he was great too. He has the opposite point of view. He thinks her story is total bullshit and thinks what happened was pretty outrageous. And he was great and incredibly helpful."
Where is Steve Deffibaugh today?
Steve Deffibaugh had only joined the Collin County Sheriff's Office as a deputy sheriff two years before the incident depicted in Hulu's Candy. He remained in that role for 14 years before becoming the Collin County Fire Marshal. According to Deffibaugh's Linked In profile, he retired from the county in January 2011.
After retiring, he became a volunteer firefighter for the Princeton Fire Department but retired from that role in January 2018. He also remained a deacon at his local church and a scoutmaster. Deffibaugh also works with the Texas Forestry Service to help prevent wildfires seasonally. He speaks at schools and with public officials to promote fire prevention.
Deffibaugh is currently serving as Mayor Pro-Tem for the City of Princeton and the Princeton Community Development Committee president. According to his Facebook page, Deffibaugh also enjoys becoming Santa Claus for children during the December holiday season.
Justin Timberlake fell in love with Steve Deffibaugh's character in 'Candy'
Jessica Biel revealed in a recent interview that it was Justin Timberlake's idea to play Steve Deffibaugh in Candy. 
"That was all Justin," Biel told TV Guide. "Justin and my producing partner Michelle [Purple], they were talking. He was reading the scripts with us, and he just fell in love with Deffi. He so desperately wanted to play this part, and I genuinely thought he was joking. I was like, 'We have no money to pay you; you're gonna be making scale.'"
However, Timberlake wanted to become Steve Deffibaugh despite the lack of paycheck for his work in Candy.
"He's like, 'I don't care. I want to play this part,'" Biel added. "And it was so inspired." She felt his acting in Candy was a "really cool, fun surprise for even me."
All five episodes of Candy, starring Jessica Biel and Melanie Lynskey, are currently streaming on Hulu.