'Candy' on Hulu: Episode 3 Recap, 'Overkill' — The Candy and Allan Affair
In 'Candy' Episode 3, Jessica Biel's character, Candy Montgomery, begins her affair with Pablo Schreiber's character, Allan Gore.
In Candy Episode 3 on Hulu, Candy Montgomery's (Jessica Biel) affair with Allan Gore (Pablo Schreiber) ends as methodically as it began. Meanwhile, Betty Gore (Melanie Lynskey) is pregnant with Allan's second child in the third episode of the true crime drama. Candy's friend, Sherry (Jessie Mueller), has the best line of the episode when she finds out about Candy and Allan. The producers depict the entire episode in two-month spurts of information, beginning with Candy and Allan's affair.
'Candy' Episode 3 on Hulu recap: Candy Montgomery and Allan Gore begin their affair
Episode 3 of Candy on Hulu begins with a poster of the pros and cons of Candy and Allan's affair. Although Allan is still on the fence about it, he finally agrees when he discovers that Betty is pregnant again. Candy prepares a meal after her husband, Pat (Timothy Simons), leaves for work and brings it to hotel room 204 in old-school Tupperware containers. Allan hesitates when he arrives but then goes in to find Candy in a red nightgown. He sees the meal that she's prepared and immediately sits down to eat. He complains about Betty while they share a meal and finally makes a move.
Later, Candy tells her friend, Sherry, about her sleazy motel in Dallas. She tells her that Allan has the "most beautiful penis she's ever seen." 
Two months later, Candy sits down near Betty to talk about how close their girls have become. Betty complains about her weight and then reveals she is expecting. Betty is worried Allan will act the same way he did last time — not interested in her sexually. Candy gives her advice about their sex life (even though Candy is sleeping with Allan). Then she insists on hosting Betty's baby shower. 
Then viewers see another clip of Allan and Candy in a motel room. Meanwhile, when Betty tries to seduce her husband, he wants to know why. She reveals that she spoke to Candy, and he leaves to walk the dog. 
Allan and Betty Gore attend a marriage encounter in 'Candy' Episode 3
In episode 3, after you guessed it, another two months later, Betty has an outburst at Reverend Ron (Jordan Patrick) during a budget meeting. Sensing the tension, Sandra "Sandy" Lockett (Sharon Conley) and Jeffrey Lockett (Russell Thomas) suggest that Betty go to "a marriage encounter" with Allan.
It's no wonder Betty is not happy in her marriage. The producers switch to another scene of Allan and Candy having sex in a hotel room, but Candy doesn't seem pleased. Candy reveals she's having feelings for Allan, so this has to be the last time they have sex. However, he tells Candy it "can't be the last time." He doesn't care that he's late getting back to work.
Meanwhile, back home, Betty tells Allan she wants to do a "marriage encounter," and he agrees. They go on a weekend retreat where Mary Lou Barton (Liz McGeever) and Jack coach them in their relationship. Betty asks Allan what he's doing for himself sexually since he's not interested in her during her pregnancy. The counselor insists that they commit fully to not holding anything against each other. Does Allan reveal that he's having an affair? We don't know, but Betty looks angry when they pick up Christina (Antonella Rose) from Candy's house after the weekend getaway. 
Candy Montgomery hosts Betty Gore's baby shower
Later in Candy Episode 3, Candy reveals to Sherry that she's sleeping with Allan. 
"Isn't that a lateral move?" Sherry asks Candy, implying that Allan isn't much of a catch.
At the baby shower, Betty asks Allan to stay, and then he kisses her. Candy watches. He's canceled the last two meetups, and she's worried that Betty knows.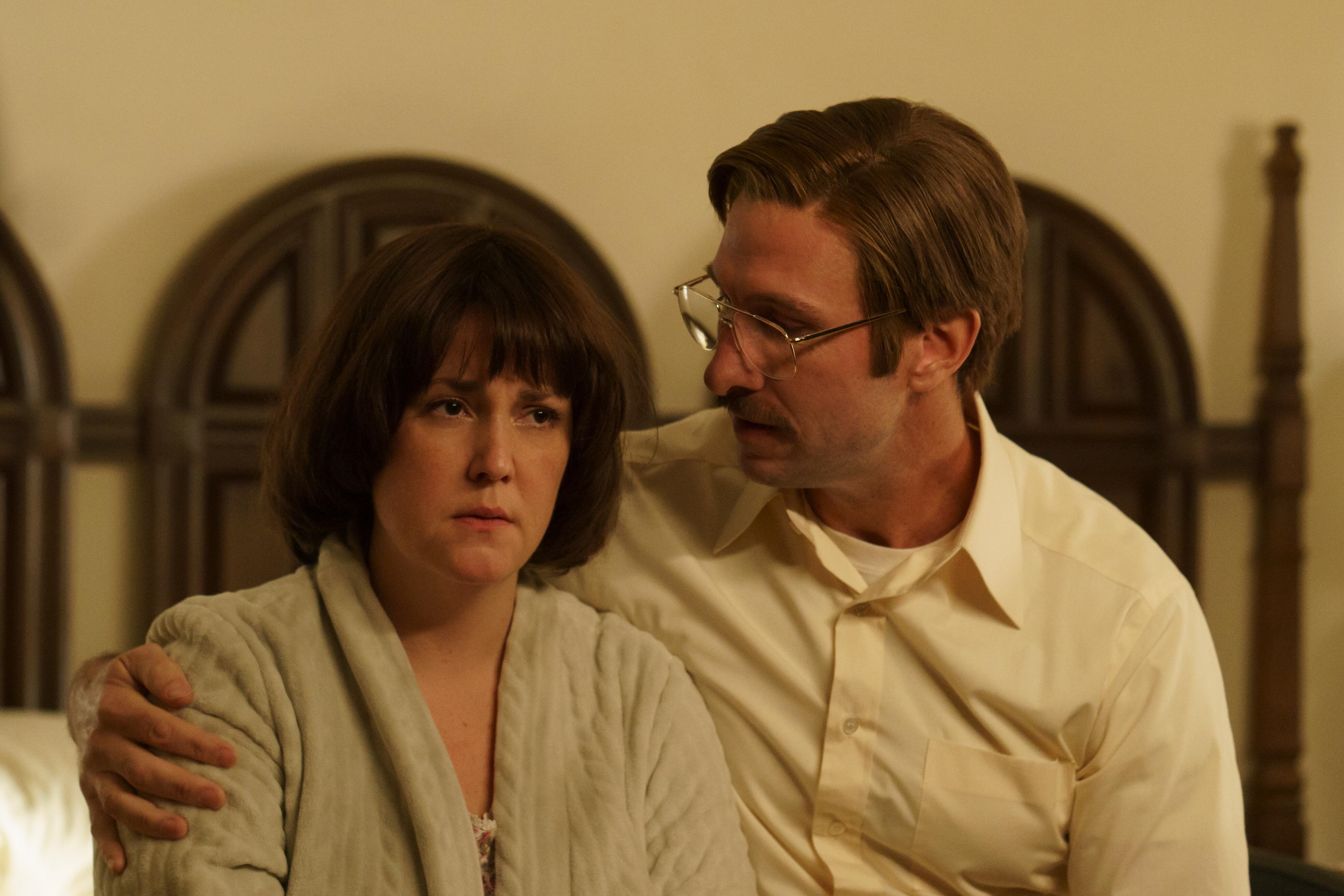 Meanwhile, the ladies watch Betty open gifts and talk about her experience with the "marriage encounter." Betty talks about the "untapped emotion" inside and "forgiveness and acceptance." However, Candy criticizes the program. Betty insists that their marriage has never been better once they revealed their secrets.
Candy asks Allan after the baby shower if he told Betty about them. However, Allan says he didn't tell Betty. Instead, the only affair that came out was Betty's. He also admits that he believes the "marriage encounter" is working. So, he tells her he wants to end their affair. Allan also thanks Candy for being Betty's friend. 
'Candy' Episode 3 recap: the night before the Wylie, Texas, murder
Then we fast forward another three months later in Candy Episode 3. Christina and Betty arrive at Candy's house for a sleepover. Betty asks if she did something wrong, but Candy insists that she's been very busy. Betty hasn't heard from Candy since the baby.
Sherry arrives to pick Candy up for English class, but she brings a party dress and makeup. They head to a bar instead, and Candy dances to the jukebox. Her friend, Sherry, stays at the bar. 
Over at Betty's house, they get a "love ring" before they have sex, missionary style. The baby wakes up in the middle of the night and looks the same age as on Friday the 13th. After feeding the baby, Betty sees a dish of spaghetti and returns it to the refrigerator. The camera zooms in on the refrigerator door, and when it zooms out, there's blood everywhere, and viewers see the ax and Candy's glasses. That's all viewers get of the murder scene in Candy Episode 3.
Candy premiered on Hulu Sunday, May 9, with the release of only the first episode at 9 p.m. PT/midnight ET. The remaining four Candy episodes drop every day following the premiere, with the finale dropping on Friday, May 13.