Cara Delevingne Is Fine With Ashley Benson's Fling, and She Wants You to Be Fine With It Too
Cara Delevingne and Ashley Benson broke the hearts of fans when they announced their split. The pair, who had been dating for nearly two years, looked like they were headed towards marriage after they moved in together several months ago. Delevingne has been keeping a low profile since the split, but her ex, Benson, has not. Now, fans are going after Benson for reportedly shacking up with G-Eazy amid the quarantine. The hateful comments have gotten so bad that Delevingne took to social media to defend Benson and implore her fans to cut it out.
Why did Ashley Benson and Cara Delevingne break up?
In early May, several media publications began reporting Benson and Delevingne's split. The pair later confirmed that they were no longer seeing each other, although it looks like their breakup happened earlier than most people think.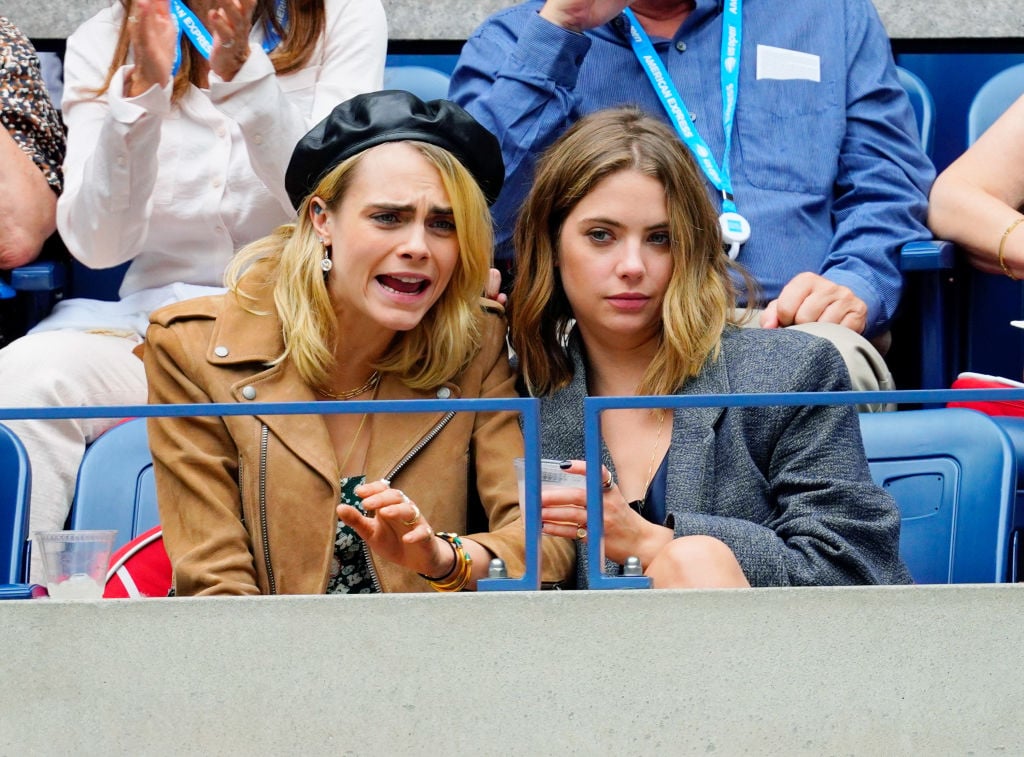 Delevingne and Benson reportedly ended their relationship in early April 2020 and haven't spoken much since, according to a source who spoke with E!. The source reported that Benson had moved out of Delevingne's home and was staying with friends.
Fans who are looking for juicy gossip or a salacious split won't be getting it from Benson and Delevingne. The breakup was reportedly drama-free. A source claims that the duo, after nearly two years together, simply realized that the romance had petered out of the relationship. Reportedly the decision was mutual.
Ashley Benson sparked romance rumors after being spotted out with G-Eazy
Benson and G-Eazy sparked dating rumors last week when the pair were spotted grocery shopping together. The rumor mill went into overdrive, with many suggesting the duo had been secretly hooking up for months. Fans of Delevingne dug in, trying to find connections between Benson and G-Eazy. One fan noted that the pair appeared to be quarantining together since at least April.
Benson and G-Eazy also released a song together, and rumors suggest they were spotted partying in January 2020, while Delevingne was away working. Still, there isn't a whole lot of concrete evidence that a romance is brewing. The photos that captured the duo grocery shopping were pretty tame, and sources have reported that Benson has been staying with friends since the split. G-Eazy may be one of those friends.
Cara Delevingne wants everyone to stop hating on Ashley Benson
Whether or not Benson is having a fling with G-Eazy, Delevingne wants all of the hate to stop. She took to her Instagram Stories late last night to ask her followers to stop all the hateful comments. In the note, she told fans that only she and Benson know the truth about their relationship and the breakup and that she plans on keeping it that way.
Whether or not fans listen to her remains to be seen. Benson would not be the first famous ex to be lambasted by fans after a breakup. Justin Bieber and Selena Gomez both received hate when they split for good in March 2018. Haley Baldwin, who married Bieber just a few months later, has been criticized on social media for her relationship.