Cardi B Explains Why She Was 'Scared' To Work With Vin Diesel in F9
Cardi B's appearance in the 10th movie of the Fast & Furious franchise was yet another accomplishment for the Grammy-winning rapper. But in a video, she now admits that she was "scared" to work with action icon Vin Diesel. 
Cardi B did not play herself in the movie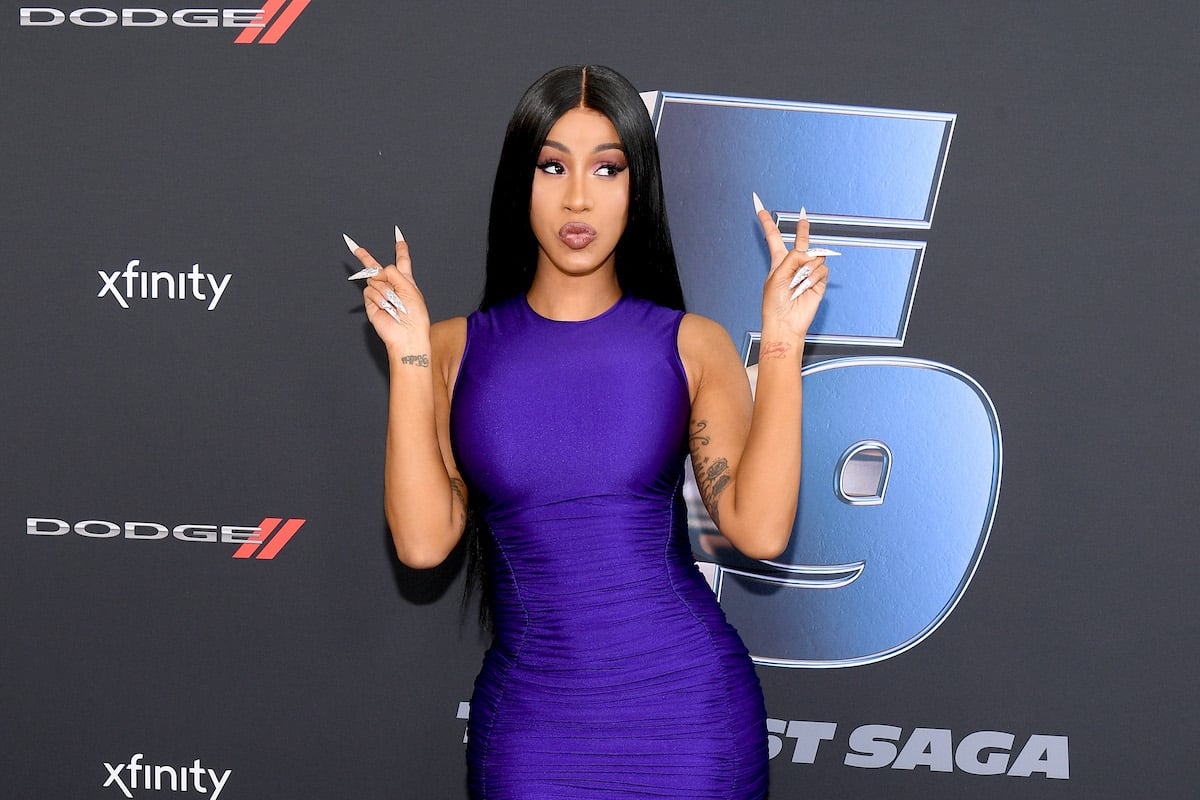 Bucking the cameo trend, Cardi B opted against playing herself in the movie, and instead played a legitimate character by the name of Leysa. Her place in the F9 family is complex, so stick with us. 
Leysa leads a female paramilitary troupe. Without treading into spoiler territory, this group attempts to masquerade as a SWAT team in order to spring Dom (Diesel) from the grip of a villain. 
According to Screenrant, her appearance in the film originated from Vin Diesel's daughter, who is a big fan of the rapper. And the rapper was a fan of the franchise, according to director Justin Lin. 
"I remember getting a call saying, 'Hey, Cardi B is a fan,' and saying, 'OK great, we're going to do the expected cameo but turn it on its head,'" Lin says in the video. 
This wasn't her first appearance in a major film. She previously appeared in a supporting role as Diamond in the 2019 Jennifer Lopez drama Hustlers. 
Sge also wasn't the only major cameo appearance in the Fast & Furious franchise. According to Insider, she's in good company. Ja Rule, Keiichi Tsuchiya, Minka Kelly, Ronda Rousey, Kevin Hart, Chrissy Teigen, Rita Ora, Iggy Azalea, and Helen Mirren have all appeared in well-placed cameos in the franchise over the years. 
Cardi B said Vin Diesel's 'serious' demeanor intimidated her
The rapper is known for her extroverted personality and uninhibited performances. So it stands to reason that Vin Diesel's seriousness onscreen might have given her pause. 
"You know Vin Diesel, he always plays this very serious guy," she said in a People magazine behind-the-scenes director's cut feature. "I was scared, but he's so nice, so dope, he makes you feel so comfortable, that's pretty cool." 
The Bodak Yellow singer also explained what it was like to play Leysa. "When I was doing this character, I felt so gangster, I love it. So bossed up," she said in the video. 
Cardi B added that Leysa has a self-assured personality, which underscored her own nervousness in playing the part. 
"She's very confident," said Cardi B. "I was really nervous. I'm like 'it's freakin' Fast and Furious!" 
Vin Diesel said he was proud of the rapper
In the video, Vin Diesel made it clear what he thought of Cardi B's skills as an actor. In a clip of him after the scene wrapped, he praised the singer. 
"By the way, I really am proud of you," said Diesel. 
Fans who'd like to see more of Leysa won't be disappointed. Diesel told ET Online in July 2021 that Cardi B will reprise her role in F10. 
"We are very much excited to evolve her character and to expand it to the finale," Diesel told ET. "She made it just in time. She came in Fast 9 just in time."