Cardi B Gets Super Nervous Around These 3 Iconic Music Industry Peers
Cardi B has experienced one of the most meteoric rises to fame of any artist in music history. The rapper first became known to fans as an internet sensation and then as one of the stars of Love & Hip-Hop: New York, but it wasn't until she joined the music industry full-force that she really started enjoying all the perks of celebrity.
In spite of the fact that Cardi B is a superstar, she has retained many of her down-to-earth ways and recently confessed that she definitely gets nervous around some other stars. Keep reading to learn who makes Cardi B nervous and what her relationship with these stars is. 
Cardi B revealed her musical icons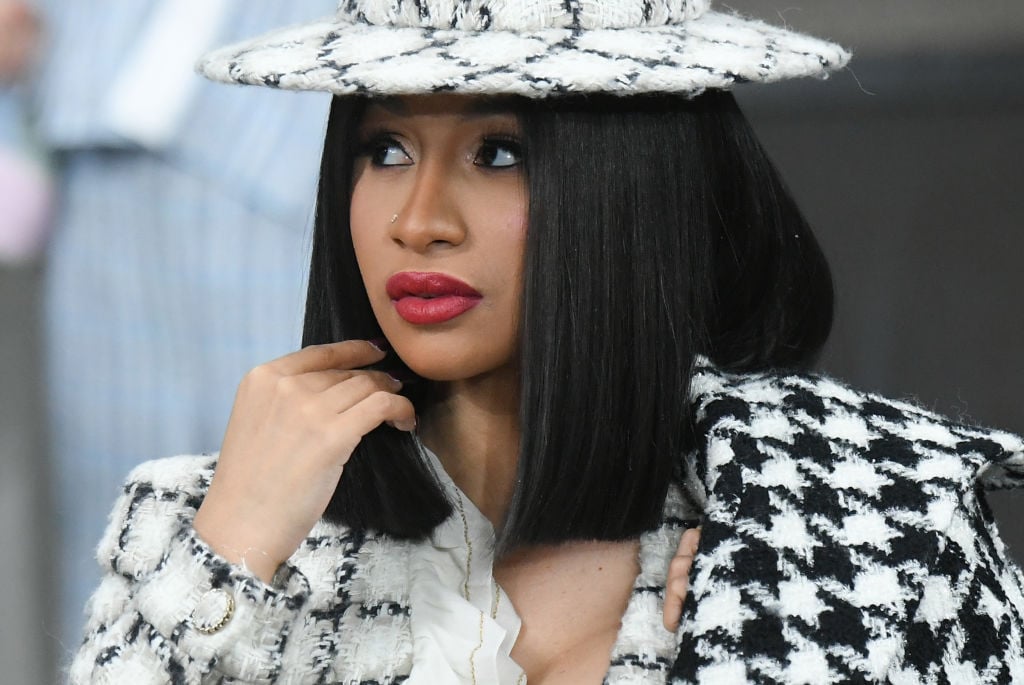 Recently, Cardi B did Vogue's famous "73 Questions" interview. The reporter from the iconic magazine followed Cardi B around for a few minutes as she tended to Baby Kulture and answered questions in her signature style that fans love so much.
In the interview, Cardi B revealed a lot of interesting facts about her. This includes that she wants to have more children, that she loves to debate about trendy political topics, and that she can't choose a favorite song of hers because she considers them all to be her "babies."
Possibly the most interesting tidbit that sprang from the interview is the fact that Cardi B still gets nervous around some famous music industry stars. This is especially surprising since the rapper is in their league of success, talent, and musical prowess.
Who are these legends? Cardi B revealed they are Lady Gaga, Beyonce, and Rihanna — three women that she has met a number of times but still finds incredibly awe-inspiring. 
Does Cardi B know Rihanna?
Cardi B likely looks up to Rihanna because she is a strong woman in the music industry who has become a savvy businesswoman, running multiple companies from cosmetics to fashion. While Cardi B has never collaborated with Rihanna, it is possible that the two could work together in the future, especially considering that Rihanna is poised to make a musical comeback within the next few years.
Cardi B has also shown love to Rihanna on social media before, posting a sweet selfie of she and Rihanna at an industry event and giving a nod to Rihanna's stylish Fenty sunglasses.
Cardi B is inspired by Lady Gaga
Lady Gaga is one of the most accomplished musicians working today, so it's no surprise that Cardi B is just as obsessed with the singer as everyone else. She is a longtime Lady Gaga fan.
In 2016, just before she hit it big, she posted on Twitter that Lady Gaga "changed her life" by inspiring her to embrace her differences. Several years later, when Cardi B was a superstar herself, she ran into Lady Gaga at an awards show, and couldn't help fangirling over the pop star. Photos taken of the two reveal a beaming Cardi B, seemingly in disbelief that she actually met one of her idols.
Cardi B idolizes Beyonce
Beyonce has long been one of the most mysterious and influential artists in popular music. She doesn't grant many interviews or attend many events these days, but when she does, it makes everyone take notice — including Cardi B.
Cardi B has crossed paths with Beyonce several times and finds herself starstruck every single time. Cardi B also admitted in her 73 Questions video that she likes to follow Beyonce's lead when it comes to dealing with online trolls. She revealed that she allows herself to feel bad about negative things on the internet for only one day before getting back to work and forgetting all about it. 
Rumors persist of a possible collaboration between these two, but nothing has officially come to light yet. However, if Cardi B and Beyonce ever did decide to release a song together, there's no doubt that it would become wildly successful.