Cardi B Once Revealed She Didn't Love Calling Offset Her Husband 'In Public'
We know Cardi B for her incredible hip hop beats and funny personality. Now, she's in the news more than ever thanks to her relationship with fellow rap star Offset.
Offset and Cardi B are married and have a child together, but they appear to be in the middle of a divorce. And Cardi B once told Jimmy Kimmel that she didn't like calling Offset her husband when in public. Here's what she said.
Cardi B wasn't initially interested in Offset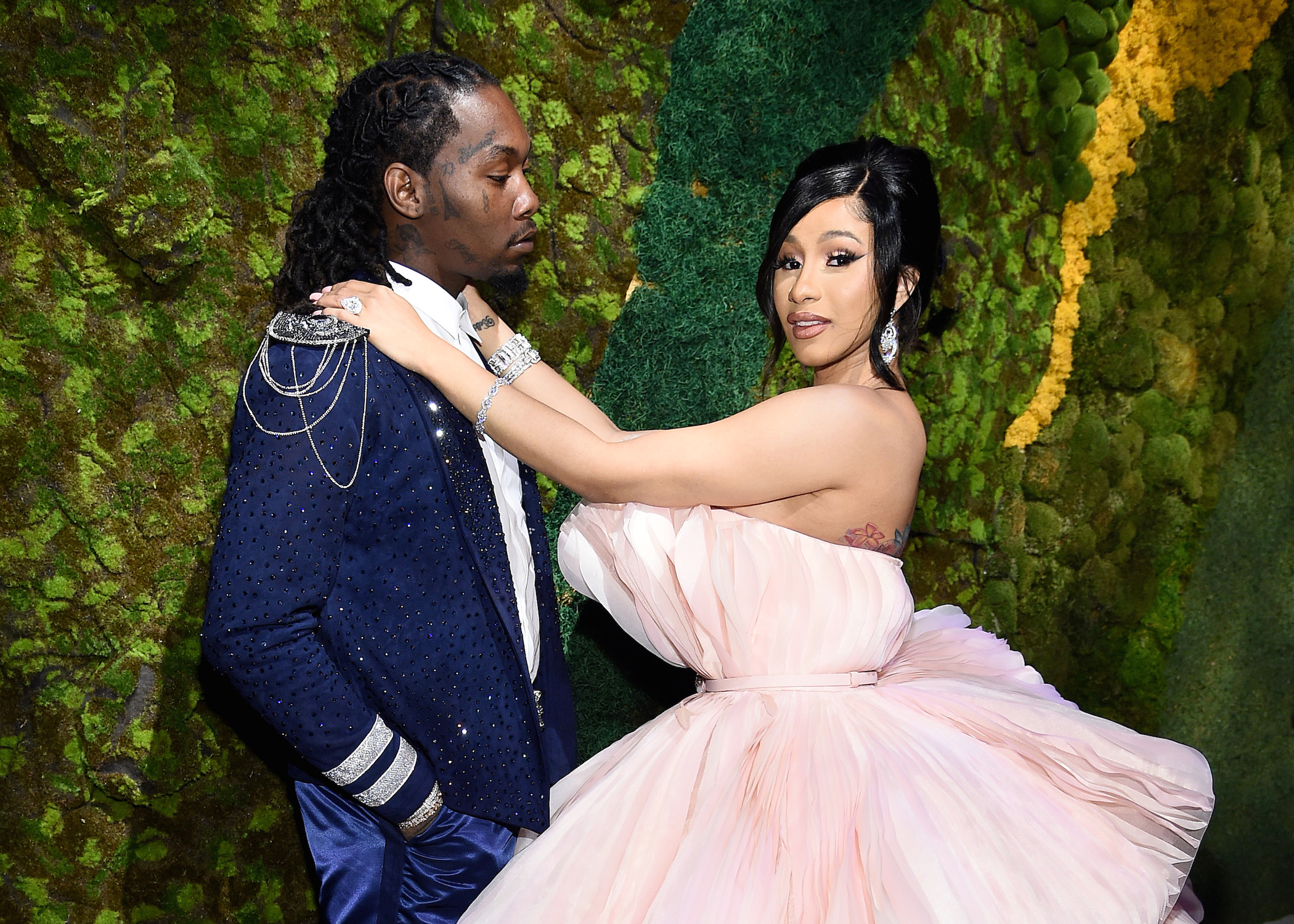 Cardi B and Offset have quite a dramatic relationship. While they have a daughter (and a lot of love for each other) now, Cardi B wasn't initially too interested in the rapper. It seems Offset was quite smitten with Cardi B at first, but Cardi thought Offset wasn't serious about her and was only sexually attracted to her.
"I just felt like, you know. Rapper, they're just trying to f*ck and everything," Cardi said in an interview posted to Twitter.
It seems Offset wasn't willing to give up so easily, though. "He was very consistent," Cardi B continued. "He really wanted to talk to me. … And then as I kept talking to him and he keep saying, 'I've been watching you for a long time. I like your music. You have a lot of potential.' And it's just like, yeah, yeah, yeah. Whatever. You want to f*ck."
Cardi ended up giving Offset a chance, though. They started dating in 2017, and it's been a wild ride ever since.
She once said she didn't like calling Offset her husband in the public eye
RELATED: 'The Ellen DeGeneres Show': Offset Didn't Seem Happy He Proposed to Cardi B in Front of 60,000 People
Those who follow Offset and Cardi B know Offset made quite the proposal in 2017. The couple performed together during a concert in Philadelphia on Oct. 27, 2017. And that's when Offset got down on one knee in front of 60,000 people. Cardi B seemed absolutely shocked by what her boyfriend was doing, but she accepted.
Following the birth of their daughter in 2018, Cardi visited Jimmy Kimmel Live! to talk about her child, her music, and her life. And instead of calling Offset her husband on the first mention, she called him the father of her child.
"Who was in the delivery room with you?" Jimmy Kimmel asked Cardi.
"It was a lot of people," Cardi admitted. "It was my sister, it was my publicist, it was my baby father, my mom, my dad, my mother-in-law."
"Now, you say your baby's father," Kimmel notes. "But, your baby's father is your husband. Are you still getting used to saying 'my husband'?"
"I mean, I've been calling him my husband for a long time," Cardi said. "But, not in public and everything."
Are Cardi B and Offset really getting divorced?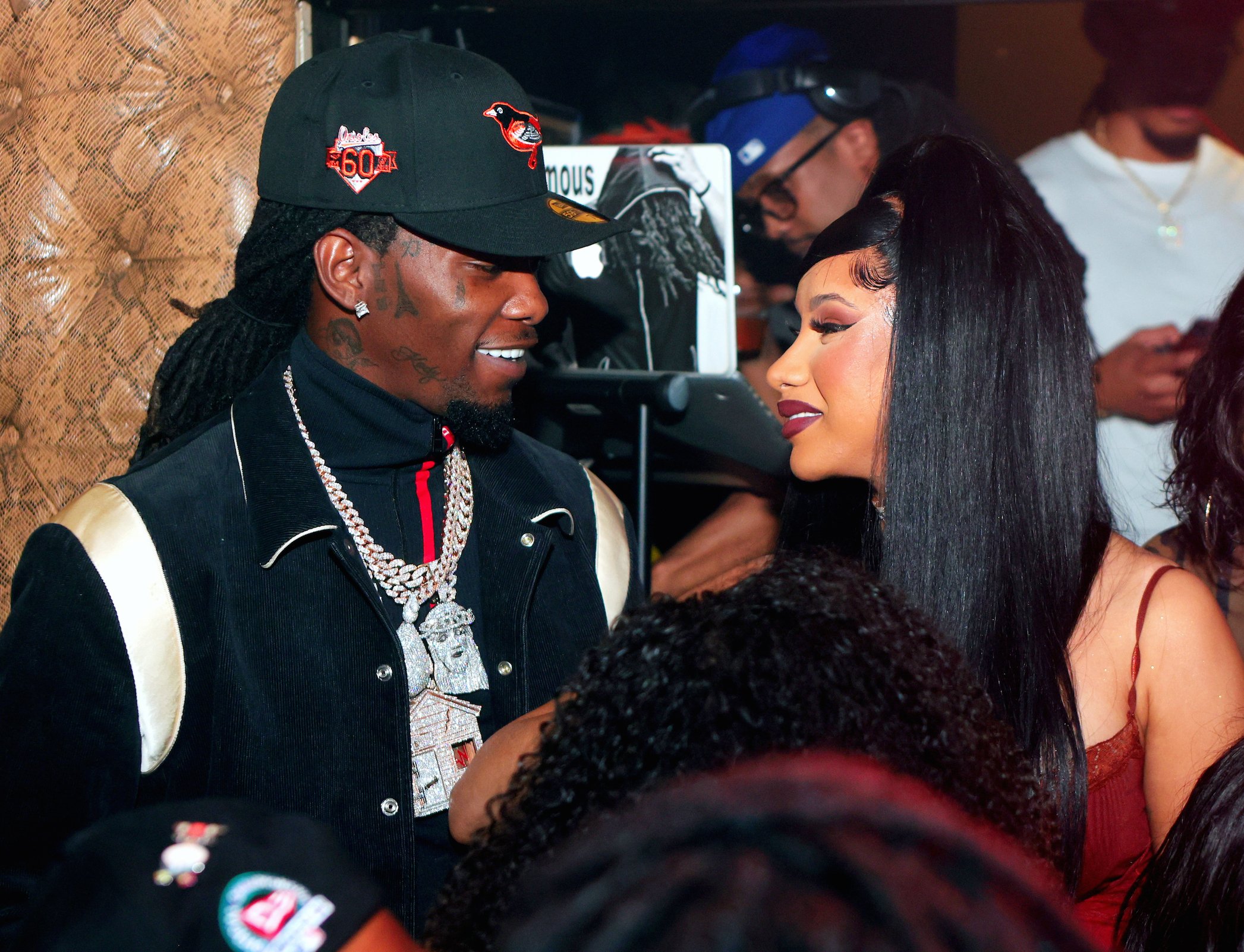 Cardi B and Offset appear to be in the middle of a divorce, as Offset's cheating ways in the past seemed to have caught up with him. But after her birthday bash in October 2020, fans noticed the soon-to-be exes were kissing and looking totally in love. And Cardi B seemed to admit she's not exactly sure what she's doing at this point.
"Listen y'all, I'm just a crazy b*tch," she explained on Instagram Live. "You know how I be arguing with y'all on social media? That's exactly how I be arguing with my man." She then went on to say that one day she's happy, and the next she's totally fed up. "And then, I don't know. It's just like, I just be starting to miss him."
"I don't know what it is," Cardi added. "We're really just two young motherf*ckers who got married early. That's what we are."
It sounds like a reconciliation might definitely be possible between Cardi and Offset. We'll have to wait and see what they decide.
Check out Showbiz Cheat Sheet on Facebook!