Cardi B Shares Her Secret DIY Hair Treatment Recipe
Cardi B is a rapper, songwriter, and social media star who rose to fame after dropping the hit single "Bodak Yellow." Over the past several years, Cardi B has made headlines countless times and has earned acclaim for her versatility.
She is an actress, a wife, a singer, and a mother to an adorable toddler daughter. Cardi B seems to do it all with ease, and in spite of her busy schedule, she takes the time to pamper her hair and skin. Recently, she opened up, revealing her all-natural hair mask that is guaranteed to rejuvenate and moisturize dry hair.
Cardi B is one of music's biggest stars
RELATED: Cardi B's Brutal Honesty About Plastic Surgery Is Readjusting Beauty Standards
Cardi B had a difficult start in life, raised in the South Bronx by a working-class family. She experienced many financial hardships during her teenage years and taking a series of odd jobs to make ends meet, including working at a grocery store.
As a young woman, Cardi B became a stripper and began earning enough money to be able to support her family and provide for their basic needs. It was around that time that she began becoming a social media star, with several of her videos going viral.
After a stint in reality television, Cardi B began focusing on her budding music career. In 2017, she began her meteoric rise to the top, working on mixtapes and singles. It was "Bodak Yellow" that catapulted the young star to the top, and she quickly followed up that song with other popular hits, including the smash hit "I Like It."
Cardi B proved to be unstoppable, and in 2019, she had a featured role in Jennifer Lopez's film, Hustlers. Since giving birth to her daughter, Kulture, Cardi B has continued working hard on her career, showing her fans that women truly can do it all. 
Cardi B loves taking care of her hair and skin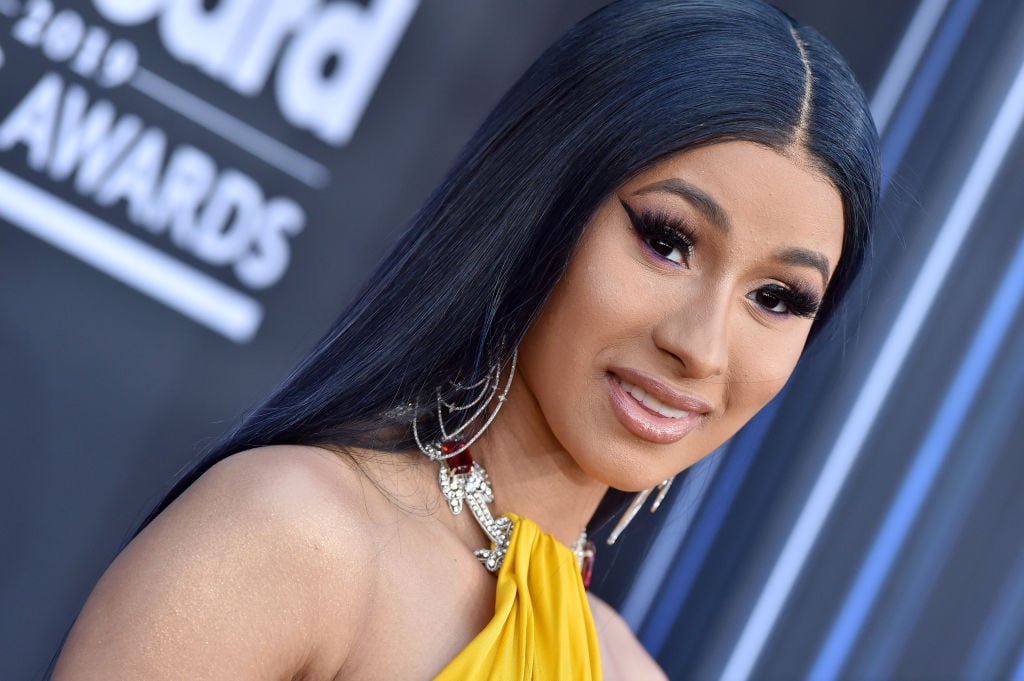 Cardi B is an admitted "girl's girl" and loves pampering herself with the best makeup, skincare, and hair products. She is especially fond of extravagant hair looks and has revealed that she spends around one thousand dollars just on her hair, including the cost of a wig and styling. Cardi B loves showing up to events with bold hair colors and styles, but when it comes to her at-home look, she prefers to keep things a bit more simple.
How to make Cardi B's at-home hair mask
Recently, Cardi B revealed the one trick that she uses to keep her hair soft, healthy, and luxurious. She posted a TikTok video detailing how to prepare a homemade hair mask that she likes to use on her hair as well as her toddler daughter, Kulture's hair.
Cardi B uses a blender to mix the mask, adding two eggs, half a fresh avocado, a spoonful of mayonnaise, and some dashes of Jamaican black castor oil. After blending the mask ingredients together, Cardi B applies the mask all throughout her hair and then wraps her hair in a plastic bag, similar to a grocery bag.
"Let that marinate like chicken," the rapper said, suggesting that her followers leave the mask on for as long as they can. Finally, Cardi B shampoos the mask out, conditions her hair, and sprays a coating of rice water all over her freshly-masked locks.
As a final step, she puts her hair in rollers and partially dries it, before doing a full blowout. In her tutorial, the rapper noted that it took some "discipline" to get her hair to be as healthy as it is today — and it is mostly due to regularly using her hair mask.