Carey Mulligan vs. Michelle Williams: Who Has the Higher Net Worth?
Carey Mulligan knows you confuse her for Michelle Williams. The Promising Young Woman star joked about the common mixup in her Saturday Night Live opening monologue. And while she definitely isn't an alum of Dawson's Creek or Fosse/Verdon, both of the actors have impressive careers. But which of the two has the higher net worth? Let's take a dive into their careers and successes.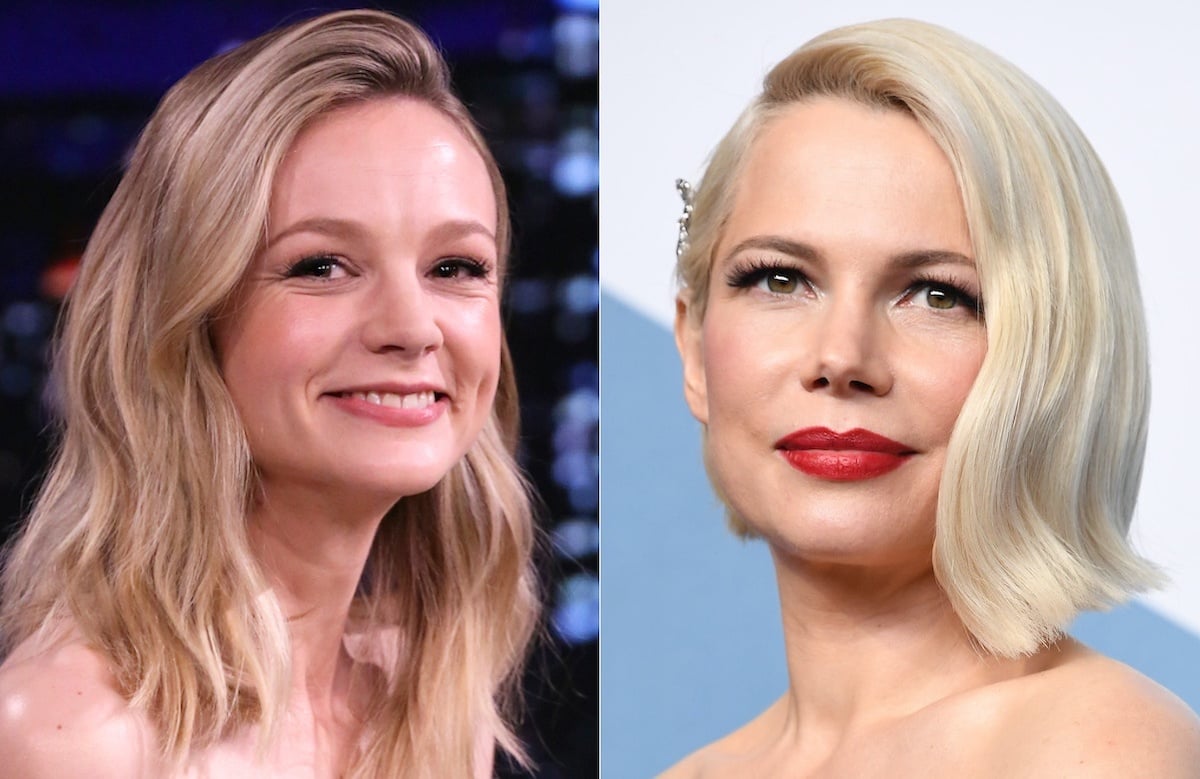 'Saturday Night Live': Carey Mulligan's opening monologue
Mulligan hosted SNL for the first time ever on April 10, 2021, with musical guest Kid Cudi. After a cold open from Kenan Thompson, Kate McKinnon, Ego Nwodim, Chris Redd, and Alex Moffat, Mulligan took to the Studio 8H stage for her opening monologue. And the English actor addressed her and Williams' resemblance right off the bat.
"People in America are always saying the nicest things to me," she said. "Like, 'I loved you in Brokeback Mountain' or 'You were amazing in Fosse/Verdon.' And I used to say, 'Oh, sorry, that's Michelle Williams.' But now, I just say, 'Thank you! I am Michelle Williams.'"
Later in the monologue, the 35-year-old was joined by her husband, Marcus Mumford, lead singer of Mumford & Sons.
"I meant to ask, did they book a musical guest for tonight? If they end up needing anyone, I'm very happy to do it," he joked.
He then pulled out his acoustic guitar and started playing "Little Lion Man," to which Mulligan responded, "You're being that guy who takes his acoustic guitar out at a party."
"People love that guy!" he responded. Mulligan and Mumford have been married since 2012 and were childhood friends. (They were pen pals. It's adorable.)
RELATED: Elvis Presley's 2020 Net Worth Is Higher Than His Net Worth When He Died
Carey Mulligan's movies and net worth
Mulligan hosted SNL as part of her promotion of Promising Young Woman. The film earned the star her second Oscar nomination. She won the Critics' Choice Movie Award for performance and was also nominated for a BAFTA, a SAG Award, and a Golden Globe. The film was directed by The Crown's Emerald Fennell, who received a Best Director Oscar nod, and is also nominated for Best Picture.
But how did Mulligan get her start? Her breakout role was Kitty Bennet in 2005's Pride & Prejudice alongside Kiera Knightley, Rosamund Pike, and Jena Malone. She appeared in a handful of TV shows, including an episode of Doctor Who (she played Sally Sparrow), and then she earned her first Oscar nomination with 2009's An Education. She was 24 years old at the time.
Her later credits include Wall Street: Money Never Sleeps, Never Let Me Go, Drive, The Great Gatsby, Inside Llewyn Davis, Suffragette, Mudbound, and Netflix's The Dig. According to Celebrity Net Worth, Mulligan has an estimated net worth of $16 million.
RELATED: Ariana Grande's 'The Voice' Pay vs. Katy Perry's 'American Idol' Pay: Who Makes More?
What is Michelle Williams worth?
Williams got her start a little earlier in life. The 40-year-old star's first credited role was April Porter in 1994's Lassie. She was 14 at the time. She appeared in one episode of Step by Step and Home Improvement in 1994 and 1995, but her breakout role was playing Jen Lindley in Dawson's Creek.
Two years after Dawson's Creek ended, Williams earned her first Oscar nomination for Brokeback Mountain. Other credits include I'm Not There, Shutter Island, Oz the Great and Powerful, The Greatest Showman, I Feel Pretty, Venom, and After The Wedding.
Williams and Mulligan have never worked together, but they're small degrees of separation from each other. They both co-starred with Ryan Gosling in 2010/2011 with Drive and Blue Valentine, respectively. And Mulligan briefly dated Eddie Redmayne in 2011, who co-starred with Williams in My Week with Marilyn the same year.
Williams has four total Oscar nominations, but no wins. She was nominated for Brokeback Mountain, Blue Valentine, My Week with Marilyn, and Manchester by the Sea. She won a Golden Globe for My Week with Marilyn, and Fosse/Verdon earned her both a Globe and an Emmy.
According to Celebrity Net Worth, Williams is worth $30 million.