Carole Baskin Still Fears for Her Life Even With 'Tiger King' Joe Exotic in Prison

Carole Baskin says she still fears for her life after the events of Tiger King. Her discovery+ series Carole Baskin's Cage Fight shows Baskin has more enemies than just Joseph Maldonado-Passage, aka Joe Exotic. Maldonado-Passage is in prison for conspiracy to assassinate Baskin, but Baskin still looks over her shoulder.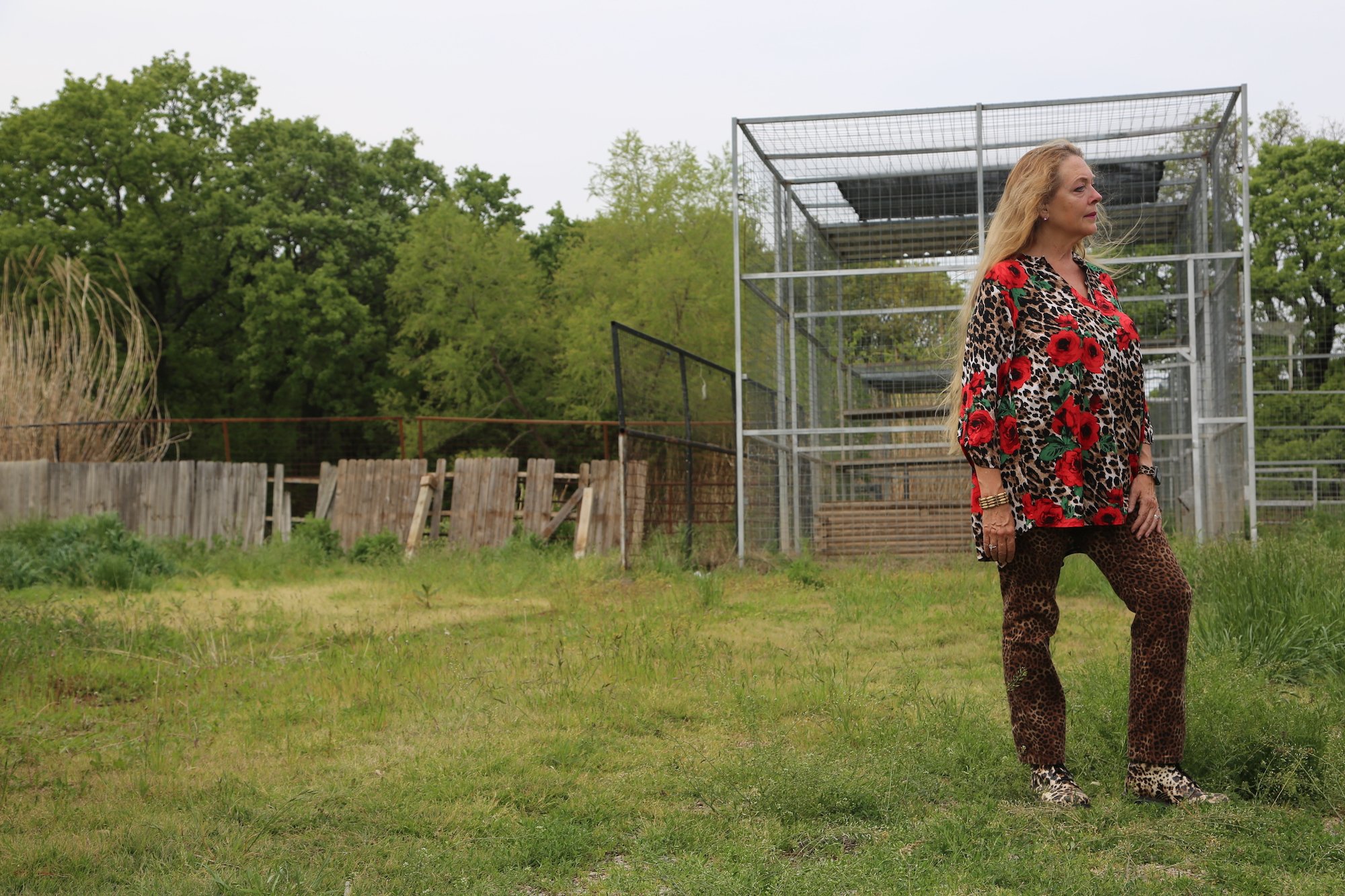 Baskin spoke with Showbiz Cheat Sheet by Zoom on Nov. 12 about Carole Baskin's Cage Fight. During our interview, she discussed the danger she still feels from certain individuals, some from Tiger King and many from the larger big cat world. 
Joe Exotic's 'Tiger King' assassin is still free 
Allen Glover was the man Maldonado-Passage allegedly hired to kill Baskin. Glover is still free.
"Can you believe that?" Baskin said. "Is that not crazy? Especially what you probably saw in Tiger King. I kept thinking maybe the reason Jeff Lowe and Allen Glover are still out there is because they're being followed by the FBI or somebody that is trying to get more of the people in this net before they lower the boom but I'm beyond shocked that they're still out."
Baskin suspects Glover has lost interest in her now that Maldonado-Passage is out of the picture. However, she still worries about the precedent he set during the events of Tiger King. 
"I don't think Allen Glover ever cared about who I was or anything else," Baskin said. "The fact that he is saying that he had planned to kill Joe and that he had been willing to kill me tells me that this is a really dangerous person that's out there walking around. I don't think he has a personal vendetta against me because he's not somebody who's in the animal world or the animal industry, but I think they've figured out where they can get a cheap hitman now."
'Carole Baskin's Cage Fight' shows she's been a target for decades before Joe Exotic
Baskin agreed to appear in Tiger King to speak about her advocacy for big cats. She'd hoped the Netflix series would raise awareness for big cats kept in captivity. Baskin says that advocacy has put her in the crosshairs long before Tiger King.
"Yeah, this has been going on since, gosh, the '90s?" Baskin said. "We never bred lions or tigers but we stopped breeding even the small ocelots back in 1997. We had an accidental cat that was born to a 17 year old mother in 1999 but for all practical purposes we haven't bred since the '90s. So soon as I started speaking out against the breeding of these cats for life in cages, then they started coming after."
On Carole Baskin's Cage Fight, Baskin's team confronts Jeff Lowe, who was also featured in Tiger King. Baskin also investigates Doc Antle, Mark McCarthy, Mario Tabraue and Lori Ensign-Scroggins.
"They did so because they felt like I was a traitor to them," Baskin continued. "I had been one of them and now here I dared to speak out about the things that I knew. And yet I think that that's what makes it so powerful because I know the way they get around the law and I know the things that they are doing behind the scenes and how they fooled the public. They hate the fact that I'm speaking out against those things." 
'Carole Baskin's Cage Fight' shows some of the violence 
In Carole Baskin's Cage Fight, Baskin still takes walks around her property, even though she knows hit men have monitored her routine. Cameras even capture a neighbor of Jeff Lowe getting into a physical altercation.
"There's even parts of Cage Fight that you guys didn't get to see because the neighbors didn't want to be filmed," Baskin said. "But, I mean, that poor kid had really just had the snot beaten out of him by Jeff Lowe. He had blood all over his head where he'd been dragged along the rocks. I don't think there is anything that will stop them because they don't seem to even fear the law, and maybe it's because they managed to operate for so many years without any ramifications from the things that they do."
The neighbor asked not to be named in the show. However, Carole Baskin's Cage Fight still presented some of the violence without identifying him.
"You'll see in Carole Baskin's Cage Fight when this kid who lived next door, who didn't know we were at his parents' house or anything, he was just going to work," Baskin said. "He drives down the driveway and Jeff Lowe has blocked him at the end of the driveway. They can see from the air that something's going on under the trees. What you can't see is this fist fight that ended up on the ground."
Producers of Carole Baskin's Cage Fight say Lowe declined their requests to comment.